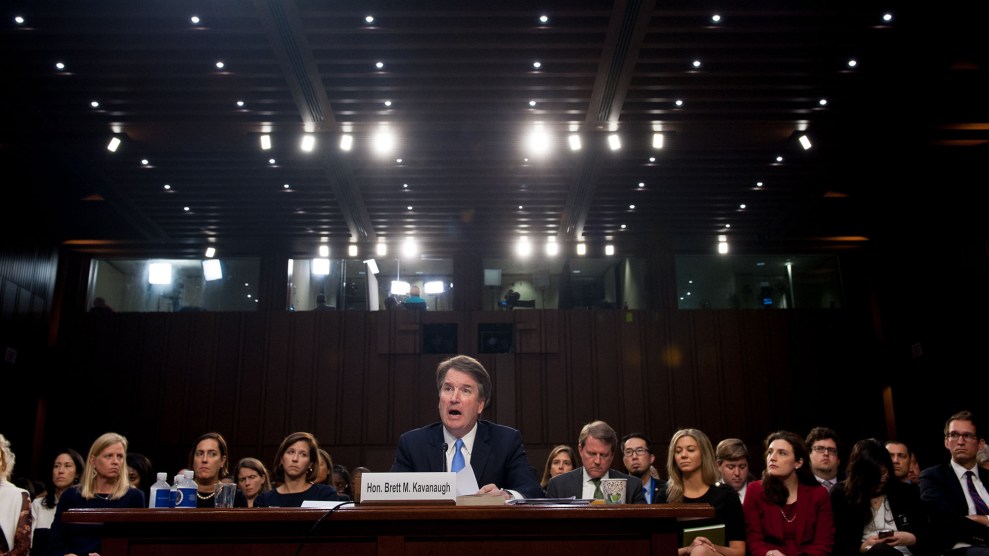 Fight disinformation:
Sign up
for the free
Mother Jones Daily
newsletter and follow the news that matters.
Supreme Court nominee Brett Kavanaugh has made declarations under oath during his current and past confirmation hearings that are contradicted by documents from his time as a counsel to the president and staff secretary in the George W. Bush White House. Newly released documents have undermined Kavanaugh's declarations to the Senate Judiciary Committee, contradictions that are drawing close scrutiny from many Democrats. Kavanaugh has denied making any misleading or false statements.
His role in accessing stolen documents: In 2002, a GOP aide on the Senate Judiciary Committee, Manuel Miranda, stole thousands of documents belonging to the committee's Democratic staff. At the time, Kavanaugh was a White House lawyer working on judicial nominations, which included working alongside Miranda. In 2003, President Bush nominated Kavanaugh to his current position on the DC Circuit Court of Appeals and his confirmation hearing was held in 2004—though he was not confirmed until two years later. During his 2004 hearing, Kavanaugh denied ever receiving any of the documents Miranda stole. Asked if he "ever come across memos from internal files of any Democratic members given to you or provided to you in any way?" he replied, "No." In 2006, also under oath, he again denied ever receiving stolen documents.
But newly released documents show that Miranda had indeed sent Kavanaugh information from the stolen internal documents. The nominee continues to deny he knew the information was stolen. But he can no longer deny he received it.
BREAKING: Kavanaugh testified he never received any docs that even "appeared to … have been drafted or prepared by Democratic staff." Well, he got 8 pages of material taken VERBATIM from my files, obviously written by Dem staff, LABELED "not [for] distribution". pic.twitter.com/eFlIBZ0Z1W

— Sen. Patrick Leahy (@SenatorLeahy) September 6, 2018
Warrantless wiretapping: At a 2006 confirmation hearing, Kavanaugh told Sen. Patrick Leahy (D-Vt.) that he knew nothing of the NSA's warrantless wiretapping program, launched under President George W. Bush, until the New York Times revealed it publicly in 2005. Kavanaugh insisted he'd heard "nothing at all" about the program before that, even though he was a senior administration aide. But a September 17, 2001 email provided to the New York Times this week shows that Kavanaugh was involved in at least initial discussions about the widespread surveillance of phones that characterized the NSA program. In the email to John Yoo, then a Justice Department lawyer, Kavanaugh asked about the Fourth Amendment implications of "random/constant surveillance of phone and e-mail conversations of non-citizens who are in the United States when the purpose of the surveillance is to prevent terrorist/criminal violence?" Kavanaugh said Wednesday that his 2006 testimony was "100 percent accurate." But the email, which describes the gist of the wiretapping program, which Bush approved in 2002, calls Kavanaugh's claims of ignorance into question.
Torture: During the same 2006 confirmation hearing, Kavanaugh told Sen. Dick Durbin (D-Ill.) that he "was not involved" in legal questions related to the detention of so-called enemy combatants. But Durbin said Thursday that records show that there are at least three recorded examples of Kavanaugh participating in discussions of Bush administration detainee policy. Kavanaugh stood by his prior answer.
Judge Kavanaugh says he is a textualist. But he is twisting the plain meaning of the word "detention" to serve his own interests. It's simply not credible. pic.twitter.com/fMwkej4Hva

— Senator Dick Durbin (@SenatorDurbin) September 5, 2018
The nomination of Judge William Pryor: In Kavanaugh's 2004 confirmation hearing, Sen. Ted Kennedy (D-Mass.) asked the nominee about his support for William Pryor's nomination to the 11th Circuit, given that Pryor had called Roe v. Wade "the worst abomination of constitutional law in our history." Kavanaugh responded, "That was not one that I worked on personally." Newly released documents suggest otherwise. Emails from the Bush White House show that Kavanaugh was involved in selecting Pryor, interviewing him, and shepherding his nomination through the Senate.
In 2004, Judge #Kavanaugh distanced himself from the controversial Judge Pryor nomination. He testified—repeatedly—that he "was not involved in handling his nomination." Thanks to documents released at 3AM this morning, we now know that's not true. pic.twitter.com/xLRXR8rcb4

— Sen. Patrick Leahy (@SenatorLeahy) September 6, 2018
The nomination of Charles Pickering: During his 2006 confirmation hearing, Kavanaugh downplayed his role in the nomination of Charles Pickering, a controversial judicial appointee. (For instance, Pickering once reduced the sentence of a man who burned a cross in front of an interracial couple's house.) "This was not one of the judicial nominees that I was primarily handling," Kavanaugh said. But new emails show he may have been more involved than he let on.