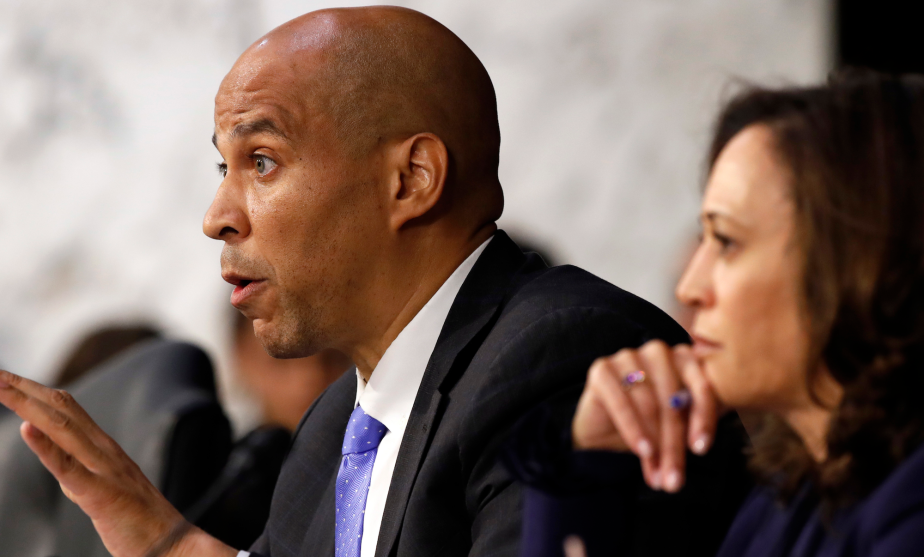 Fight disinformation:
Sign up
for the free
Mother Jones Daily
newsletter and follow the news that matters.
Senate Democrats kicked off the third day of Brett Kavanaugh's Supreme Court confirmation hearing with fireworks on Thursday morning, threatening to release committee-confidential documents revealing Kavanaugh's legal record.
The threat came moments after the New York Times published leaked documents from Kavanaugh's work in the Bush White House, some of which related to Roe v. Wade and racial profiling. In one previously undisclosed email included in the Times' report, Kavanaugh in 2003 challenged whether the landmark ruling was considered "settled law"—a statement that contradicts repeated testimony he made before the Senate Judiciary Committee this week on a woman's right to an abortion.
In announcing Democrats' intention to publicize the documents, Sen. Cory Booker (D-N.J.) said he understood that doing so would risk his removal from the Senate. He and other Democrats argued that the documents they hoped to release did not contain personal or classified information, nor had they agreed as a committee on what would be designated committee confidential. Instead, Democrats insisted that the public had a right to review the documents for a nominee's lifetime appointment.
"If Sen. Cornyn believes that I violated Senate rules, I openly invite and accept the consequences of my team releasing that email right now," Booker said. "And I'm releasing it to expose that number one, that the emails are being withheld from the public have nothing to do with national security, nothing to jeopardize the sanctity of those ideals that I hold dear."
Cornyn, in turn, accused Booker of attempting a political stunt in his potential 2020 run for president. Watch part of the exchange:
Sen. Richard Blumenthal described his Republican colleagues' attempts to keep the documents concealed as a "shame."
Booker, along with Sen. Mazie Hirono (D-Hawaii), later followed through and released documents related to Kavanaugh's record.:
These are the 4 documents marked committee confidential that I brought up in my questioning of Supreme Court nominee Brett Kavanaugh last night –> https://t.co/2RZkY2FS9a

— Cory Booker (@CoryBooker) September 6, 2018
This is a breaking news post. We will continuously update as more information becomes available.