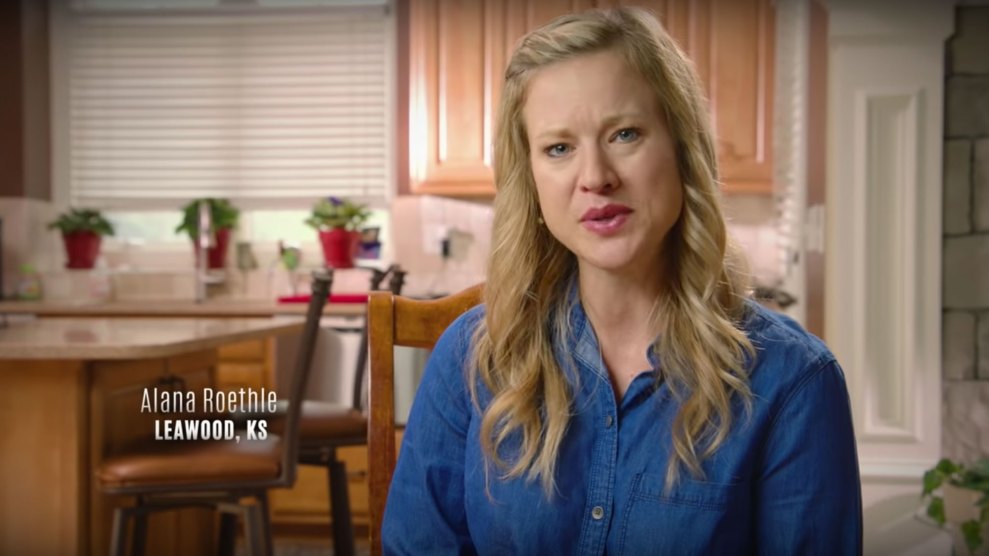 Fight disinformation:
Sign up
for the free
Mother Jones Daily
newsletter and follow the news that matters.
Alana Roethle claims she's worried about keeping her community safe. In "Risky," a 30-second video ad released on Friday, the concerned mother of four warns that Sharice Davids, an openly gay Native American woman vying to unseat Kansas Republican Rep. Kevin Yoder, supports "an extreme agenda that would put families at risk."
Yet Roethle and the ad's backer, the Congressional Leadership Fund, failed to disclose that she's been secretary for the Kansas Republican Party since January 2017. The state party's website also notes that Roethle was an alternate delegate to the 2016 Republican National Convention, that she attended President Donald Trump's inauguration, and that she's been active in state GOP politics since 2010.
"Davids would stand with Pelosi to oppose tougher border security. And Davids wants to eliminate ICE, the law enforcement agency that deports criminal illegal aliens. Davids even said our police departments are rooted in violence. Sharice Davids is too risky for Kansas families," Roethle says in the spot.
In a press release announcing the ad, the Congressional Leadership Fund, a conservative SuperPAC affiliated with House Speaker Paul Ryan that aims to keep Republicans in control of the House, doesn't mention Roethle's GOP connections. Rather, she's just a "local Kansas mom discussing why Sharice Davids' extreme, liberal agenda is too risky for Kansas families."
Asked about the missing disclosure, SuperPAC communications director Courtney Alexander told the Daily Beast, "Party affiliation does not change the reality that Sharice Davids wants to abolish ICE."
Davids, a 38-year-old first-time candidate endorsed by Emily's List, won a competitive Democratic primary in August. If elected, she could be the first Native American woman in Congress. And she's not the only one: Deb Haaland, a longtime activist and former state Democratic Party chair, is vying to do the same in New Mexico in her race against Republican Janice Arnold-Jones.
In July, when a podcast host asked whether she would abolish ICE, Davids said, "I would." But in her own ad this week, she indicated otherwise, "You probably saw an ad from Kevin Yoder's special interest friends, twisting my words. Well, they're wrong. I don't support abolishing ICE. I do support bipartisan immigration reform, with strong borders and a pathway to citizenship, especially for those who serve in our military."
Asked about the CLF ad by the Daily Beast, Davids' campaign replied, "Yoder retreats to the Washington playbook of distract and divide when he knows he can't defend his own record. That's clearly what's happening here."