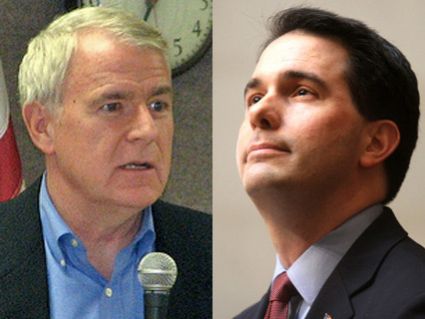 Fight disinformation:
Sign up
for the free
Mother Jones Daily
newsletter and follow the news that matters.
It's time for a rematch in Wisconsin.
Democrat Tom Barrett cruised to victory in the Wisconsin recall primary contest on Tuesday night and will face Gov. Scott Walker on June 5. Barrett's win sets up his second gubernatorial fight with Walker in less than two years. With 81 percent of precincts reporting, Barrett, the mayor of Milwaukee, led his top challenger, former Dane County executive Kathleen Falk, 57 percent to 35 percent.
Firefighter and union leader Mahlon Mitchell, who dominated the Democratic primary for the lieutenant governor, will join Barrett on the Democratic ticket in the June 5 recall. Mitchell's impassioned support for workers' rights and public-sector unions during the 2011 protests transformed him into something of a celebrity in progressive circles in Wisconsin.
Labor unions, who poured money and manpower into backing Falk, wasted no time Tuesday night throwing their full support behind Barrett.
"Unlike Scott Walker, we believe in democracy," said Rick Badger, a local leader within the powerful American Federation of State, County, and Municipal Employees union. "We are unified in our support for Barrett and will do everything we can to make sure he defeats Scott Walker on June 5." Dian Palmer, president of the Service Employees International Union Healthcare Wisconsin, added: "Tonight's results prove that Tom Barrett has connected with working families across the state." And Mary Bell, head of the Wisconsin Education Association Council, the state's largest teachers union and an avid Falk supporter, also announced her support for Barrett.
Falk, for her part, urged her supporters to unite behind the cause of booting Walker out of office on June 5. She especially appealed to those in her camp who helped ignite and grow the popular protests that engulfed Madison, the state capital, in the winter of 2011. "Just as you supported me, we must now support [Barrett]," Falk said in an email to supporters. "We must support him with all our energy and enthusiasm. This movement needs the passion of all of you who have worked so long and with such sacrifice to make this recall happen."
Even President Obama hailed Barrett's victory. The Obama campaign said in a statement that the president "is proud to stand with Tom Barrett and hundreds of thousands of Wisconsin families coming together to move Wisconsin forward."
The Republican Party of Wisconsin didn't bother waiting for Barrett to officially claim victory before attacking him. In a statement sent out 30 minutes before polls closed across Wisconsin, GOP spokesman Ben Sparks said in a statement that Barrett's "failed record in Milwaukee has been a serious concern throughout this contentious primary, and tonight, many Democrats showed they're still not convinced he's the right candidate to challenge Governor Walker."
In 2010, Barrett, a five-time US congressman, lost to Walker by nearly 125,000 votes in a landslide year for Republicans. The GOP not only reclaimed the governor's mansion that year, but also seized control of the state legislature. This time, the political climate is changed, and the state is divided on whether to vote Walker out of office 17 months into his first term.
Pollsters and political scientists say Walker's foes will need to win over and turn out a small group of people—6 or 7 percent of registered voters—who unlike many Wisconsinites, remain undecided on whether to oust Walker. Paul Maslin, a Democratic pollster who worked for Falk's campaign, says these undecided voters, "have no reason to make a judgment now, and they're going to wait until the last possible minute." He continued, "When they do vote, they'll leave all the stuff aside, whatever they thought of this recall originally, all the noise and the back and forth, and they'll make a judgment about who do they trust."
When I spoke with Maslin in March, he believed that candidate was Kathleen Falk. Now it's up to Tom Barrett to convince those coveted undecided voters that he's the one to heal Wisconsin's wounds.