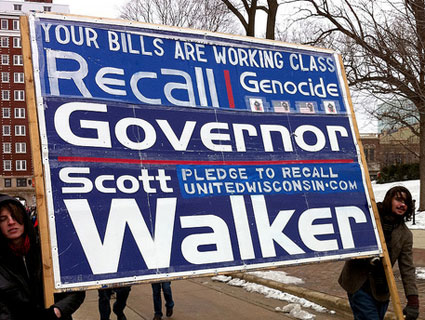 Democrats in Wisconsin are headed to the polls to pick a challenger to face Gov. Scott Walker in his recall election on June 5. The two leading candidates, Milwaukee Mayor Tom Barrett and former Dane County executive Kathleen Falk, offer voters a clear-cut choice: Do you pick the candidate who captures the progressive spirit and populist outrage that triggered Walker's recall? Or the one with the best showing in the polls?
If the recall election were held today, survey after survey shows, Barrett would stand the best chance of defeating Walker in a head-to-head fight. A former five-term US congressman who lost to Walker in the 2010 gubernatorial race, Barrett held a razor-thin 1 percentage point lead over Walker in last week's Marquette University Law School poll, and a slew of others put him well within striking distance.
Falk fares worse. In the Marquette poll she trailed Walker by 7 percentage points, 49-42; she lagged by the same margin in a mid-April survey by left-leaning Public Policy Polling and Daily Kos. The closest she's gotten to Walker in 2012 was a late February PPP survey, where she had a 1-point edge.
Yet it is Falk who is more closely linked to last year's protests against Walker's anti-union "budget repair" bill—a movement without which there wouldn't have been a recall in the first place. As Dane County executive, the top official in the county that includes Madison, Falk marched in the streets surrounding the state capitol, spoke at rallies, and filed the first lawsuit challenging the legality of the bill. The state's largest labor unions endorsed her soon after she announced her recall candidacy in February; labor groups have also plowed $5 million into an independent political group, Wisconsin for Falk.
Falk also bagged key endorsements from central players in the Wisconsin Capitol occupation last year. In March Alex Hanna, copresident of the Teaching Assistants' Association, the union that led the occupation, personally endorsed Falk, highlighting her pledge to restore the bargaining rights Walker stripped away. "That Falk has made restoring collective bargaining one of the mantle pieces of her campaign makes our support of her a no-brainer," Hanna wrote.
Barrett, meanwhile, has a rockier relationship with the unions and true-blue progressives who marched in Madison. Soon after he entered the recall fray, an AFSCME local in Milwaukee released a deceptively edited audio clip suggesting that Barrett had supported the legislative strategy Walker used to jam through his "repair" bill. That touched off an angry exchange between unions, Democratic officials, and the Barrett camp, and PolitiFact later rated the clip "false." Unions have also taken issue with Barrett's attempt to seize control of the Milwaukee school system and his opposition to an ordinance mandating that employers offer sick days. (A judge later struck down the ordinance.)
In the final debate of the Democratic primary, Falk played up her progressive bona fides and questioned Barrett's passion for the anti-Walker cause. She said Barrett had "reluctantly" signed the recall petition, adding that she has been the more forceful critic of the governor. Voters, however, don't appear to be swayed: Last week's Marquette poll showed Barrett with a 17-point lead over Falk, 38-21.
In the end, Wisconsin's progressive activists, labor unions, and Democratic officials all share the goal of booting Scott Walker out of office. The vote that truly matters comes on June 5.