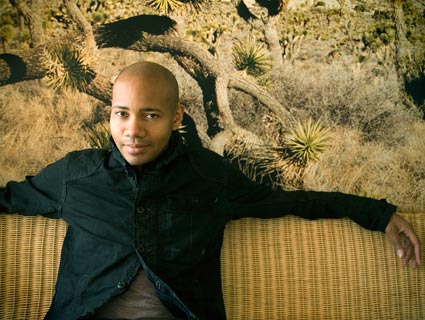 Fight disinformation:
Sign up
for the free
Mother Jones Daily
newsletter and follow the news that matters.
Where most artists hone in on one medium, DJ Spooky that Subliminal Kid—né Paul Miller—has spent his career breeding a tizzying, singular brand of organized, multimedia chaos. He's all over the place, and yet remarkably put together. One reviewer called him "Einstein with a better haircut."
Spooky's The Book of Ice, released this past summer, is a motley collection of photos, essays, data, and relics of an imagined People's Republic of Antarctica. It's also just one chapter of Spooky's Antarctic opus, which includes a film (North/South), and Terra Nova: Sinfonia Antarctica—an acoustic portrait of melting ice molecules that's part science experiment, part symphony, and part cautionary climate-change narrative.
Climate change is just one of several causes Spooky, 41, has tackled over the years. His 2009 album, The Secret Song, slams corporate America with tunes like "The War of Ideas," a new version of The Coup's "5 Million Ways to Kill a CEO," and a title track whose lyrics are based on economist Adam Smith's "invisible hand" theory. "The Secret Song," Spooky says, is the sound of "credit card fraud and jazz motifs made into stock exchanges." The album's brainy tracks are also supposedly hidden in smart-phone-scannable barcodes scattered around Manhattan. (Occupy Wall Streeters, after all, could perhaps use some additions to their repertoire.) His remake of D.W. Griffith's 1915 film "Birth of a Nation" turns the original—a glorification of racism and the Klan—on its head, making a once-silent film into one of rich sound and transforming a work of bigotry into a powerful educational tool.
Really? A DJ spinning microeconomics? For sure, the high-brow concepts Spooky throws around can occasionally overwhelm. But he's still a sight to see—an artist with bold imagination, remarkable tech savvy, and undeniable spunk who makes a mean mashup—and (as you're about to learn) can drop a Freud reference like it ain't no thing. Amid his global tour for The Book of Ice, I caught up with Spooky via email to talk about his geeky college years, Antarctica adventures, and how he really feels about climate skeptics. (You can check out his upcoming tour dates here.)
Mother Jones: With the book, you're gaining new recognition for the breadth of your talents. How'd you get into all this stuff?

DJ Spooky: When I was a kid, I looked at art as a way of blending everything. One of my favorite composers is Wagner—who coined the term "gesamtkunstwerk," or "total art work." That's what was going on in the 19th century, and the 20th century just kept it going. If you look at [Russian composer] Scriabin or John Cage, William S. Burroughs, that's where my music comes out of—that kind of collage/cut-up tradition. I think that electronic music mirrors the complexity of "information landscapes." You carry the terrain in your mind. I'm really influenced by the Dada movement, Fluxus, and artists like Jean Cocteau.
MJ: It seems like a lot of your mixing is like oil-and-water, blending elements that don't typically mix—past and present, like with "Rebirth of a Nation," traditional with contemporary. And now science and music.
DS: These are paradoxes that film, music, and literature can help us understand. The Book of Ice is kind of a meditation on hypothetical issues put directly in touch with physical phenomena—art meets nature. I wanted to show how graphic design interacts with geopolitics and propaganda.
MJ: What was your process for creating that in The Book of Ice?
DS: Geography is crucial for my work. I went to Antarctica and took a studio to several of the main ice fields to make field recordings of ice to create a symphony—acoustic portraits of ice. I've been really busy, but it's not all in one place—it's hyperglobalized. I was at the Venice Biennale for the first Africa Pavilion in 2007, and I spent six weeks in Angola. That's what DJ culture is all about—being comfortable in the flow of this kind of info density.
These kinds of places intrigue me because they have so much potential, and are integrated with different forms of digital culture—cell phones, DVDs, bootleg economics of film and software—nobody pays for software in Africa! Or Brazil, India, China. Seeing this kind of thing first hand and DJing in this context is what makes it all interesting for me. Watching 40 mile chunks of ice break off of Antarctica will change your life forever, but realizing that driving a car, or flying a plane, or having a nice steak, or drinking from a plastic bottle all contributed to the destruction of the environment—it's a bit complex, but music needs to pave the way for getting people to think about this kind of complexity. I'm just doing my share.
MJ: How can you communicate these ideas to people that don't believe in climate change?
DS: With multimedia, everything blurs. Software takes the concept of the imagination and makes it something you can edit, tweak, and transform with digital techniques. Everything becomes an edited file. It's strange to think that culture is simply a matter of millions of files flying around, but we now think in terms of networks for everything. For me, DJ culture—with its obsession with collecting records and archiving everything—predated the "cloud" concept with primitive material like the mixtape. Now we would call it "collaborative filtering" or something technical, but the impulse is the same—gather fragments, make something new. That is how you will bypass the climate-change skeptics: render them totally obsolete.
"Spooky," the DJ explains, comes from a philosophical attachment to Freud's concept of "unheimlich"—"the uncanny.'"
MJ: So if you were to send an email to the global listserv of skeptics right now, what would it say?
DS: "What planet are you on?"
MJ: Hah, concise! Okay, where did your name come from? What's so "Spooky"? And why "That Subliminal Kid"?
DS: William S. Burroughs had a novel called Nova Express. "The Subliminal Kid" was a major character, and I sampled it from his book. Spooky comes from a philosophical attachment to Sigmund Freud's concept of "unheimlich"—"the uncanny."
MJ: Oh? I want to hear more about that. A philosophical attachment to "the uncanny"?
DS: I majored in philosophy and ended up doing two degrees—one in philosophy and the other in French literature. Freud is usually viewed as the person who linked psychoanalysis to some issues in the environment, usually man-made. So I thought it would be fun to throw that in the mix. It's kind of like saying you have a mixtape of the mind.
MJ: Given the cerebral, figurative nature of what you do, I'd guess it's easy to find people who misinterpret, misuse, or discount it.
DS: I have to deal with some dumb folks. It's a real drag.
MJ: But a lot of people also come away from your stuff convinced that you're a multimedia wizard! So if you could magically add one thing to the global technology cannon, what would it be?
DS: Thanks for calling me a "wizard," but I don't think that works. The analogy is kind of like how we say that a car has "horsepower." There ain't no horses under my hood! I'd add that probably the most scarce resource we have these days is the idea.
MJ: I read somewhere that you're friends with Shepard Fairey.
DS: Yep, known him for years. He was at Rhode Island School of Design when I was at Bowdoin, and we stayed in touch over the years. Great guy.
MJ: I'm curious about what your artistic back and forth with him is like.
DS: These days, we're all sampling the media. Shep appropriates other works—photos, etc. I do the same with sound.
For Spooky, music was "basically a hobby that sprawled out of control."
MJ: If you could appropriate something of his—a skill, maybe—what would it be?
DS: All-encompassing memory.
MJ: What kind of DJing were you doing at Bowdoin College?
DJS: I was never planning on being a musician. It's basically a hobby that sprawled out of control. At Bowdoin—this is a very long time ago in the ancient early '90s—I was a geek studying macroeconomics and philosophy.
MJ: You recently collaborated with cellist Joshua Roman for The Voice Project, which works with artists to raise awareness about child soldiers in Central Africa. The two of you remixed Radiohead's "Everything in Its Right Place" into a classical-alt-rock-techno compilation. How did you end up choosing that song?
DJS: I'm a big Radiohead fan, and when the opportunity presented itself, I went for it. That video has since become a web classic. I've worked with lots of classical music before, so it was a simple thing to update the flow and make a cool project around that with my iPad app.
MJ: In your introduction to that Voice Project piece, you said you see electronic music as something that has an impact across cultures, and functions as "a global vocabulary." What did you mean?
DJS: It's in the DNA of the global village. Original work is the DNA, then you unpack the genetic material into new sequences. The rest is data flow. That's the metaphor that almost any country that has seen oppression can understand: How does perception of cultural conflict influence creativity and the arts? What's the response to the paradox that this presents to anyone who thinks a better world is possible? If you don't understand the past, the future won't make much sense either. So, I think that the audience intuitively understands the idea of sampling and remixing stories. That's why electronic music is global. [Philosopher Marshall] McLuhan was right: "The medium is the message."
MJ: Any advice for budding multimedia artists?
DJS: The easiest thing I can say is simple, but paradoxical in this era of total sampling: Be original.
Here's an excerpt from Spooky's 70-minute Terra Nova: Sinfonia Antarctica:
Spooky's rendition of "5 Million Ways to Kill a CEO," from The Secret Song, 2009:
And you can watch a clip of Spooky's "Rebirth of a Nation" here.
Click here for more music features from Mother Jones.