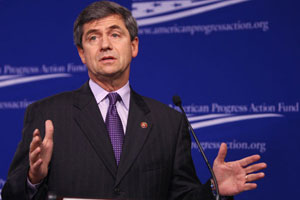 Fight disinformation:
Sign up
for the free
Mother Jones Daily
newsletter and follow the news that matters.
The already-bitter Pennsylvania Senate Democratic primary between Sen. Arlen Specter and Rep. Joe Sestak may be about to turn into an all-out brawl. First, Specter's campaign launched a negative TV ad describing Sestak as "relieved of duty in the Navy for creating a poor command climate." Then, Sestak accused Specter, who switched parties last year, of "Swiftboating" him, referring to the attacks that tanked John Kerry's 2004 presidential campaign. Now, Sestak is trying to drag Vice President Joe Biden into this dust-up. In a letter to the vice president, Sestak calls on Biden to make good on his September 2008 declaration that if anyone tried to Swiftboat another Democrat, "I'm going to smack 'em right square in the chops."
Today, I am calling on you to fulfill that promise…
After the shameful political attacks we saw carried out, with unfortunate effect, against Veterans Senator John Kerry and Senator Max Cleland, you know we cannot allow even tacit approval of these tactics—not in our party, not in our country.
I understand that Arlen Specter is your longtime colleague and close personal friend, but I call on you to disavow these lies and demand that they be stopped immediately.
The Specter ad draws on a Navy Times story that states Sestak "had been sacked in 2005 by the incoming chief of naval operations, Adm. Mike Mullen, now chairman of the Joint Chiefs of Staff, for treating staff poorly." Sestak was reassigned to a lower position and then retired from the Navy the next year. The Navy has never officially commented on the issue. But this isn't the first time that Sestak's Navy record has served as political ammunition: in his first 2006 House race, his opponent also called it into question.
Specter's characterization of Sestak's military experience is hardly as extreme as the allegations that Kerry had falsified his accomplishments during his service in Vietnam. But this latest kerfuffle signals that the battle between Specter and Sestak is only going to get more acrimonious—whether or not the vice president smacks anyone in the chops.