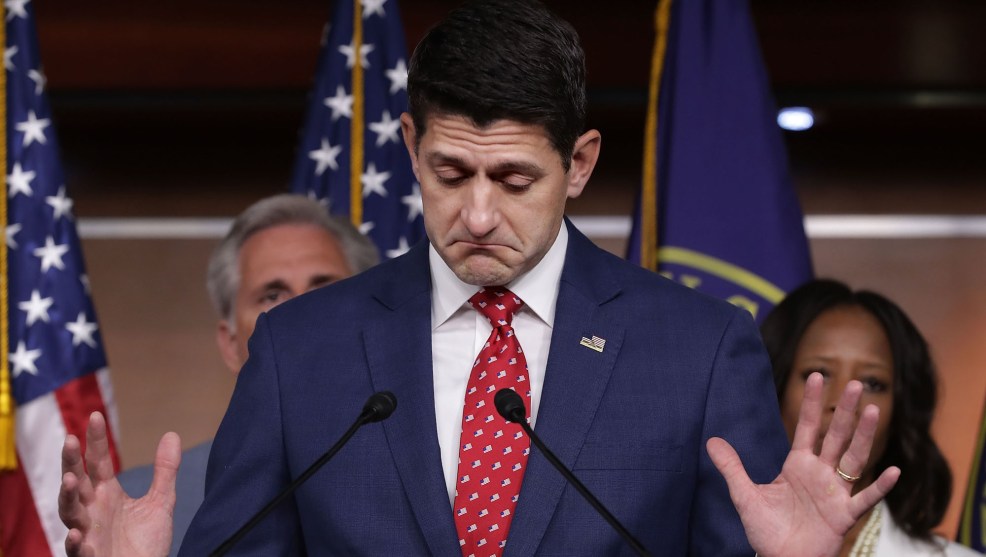 Fight disinformation:
Sign up
for the free
Mother Jones Daily
newsletter and follow the news that matters.
The farm bill—once-every-five-years mega-legislation that shapes US agriculture and hunger policy—is back on the legislative agenda. The House and Senate are jockeying for position as they prepare to reconcile their two versions, with the hope of sending a finished bill to the president's desk before the previous bill expires on September 30.
In June, the US House narrowly passed its version, (margin: 213-211), which essentially preserved the previous bill's status quo except for two big things: It would add onerous work requirements for recipients of the Supplemental Nutrition Program or SNAP, formerly known as food stamps, and it would cut a key conservation program that encourages farmers to take measures that build soil and reduce chemical runoff.
President Donald Trump hailed the work requirements, signaling that he'd love to sign the bill into law.
Farm Bill just passed in the House. So happy to see work requirements included. Big win for the farmers!

— Donald J. Trump (@realDonaldTrump) June 21, 2018
A week later, the Senate overwhelmingly passed its version of the farm bill (margin: 86-11). This one essentially preserved the previous bill's status quo, but didn't mess with SNAP or conservation.
So now we have a showdown, with the SNAP work requirements at center stage. Anti-hunger advocates are generally aghast at the House bill's work provisions, which the Congressional Budget Office estimates would knock around 1.2 million people off of SNAP. Under current SNAP rules, non-disabled adults between the ages of 18 and 49 who don't have dependents can only receive benefits for three months over a three-year period, unless they work or are enrolled in job training for at least 80 hours per month. The House provision would extend the age horizon to 59, and also apply to people whose dependents are over six years old.
Here's how the Center on Budget and Policy Priorities describes it:
Though the bill's proponents say they want to encourage work among more SNAP recipients, the bill is likely to leave many people who face substantial barriers to work with neither earnings nor food assistance. Most people who participate in SNAP are workers—most work while receiving SNAP, while many others are between jobs. The large majority of those who aren't working are caring for someone else, suffering from a disability or chronic health condition that limits their ability to work, or going to school.
Outgoing Speaker of the House Paul Ryan (R.-Wisc.) has made clear he won't budge on the SNAP changes, hailing them as part of his legacy as a tireless proponent of "welfare reform."
In this economy, with all of the opportunities available, there could not be a better time to help more people move from welfare to work. pic.twitter.com/gfwel2IEHU

— Paul Ryan (@SpeakerRyan) July 12, 2018
Meanwhile, the Senate's agriculture committee leaders from each party, Pat Roberts (R-Kansas) and Debbie Stabenow (D-Mich.) have made it clear that the House's SNAP requirements will never get win a filibuster-proof 60-vote majority in the upper chamber.
So we have an impasse: a House leadership that really, really wants to squeeze SNAP recipients; and a Senate determined not to let that happen; a looming deadline (Sept. 30) before the old farm bill expires, made more urgent by the coming August recess; and a monumental midterm election in November, which could completely rearrange—or further entrench—the current partisan power dynamics in Congress.
That's why long-time farm bill observers like Ferd Hoefner of the National Sustainable Agriculture Coalition, think the reconciliation talks will end in a stalemate, likely forcing Congress to pass a short-term extension of the previous farm bill before it lapses. Senate negotiators can't cave, because they know they won't have the votes to pass changes to SNAP. As for the House, says Hoefner, "Ryan seems determined that his legacy reflect that he fought to the death on what he calls 'welfare reform,' and what everyone else calls kicking people off SNAP."