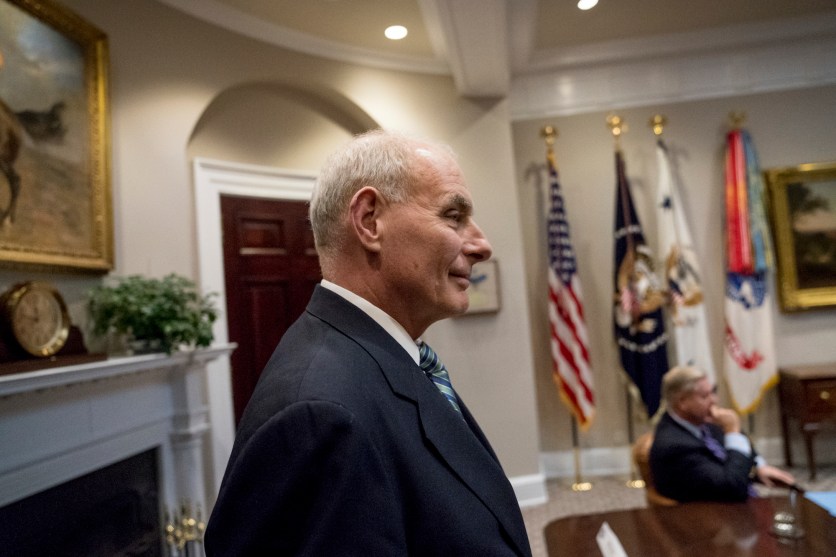 Most Dreamers—undocumented immigrants who came to the United States as children—have applied for the protections from deportation created by the Obama administration's Deferred Action for Childhood Arrivals (DACA) program. But some have not, and on Tuesday, White House Chief of Staff John Kelly suggested that may be because they have been "too lazy to get off their asses."
Immigration experts cite a number of reasons why some Dreamers didn't apply for DACA before the Trump administration closed the application process last year. These include fear of telling the government they were undocumented, better options for obtaining legal status, and failure to meet the Obama administration's requirements. (The Department of Homeland Security is again accepting DACA renewal applications following a federal court ruling that temporarily blocked the Trump administration's move, although the Justice Department is appealing that decision.)
There are currently about 690,000 DACA recipients. The White House is proposing a path to citizenship for the broader population of 1.8 million Dreamers in exchange for border wall funding and steep cuts to legal immigration—an offer that immigration advocates and Democrats consider a nonstarter. According to the Washington Post, Kelly said the "the difference between [690,000] and 1.8 million were the people that some would say were too afraid to sign up, others would say were too lazy to get off their asses, but they didn't sign up."
Matthew Kolken, a Buffalo-based immigration lawyer, says his "experience from 21 years of practicing US immigration law is that you will never find a group of individuals who are less lazy than immigrants." DACA-eligible individuals have the same labor force participation rate as other young workers, according to the nonpartisan Migration Policy Institute. Randy Capps, the institute's director of research for US programs, says he hasn't "seen anything" that supports Kelly's claim.
Kelly's claim incorrectly implies that more than 1 million eligible Dreamers have not applied for DACA. The Migration Policy Institute estimates that 1.3 million people are eligible for DACA. Capps says more than 900,000 have applied—meaning that the application rate is about 68 percent. He adds that the 1.3 million estimate includes people who are not eligible for DACA because of criminal convictions, so the actual application rate among eligible Dreamers is likely higher.
Low application rates among Dreamers who are not from Mexico and Central America are also a factor, Capps says. Just 1 percent of eligible Vietnamese Dreamers have DACA, compared to 65 percent of Mexicans. Capps explains that Asian Dreamers are more likely to be eligible for green cards because they arrived legally and then overstayed visas, giving them less incentive to apply for DACA. People who cross the border illegally often cannot receive green cards without leaving the United States for 10 years.
Other Dreamers were reluctant to apply for DACA because it meant giving the Department of Homeland Security their address and admitting they were undocumented. Kolken warned clients that a future administration could end the program and use their data to deport them. He broke with many immigration lawyers by recommending that potential clients not apply. DHS has said it will protect DACA application data, and President Donald Trump has told DACA recipients who are now losing protections "not to worry." Kelly repeated on Tuesday that Dreamers "are not a priority for deportation."
Despite those assurances, former DACA recipients have already been detained. Thomas Homan, the acting director of US Immigration and Customs Enforcement, said last week that his agency will detain any person who is in the country illegally.