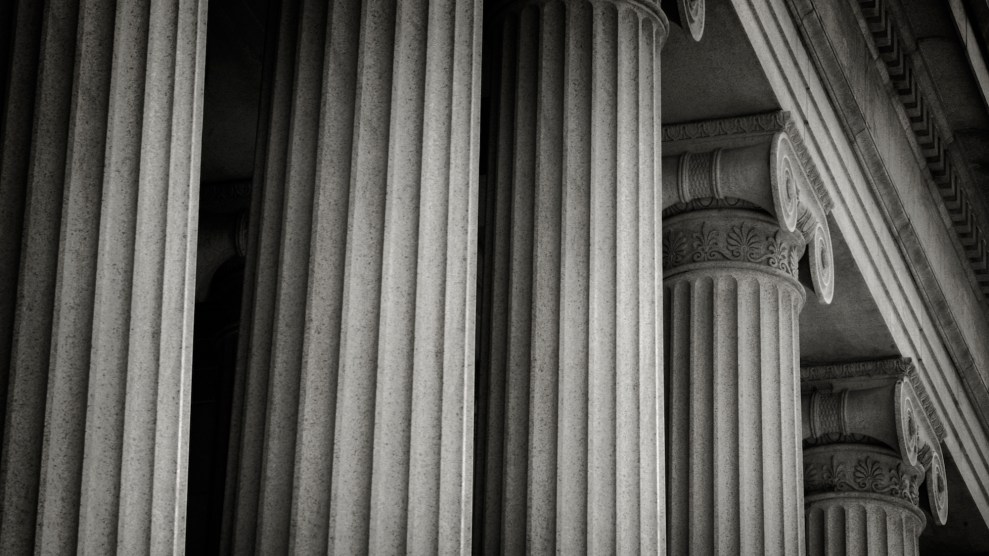 Fight disinformation:
Sign up
for the free
Mother Jones Daily
newsletter and follow the news that matters.
A federal court ruling Tuesday evening is poised to give some relief to the nearly 700,000 undocumented immigrants who were left in legal limbo after the Trump administration rescinded the Deferred Action for Childhood Arrivals (DACA) program last year. But immigration lawyers and advocates say it's still too early to tell just how safe they might be.
California district court judge William Alsup partially blocked the Trump administration's decision to end DACA, the Obama-era program that protected undocumented immigrants who came to the United States as children from being deported. His decision rejects the Trump administration's argument that President Obama unlawfully circumvented Congress by establishing DACA through an executive action, and ruled that the government must resume accepting renewal applications.
This seems like good news for thousands of young men and women, but Alsup did not set a deadline for when the Department of Homeland Security (DHS) needs to accept renewals. His decision only requires that DHS "post reasonable public notice" that it will comply and outline a process for doing so. This means that in practice, according to an interview with National Immigration Law Center executive director Marielena Hincapié in the Washington Post, DACA recipients "can't go back and renew today."
US Citizenship and Immigration Services (USCIS), the DHS agency that processes DACA applications, did not directly answer Mother Jones questions about a timeline for when it would begin accepting renewals, only saying that it "will provide information" about implementing the decision "as it becomes available."
Not only could DHS drag its feet, but there could also be a series of legal appeals that threaten Alsup's ruling. The Justice Department said it will "continue to vigorously defend" the Trump administration's decision to end DACA, and "looks forward to vindicating its position in further litigation." And Charles Kuck, a Georgia-based lawyer and former president of the American Immigration Lawyers Association, tells Mother Jones that he believes Alsup's decision is likely to be blocked if and when it's appealed; the Supreme Court has already struck down Alsup's effort to force the administration to turn over documents about how it decided to end DACA. He considers Tuesday's decision a "great victory," but cautions that "no applicant should send money or documents to USCIS until we have an official word to do so."
Ongoing political negotiations could also render the decision moot. Republicans and Democrats in Congress are currently seeking to reach a deal before DACA expirations begin to spike in March and have said that the ruling shouldn't affect ongoing immigration negotiations. Immigrant advocacy groups are pushing for DACA to be included in the spending bill that is needed to keep the government open beyond January 19.
White House Press Secretary Sarah Sanders meanwhile called the decision "outrageous, especially in light of the President's successful bipartisan meeting with House and Senate members at the White House on the same day."
All this uncertainty means immigration advocacy groups are not giving up the fight. Many lauded the decision but continued to press for a permanent solution from Congress. "This victory should make it even more clear that Congress must act now. Dreamers—and our nation—deserve more than temporary relief from the courts; they deserve a bipartisan Dream Act," Karen Tumlin, legal director at the National Immigration Law Center, said in a statement.
"Congress must deliver the bipartisan Dream Act by January 19—the clock is ticking and every day that they delay is another day that young people lose their protections," Adrian Reyna, a Dream Act campaign manager at United We Dream, an immigrant youth-led network, said in a press call today. "The court decision and the meeting yesterday are signs of movement and momentum by officials in the government—momentum that has been built by the immigrant youth who are fighting for our lives."
Gabriela Garcia, a 29-year-old DACA recipient who is currently a law student at the University of San Francisco, similarly calls the decision "a little ray of hope" in the midst of a tumultuous period for immigrant rights, but warns it is not a true fix. "It's not a permanent solution, but it's opened a small window, and we have to take advantage of it as fast as we can," she tells Mother Jones. "For a lot of people whose work permits are expiring, this is the news we needed to continue fighting for something more permanent, like the Dream Act."