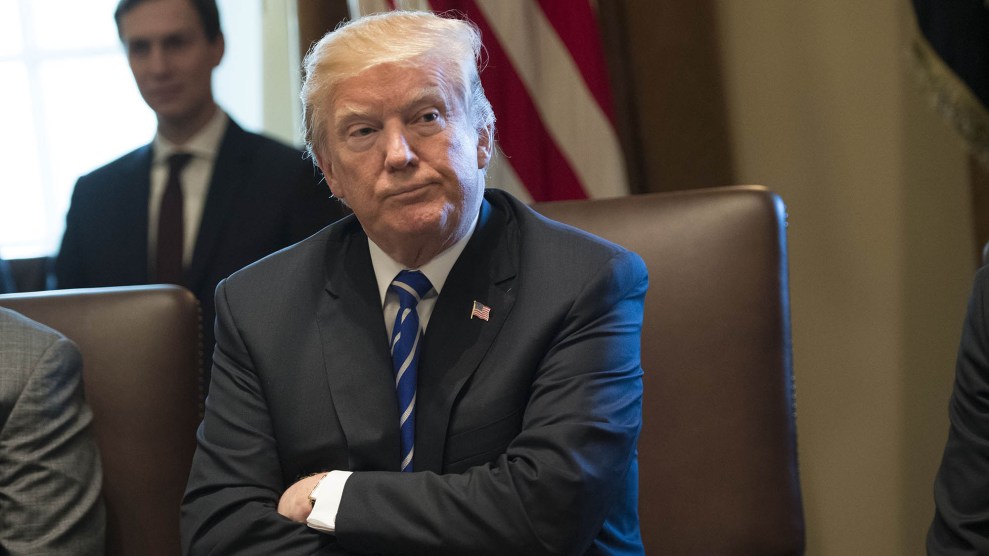 Fight disinformation:
Sign up
for the free
Mother Jones Daily
newsletter and follow the news that matters.
This past week, while the White House was quickly sinking into a wave of recriminations over how much top administration officials knew about a senior aide's history of domestic violence, Trump himself was personally fuming over the appearance that his people had mishandled the response—that they looked weak in their reaction. On Friday, he made a bizarre statement of support for his former staff secretary Rob Porter, wishing him well and emphasizing that Porter had denied any wrongdoing.
On Saturday morning, Trump came out for Porter's side again, tweeting about the danger of false allegations.
Peoples lives are being shattered and destroyed by a mere allegation. Some are true and some are false. Some are old and some are new. There is no recovery for someone falsely accused – life and career are gone. Is there no such thing any longer as Due Process?

— Donald J. Trump (@realDonaldTrump) February 10, 2018
The Tweet echoes his comments on Friday
"I found out about it recently and I was surprised by it. But we certainly wish him well," Trump told reporters. "It's an obviously tough time for him. He did a very good job while he was in the White House, and we hope that he has a wonderful career. Now he also, as you probably know, he says that he's innocent. I think you have to remember that. He said very strongly yesterday that's he's innocent."
Porter, a former Senate aide, is accused of being physically abusive towards his two ex-wives. A photo of his first wife with a black eye that she said she recieved when Porter punched her during an argument, surfaced this week. Porter's second wife detailed in interviews how Porter physically grabbed her during an argument, and later sought a restraining order against him.
Trump's sudden concern for due process immediately struck a nerve with his critics on Twitter, who pointed to the president's involvement with the Central Park Five case.
https://twitter.com/anthonyLfisher/status/962350993152401408
Arguably one of Trump's first forays into social and political commentary was his vitriolic public rantings in 1989 against a group of five African-American and Latino teenagers accused of raping a white female jogger in Central Park. Trump went even took out a full-page ad in all of New York City's major daily newspapers, demanding that the death penalty be reinstated and used against the five teenagers. The men were later exonerated, but Trump has never backed down from his assertion that they were the culprits.