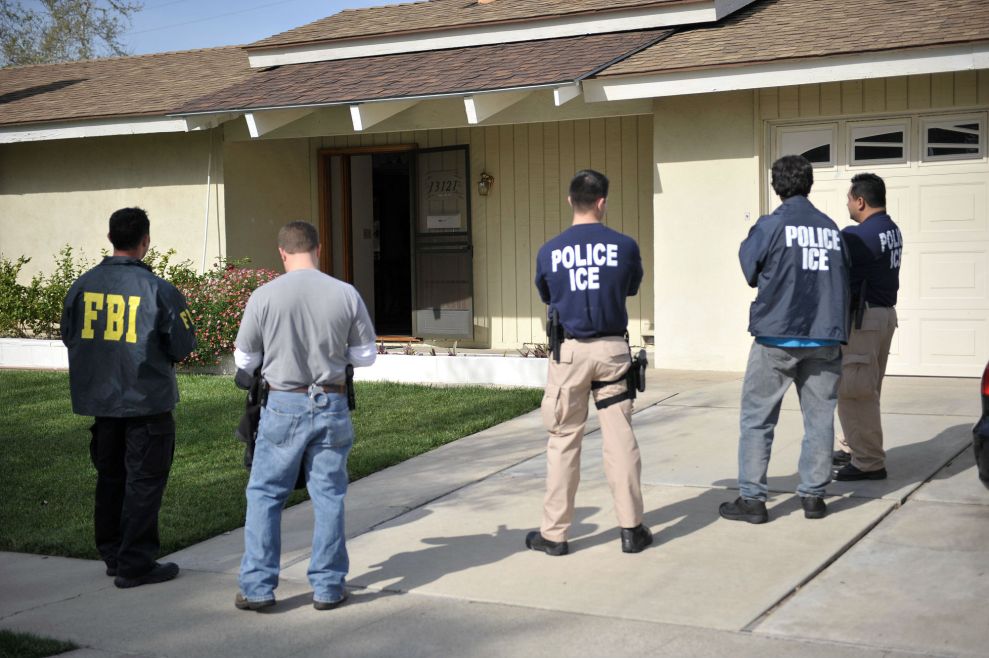 Fight disinformation:
Sign up
for the free
Mother Jones Daily
newsletter and follow the news that matters.
In a small stucco home in San Leandro, California, eight-year-old Kevin is playing Minecraft at his kitchen table when the phone rings. His little sister hands the phone to their mother, Yibi Heras. "It's my dad," Kevin says casually, returning to his game. The call has come from West County Detention in nearby Richmond, where Kevin's father, Maguiber Filomeno Ramos, has been held since immigration agents arrested him at their home in February.
Before becoming one of the more than 41,000 undocumented immigrants swept up in the Trump administration's immigration crackdown over the past several months, Ramos supported his family by working three jobs—two in hotels and one at a restaurant—seven days a week. But he had some brushes with the law—a conviction for being under the influence of cocaine about 10 years ago and a reckless driving violation last year—making him low-hanging fruit for Immigration and Customs Enforcement, which has also been arresting and deporting scores of people without criminal records since Trump's inauguration. Now that Ramos is gone, his wife, who is four months pregnant, must manage child care, the sudden loss of income, and the many details of their daily lives alone.
"You had the luck of being born here," Yibi Heras says to her eight-year-old son, Kevin.
Among the most important of those details: Kevin's health. Sitting at the kitchen table, you wouldn't know that he has cerebral palsy, or that he had surgery on his spine a couple of years ago. His mother left her job as a janitor at a gym to oversee his care; he spent two months in the hospital and now goes to physical therapy three days a week. The next four years are vital to Kevin's progress, Heras says. If he doesn't gain enough strength in his legs during that time, he may never be able to leave his wheelchair. "The doctors say the surgery went really well," she says, perhaps to Kevin more than anyone else. Kevin nods. She addresses him more directly, "You had the luck of being born here."
Kevin is eager to share pictures of his father. He slides off his chair and onto the ground. Since he cannot walk, he gets around the house by dragging himself with his arms, his legs curled behind him. "I'm a froggy," he says jovially. "My arms are strong but my legs are weak." He drags himself to the room where the whole family sleeps. His mother and the younger two children sleep in the king-size bed that takes up most of the room, and Kevin sleeps in a small race car bed at the foot.
He points to pictures of his father that are taped to a wardrobe. Ramos is smiling, wearing a Barcelona soccer jersey. (Barça is also Kevin's favorite team.) They look a great deal alike. Kevin has told his teacher and some friends about his father's detention, but not others. "I don't want to tell some of them," he says. "What if they say, 'So what?'"
As the oldest child, Kevin understands what happened to his dad better than his two siblings, four-year-old Gabi and three-year-old Christopher, whom they call Gordo because he was chubby as a baby. They slept through their father's early morning arrest, and they thought it was a game when their mom told them he was gone as they got ready for school. But now when Heras closes the door at night, Gordo gets upset and points to his father's keys on the kitchen table, "Papa doesn't have his keys!" he says. "He's not coming," she tells him, locking the door.
Kevin has told his teacher and some friends about his father's detention, but not others. "What if they say, 'So what?'"
Recently, Kevin dreamed his father died. "I saw his bones," he says, his eyes large. When his father called the next day, Kevin told him about the dream. "I'm not dead," his father told him. "I'm in jail." Kevin teared up as he told the story and then suddenly became embarrassed, covering his eyes and breaking into nervous laughter.
Kevin and his siblings' only means of contact with their father is the telephone. Ramos calls for a couple of minutes every day, and the children must behave when they're talking to him—if they cry, the detention officers cut the call. Sometimes when Ramos is on the phone, Heras calls his mother in Guatemala and holds the two phones together so they can talk.
Heras has begun helping other men at the detention center by calling their families in their home countries to keep them apprised of their cases since the detained cannot make international calls. She was calling one Honduran man's father until one day, the detainee abruptly stopped calling. "I don't know what happened to him," she says.
She and her husband haven't spoken about what they will do if he gets deported. "We are thinking in positives," Heras says. Like many undocumented immigrants who've come from Central America in recent years, Ramos left for the United States from Guatemala after gangs attacked and threatened him. His lawyer, Lisa Knox—an attorney at Centro Legal de la Raza, a legal services agency for immigrants in Oakland—said of the gangs, "Once you become an enemy, you stay an enemy. He's absolutely at risk of harm if he has to go back." For this reason, Knox is pursuing what's known as a "withholding of removal," an order that an immigration judge can issue that would allow Ramos to remain in the country for his own safety. In the meantime, ICE has denied his lawyer's request to release him while he waits for his hearing. Knox noted that under Trump, she has found it harder to push for the release of immigrants, like Ramos, who have extenuating circumstances.
Recently, Kevin dreamed his father died. "I saw his bones," he says. "I'm not dead," his father later told him. "I'm in jail."
In the meantime, Heras is renting out rooms to friends to make some extra money. She has enlisted their help with small tasks, and they come in and out of the kitchen as we talk at dinnertime. If Ramos is not released from detention or gets deported, she plans to return to work a month after the birth, health permitting. But she insists that they will not join him in Guatemala. They are too dependent on the medical care and equipment Kevin receives in the Bay Area, she says, and "everywhere here is wheelchair accessible."
That decision means they will continue living in a community on high alert. Immigrants are reporting being fearful of paying taxes and of seeking public services such as food assistance and police protection. Heras says many people she knows now avoid leaving their homes. "You have no rights if you have no papers," she says. "You think your home is safe, but they came here. If they want to take someone, they will take someone. No place is safe."
She explains that her family must go on living normally. "I have three kids," she says. "I can't be inside, afraid."