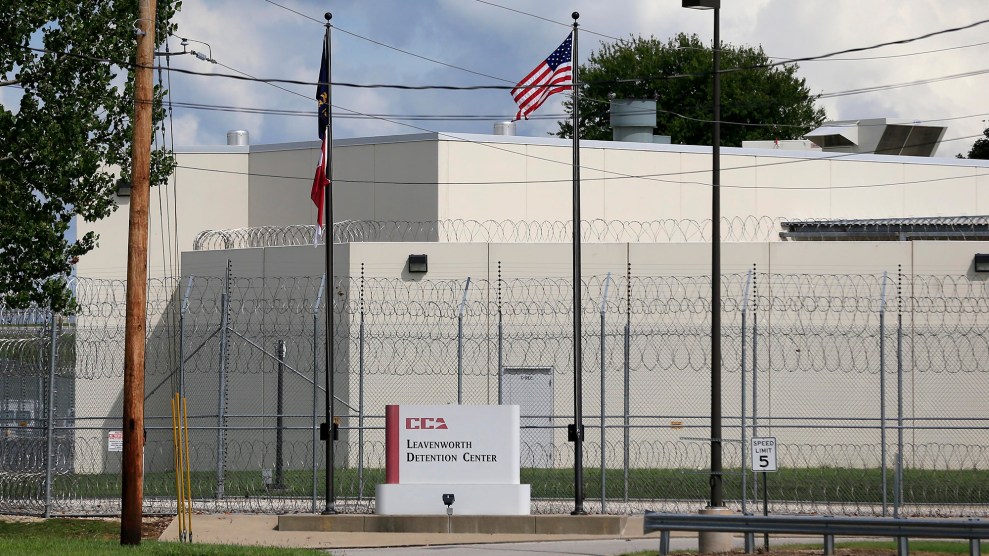 On Tuesday, the Justice Department slammed the private prison company CoreCivic and the US Marshals Service for poor oversight and severe understaffing at a Kansas maximum-security facility that holds federal detainees awaiting trial. These problems led to security risks and low morale, according to the DOJ's Office of Inspector General, which released an audit of the Leavenworth Detention Center covering 2010 to 2015.
The scathing report comes two months after the Trump administration reversed the Obama administration's decision to scale back the Justice Department's use of private prisons following reports of security and administration problems in privatized facilities.
The audit found that CoreCivic, formerly known as the Corrections Corporation of America, struggled with periodic staffing shortages at Leavenworth. In September 2015, there was a 23 percent vacancy rate among correctional officers, who appeared to be leaving for higher-paying jobs with benefits. As a result, the audit found, CoreCivic required long-term mandatory overtime and had to shutter essential security posts, making it harder to respond to emergencies and control access in and out of the facility. The failure to "consistently fill these posts compromised its ability to run the facility in a safe and secure manner," the auditors wrote.
"Rather than take steps to address understaffing," the US Marshals Service and CoreCivic "exacerbated the problem," the auditors added. The private prison company did not request extra help; instead, it sent some of its Leavenworth staffers to work at other lockups. In March 2015, for example, it transferred some of them to Winn Correctional Center in Louisiana, the subject of a Mother Jones investigation in which reporter Shane Bauer witnessed the prison's staffing and security problems firsthand. CoreCivic wanted to shore up the safety situation at Winn, but the move left Leavenworth's Special Operations Response Team, which responds to security emergencies, with just 4 members rather than the required minimum of 12. CoreCivic, the nation's second-largest private prison company, told the Office of Inspector General that the understaffing at Leavenworth in 2015 was an "isolated incident." It said the facility offered "among the highest correctional officer wages of CoreCivic's institutions" and did not struggle to recruit officers.
The DOJ audit blasted the US Marshals Service for failing to hold CoreCivic accountable for this and other issues. Auditors found that the US Marshals Service was unaware that officials uninstalled beds at Leavenworth in 2011 to conceal from American Correctional Association (ACA) investigators that they were triple bunking inmates in cells designated for two people. The US Marshals Service official responsible for day-to-day monitoring was not based at the detention facility and received "no formal guidance." "Field reports contained at most a single paragraph vaguely describing the results" and were in one instance completed after only an one-hour inspection. This lack of oversight may also be a problem at the 15 other contract detention facilities run by the US Marshals Service, the audit noted.
In response to these findings, the US Marshals Service said it would improve training of its oversight staff and create an onsite program to monitor its contracts at each of its privately run detention facilities. After the 2011 ACA investigation, CoreCivic created a program to train staffers to report misconduct, and in 2015 the US Marshals Service issued a memo prohibiting triple bunking. The private prison operator also told the Office of Inspector General that it had taken steps to improve CO recruitment and performance. "The safety and security of our facility, staff, and those entrusted to our care has consistently been our top priority," it wrote in a 14-page memo attached to the Office of Inspector General report.
Last August, the Justice Department announced that it would phase out its use of private prisons after investigations found that they were less safe and effective than publicly run facilities. Previous audits by the Office of Inspector General had found that compared with federal facilities, CoreCivic prisons "had the highest rates of inmate fights and inmate assaults on other inmates." In February, the Trump administration reversed the Justice Department's stance on private prisons, saying it would continue to renew its contracts with private companies. (The Obama directive did not apply to the US Marshals Service, which is part of the Justice Department but does not fall under the purview of the Bureau of Prisons.) Attorney General Jeff Sessions wrote that private prisons were necessary to "meet the future needs of the correctional system."