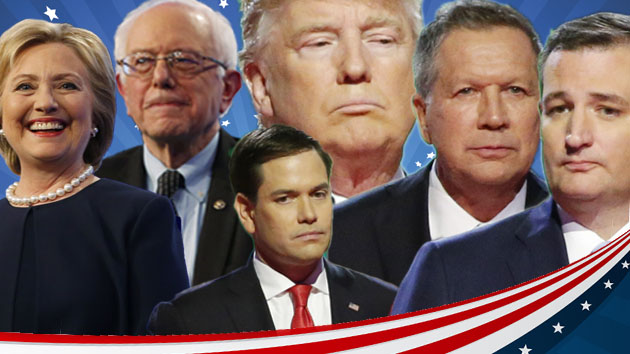 Fight disinformation:
Sign up
for the free
Mother Jones Daily
newsletter and follow the news that matters.
It's make-or-break time for at least two presidential candidates as voters once again go to the polls. Five states—Florida, Ohio, North Carolina, Missouri, and Illinois—hold their primary contests tonight. The stakes couldn't be higher.
Marco Rubio is fighting for his political life in Florida, where the polls show him well behind Republican front-runner Donald Trump. If he doesn't pull off an upset, his presidential bid is expected to come to an end. Meanwhile, John Kasich is battling Trump in his home state of Ohio. Polls suggest Kasich could hold off Trump and stay in the race. Meanwhile, Ted Cruz is hoping to pull off a win in Missouri, his campaign manager's home state, in order to make the case that this is a two-man race between him and Trump. Cruz could also be competitive in Illinois. Tuesday's primaries are that much more important for being the first in which Republican Party rules allow states to allot delegates on a winner-take-all basis, as opposed to the proportional distribution that states have used up until today. That means it's truly boom or bust for Rubio and Kasich.
On the Democratic side, the delegate allotment remains proportional. But the delegate math is still a big deal. Hillary Clinton leads Bernie Sanders in polls across all five states—but that's no guarantee she will win them all. On March 8, Sanders overcame a 20-point polling deficit to win Michigan. While Clinton is favored to win Florida and North Carolina, her lead is much more tenuous in the Midwestern contests in Ohio, Illinois, and Missouri—states that share many demographic and economic features with Michigan. With a couple of upset wins, Sanders could prove that he's in it for the long haul. With losses across the board, he'd be facing a very difficult path ahead.
UPDATE 15, March 16, 1:15 a.m. ET: Hillary Clinton has won both the Illinois and Missouri primaries. The former Secretary of State beat Senator Sanders in all five contests Tuesday, her smallest margin being a mere 1,531 votes in the Show Me State.
With 100% of the vote in, @HillaryClinton wins Missouri by 1,531 votes and sweeps all five states.

— Jay Newton-Small (@JNSmall) March 16, 2016
UPDATE 14, March 15, 9:55 p.m. ET: Just a few minutes after he was declared the winner in Illinois, the networks called North Carolina in Trump's favor. It's the third win of the night for Trump, with current returns in Missouri also favoring Trump.
UPDATE 13, March 15, 9:50 p.m. ET: CNN has called Illinois for Donald Trump. While it is not a winner-take-all state like his earlier victory tonight in Florida, it's a big boost to Trump's delegate lead after Ohio went with home state Gov. John Kasich.
UPDATE 12, March 15, 9:45 p.m. ET: John Kasich claimed victory in his home state of Ohio, playing the diplomatic, mild-mannered alternative to Donald Trump and Ted Cruz. In an off-the-cuff speech that included a gracious nod to Marco Rubio (and presumably his supporters), Kasich vowed to continue fighting all the way to the convention—but without going negative.
"Even though I got my start laboring in obscurity, with people counting me out, people in Ohio saying, 'Why don't they ever call on him?'" Kasich said, recalling how little coverage his campaign received initially. "But we put one foot in front of the other, and I want to remind you again tonight that I will not take the low road to the highest office in the land."
See the whole speech here:
UPDATE 11, March 15, 9:15 p.m. ET: Clinton just spoke to supporters in Florida after her primary win there. "Tonight, it's clearer than ever that this may be one of the most consequential campaigns of our lifetimes," she said. Clinton talked directly about Trump, including his calls to ban Muslims from entering the country and to bring back torture. "That doesn't make him strong," she said. "That makes him wrong."
UPDATE 10, March 15, 9:06 p.m. ET: Watch live as Trump speaks, starting shortly after 9 p.m. ET.
UPDATE 9, March 15, 8:49 p.m. ET: Kasich is the projected winner in his home state of Ohio, according to CNN and Fox News. This is Trump's first official loss of the night, and it means Kasich will stay in the race.
.@FoxNews can now project @JohnKasich will win #OhioPrimary #fnpolitics pic.twitter.com/ERmx0tZiIO

— Bret Baier (@BretBaier) March 16, 2016
UPDATE 8, March 15, 8:43 p.m. ET: Notch another win for Clinton, as multiple networks are calling Ohio for the former secretary of state, with just 4 percent of precincts reporting. This is the first win tonight for Clinton in a state where Sanders was expected to be competitive. It could be shaping up as a big night for Clinton.
UPDATE 7, March 15, 8:35 p.m. ET: Rubio suspended his campaign following a decisive defeat in Florida. In his concession speech, Rubio contended that he had run his campaign on optimism, rather than preying on fears and frustrations—a dig at Trump—and that his campaign represents the direction the GOP should take.
Rubio said the country is in the middle of a "real political storm." To explain the current moment, he pointed to the 2008 economic crash and the Great Recession as the reason for the current political turmoil. He also said the Republican establishment was not responsive to conservative voters, and he called for "a new political establishment."
UPDATE 6, March 15, 8:23 p.m. ET: Clinton has racked up another early win. Multiple TV networks have declared her the winner of the North Carolina primary, her second victory of the night after Florida. Polls are closed in three other states, with the results still too close to call.
UPDATE 5, March 15, 8:01 p.m. ET: Trump and Clinton crushed their opponents in Florida. The TV networks all immediately called the state on both the Democratic and Republican sides as soon as the last polls in the state's panhandle closed at 8 p.m. ET. Those results are particularly important on the GOP side, where Trump's easy victory likely spells the end of Rubio's presidential hopes, as Rubio is currently losing his home state by nearly 20 percentage points as results roll in.
UPDATE 4, March 15, 7:55 p.m. ET: Before the networks call Florida for Trump, the front-runner declares victory.
Word is that, despite a record amount spent on negative and phony ads, I had a massive victory in Florida. Numbers out soon!

— Donald J. Trump (@realDonaldTrump) March 15, 2016
UPDATE 3, March 15, 7:35 p.m. ET: Early vote returns show Clinton with a big lead in Florida, where polls have closed in all but 10 counties.
Clinton could net 60+ delegates out of Florida at this rate, increasing her overall delegate lead by 30%

— Nate Cohn (@Nate_Cohn) March 15, 2016
UPDATE 2, March 15, 7:15 p.m. ET: Early returns in Florida show Trump with a big lead. The race has not been called yet by the networks.
Based on early votes, Trump looks like he's on his way to an easy Florida victory.

— Dave Wasserman (@Redistrict) March 15, 2016
UPDATE 1, March 15, 6:30 p.m. ET: The first polls will close at 7 p.m. in most of Florida. (Ten counties are on central time and will close at 8 p.m. Eastern time.) Next come Ohio and North Carolina at 7:30 p.m., followed by Illinois and Missouri at 8 p.m.