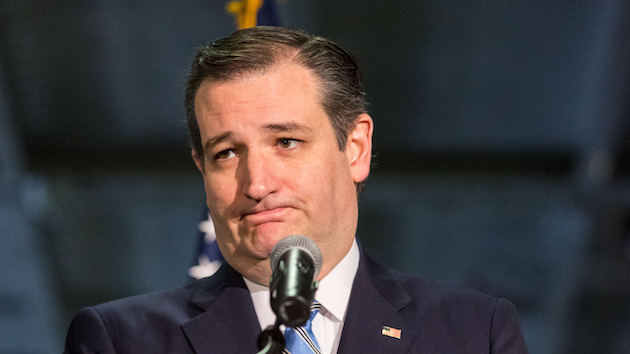 Ted Cruz has many enemies in the United States Senate, and only one pretty good friend: Republican Sen. Mike Lee of Utah, who, like Cruz, is a tea party darling. So it must have been welcome news in the Cruz camp when Lee came to South Carolina this week to hit the campaign trail with Cruz. (Remember, Donald Trump has been knocking Cruz as an unlikable, nasty guy, and pointing out that not one of his Senate colleagues has endorsed him.)
There was just one catch: Lee was campaigning with Cruz, but he wasn't endorsing him. In fact, hours before Lee gave a speech introducing and praising Cruz at a barbecue joint in Easley, South Carolina, Lee hailed Sen. Marco Rubio of Florida at a CrossFit gym in nearby Greenville, where he told an audience of conservatives, "I don't know anyone in Washington who knows the Bible quite as well as Marco Rubio does."
For now, Lee is undecided about whom to support in the Republican presidential primary and apparently playing the field. (He told reporters in Easley that he would endorse someone, sometime.) That has put him in an awkward position as a supporter of two competing candidates currently locked in a fight about who is or isn't a scoundrel. Even more awkward was that Lee delivered essentially the same speech for both Rubio and Cruz: a historical allegory about the lessons of the Boston Tea Party and the Constitutional Convention in Philadelphia.
As Cruz tries to maintain second place in the South's first primary state, he has brought in a few reinforcements. Reps. Steve King of Iowa and Louie Gohmert of Texas (known for coining the term "terror babies") joined him to talk up Cruz's anti-immigration bona fides. But Rubio, who is fiercely challenging Cruz for second—both trail Trump in the polls—has greater local support and is traveling the state with the "cavalry." That's what Republican Sen. Tim Scott calls the South Carolina lawmakers in Rubio's corner: Gov. Nikki Haley, Rep. Trey Gowdy (of Benghazi committee fame), and Scott himself. Scott and Gowdy, who each display a half-decent comedic repartee at Rubio campaign events, teamed up for a radio ad on Rubio's behalf.
In a street fight like this, Cruz could use more prominent allies. But he couldn't even get his buddy Lee to go all the way with an endorsement.