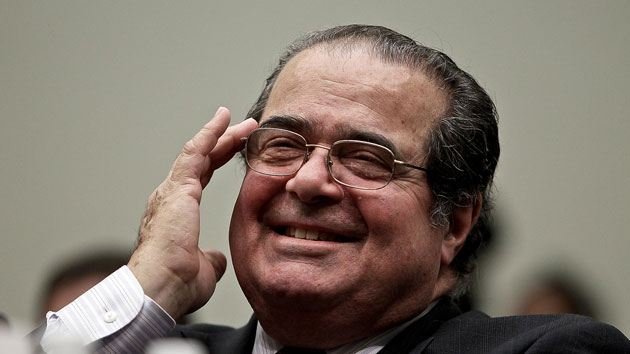 Fight disinformation:
Sign up
for the free
Mother Jones Daily
newsletter and follow the news that matters.
Supreme Court Justice Antonin Scalia was found dead on Saturday, leaving a vacancy on the highest court nine months before Election Day. That should leave President Barack Obama plenty of time to find a qualified replacement to succeed Scalia. But within minutes of the announcement that Scalia had died, prominent conservatives began demanding that no new justice be confirmed until after Obama's presidency ends next year. In essence, they want the Republican-controlled Senate to block any nomination that Obama might send it. And leading this charge was Sen. Ted Cruz, a GOP presidential candidate. In a tweet, Cruz declared, "Justice Scalia was an American hero. We owe it to him, & the Nation, for the Senate to ensure that the next President names his replacement." Soon after that, Sen. Marco Rubio, another presidential wannabe, said the same.
This is a quickly spreading right-wing meme. Here are other conservatives demanding government obstruction to deny Obama the chance to fulfill his constitutional duty:
Yes. And it should. But will it? https://t.co/uPFgRxisRF

— Instapundit.com (@instapundit) February 13, 2016
Senate must simply refuse to appoint anybody. Would be outrageous to replace a giant like Scalia with a minnow like Sotomayor.

— Charles C. W. Cooke (@charlescwcooke) February 13, 2016
If Scalia has actually passed away, the Senate must refuse to confirm any justices in 2016 and leave the nomination to the next president.

— Sean Davis (@seanmdav) February 13, 2016
What is less than zero? The chances of Obama successfully appointing a Supreme Court Justice to replace Scalia?

— Conn Carroll (@conncarroll) February 13, 2016
There hasn't been a justice confirmed in an election year to an election-year vacancy in more than 80 years. No reason to do so now.

— Ed Whelan (@EdWhelanEPPC) February 13, 2016
Look forward to this issue—when to fill Scalia's slot and who should appoint his successor—becoming a major fight in the presidential campaign.
Meanwhile, Sen. Patrick Leahy, the senior Democrat on the judiciary committee, issued this statement: "I hope that no one will use this sad news to suggest POTUS should not perform its [sic] constitutional duty." He was a little late with that.
Update: Sen. Majority Leader Mitch McConnell has weighed in too:
And McConnell delivers the hammer pic.twitter.com/rYWVwQrffh

— Sam Stein (@samsteinhp) February 13, 2016