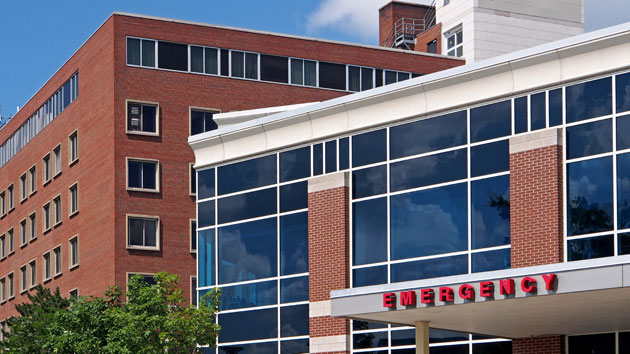 If a pregnant woman in the Greater Cincinnati area receives the diagnosis of a fetal abnormality such as Tay-Sachs disease or anencephaly—in which a major part of the fetus' brain does not develop—she is no longer able to terminate the pregnancy in a local hospital.
The Christ Hospital in Mount Auburn was the last hospital in the city of more than 2 million to provide this service, but two months ago it enacted a new policy that prohibits physicians from performing abortions in fetal anomaly cases. The hospital will now only terminate pregnancies "in situations deemed to be a threat to the life of the mother," the new policy reads.
"The cases are highly emotional and tragic," Danielle Craig, a spokeswoman for Planned Parenthood of Southwest Ohio, told the Cincinnati Enquirer. "Under these circumstances, for many patients, an overnight stay in a hospital is better than an outpatient procedure, and women should have that option."
Comprehensive fetal testing, like ultrasounds of the heart and anatomical sonograms, are typically performed at around 20 weeks' gestation and can reveal a host of disorders, from genetic problems to fetal development gone awry. Late mid-term abortions are less common than first-trimester abortions, so this option is likely taken by women who are facing some kind of severe fetal birth defect.
For women in Cincinnati who decide to terminate their pregnancies after receiving this diagnosis, the only other option to get an abortion would be at the local Planned Parenthood affiliate. But if the abnormality comes with certain health risks that may complicate the procedure and endanger the life of the mother, the case would have to be referred back to a hospital outside the Greater Cincinnati area, according to Craig.
According to the Ohio Department of Health's annual report, only 84 of more than 21,000 abortions were performed in hospitals in 2014—merely 0.4 percent of all abortions statewide. Christ Hospital reported performing a total of 59 such abortions in the past five and a half years.
Ohio has several abortion restrictions in place, including requiring counseling with information to discourage abortions, a 24-hour waiting period between counseling and abortion, and the right for all medical professional and institutions to refuse to provide an abortion.
Bans on abortion because of fetal abnormalities are not common in the United States. Only North Dakota has a statewide ban. Arizona, Minnesota, and Oklahoma require counseling if a hospital abortion is sought because of a lethal fetal abnormality. And in some cases, as with the Christ Hospital in Cincinnati, a single hospital enacts the policy.
During the 2012 presidential race, candidate Rick Santorum declared that 90 percent of fetuses diagnosed with Down syndrome are aborted, but no comprehensive data exists on how many women choose to abort after a fetal abnormality is detected. In early 2013, Americans United for Life put forth draft model legislation that aimed to end "discrimination based on genetic abnormalities," as AUL president and CEO Charmaine Yoest put it. The North Dakota ban was a result—Indiana and Missouri also picked it up, but the measures ultimately failed.
The Zika virus—a virus transmitted by both mosquitos and sexual encounters that may be linked to microcephaly—has focused attention on the issue of pregnancy termination in cases of fetal abnormalities. Women in El Salvador, Brazil, Honduras, and Colombia, where the virus is spreading, have been urged to avoid pregnancy. While the North American climate is inhospitable to the mosquito population that is responsible for the spread closer to the equator, the potential reach of the virus does include a small sliver of the southern United States, according to a map by the World Health Organization.
Should the virus spread in the United States, women who live where fetal abnormality abortions are prohibited may still have an option. In the 1960s, when the rubella pandemic hit, the virus caused birth defects such as blindness and deafness. Although abortion was illegal in the decade before Roe v. Wade, "therapeutic abortions"—meaning doctors verified that the procedure was medically necessary—were allowed.
The specifics of the Zika virus are still being determined by scientists and medical professionals, but if the connection between the virus and microcephaly is confirmed, it could have a powerful impact on reproductive policy in Latin America and the United States.