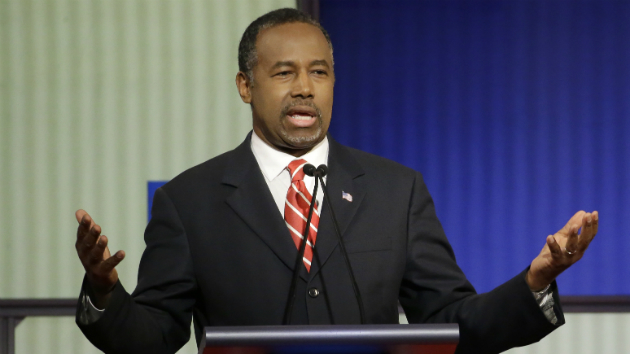 Despite assurances that he will campaign as long as he sees interest from voters, Ben Carson's presidential campaign is nearly broke, a source familiar with internal campaign discussions claims. The source also confirmed a report today that the campaign is beginning the first of several rounds of layoffs.
When Carson called a hasty press conference Wednesday afternoon, more than a few people suspected it was to announce his plans to leave the 2016 presidential race. But instead, Carson was there to tell reporters he had no plans of leaving the race and to complain about the role the Ted Cruz campaign had played in spreading rumors he was dropping out on the night of the Iowa caucuses. (Donald Trump went on a Twitter rant about the Cruz campaign's tactics, which he claimed cost him a first-place finish in Iowa by diverting Carson voters to Cruz.)
"This is something I am doing for the people, and so many people who are going to say, 'Please, please, please, please don't drop out, please don't stop, we need you,'" Carson told reporters. "So I will continue to be a voice as long as I feel that is the case."
But his finances may not allow that. A source familiar with the campaign's internal discussions says the Carson team barely covered its payroll this week, and the Washington Post has reported that about 50 campaign staffers will be laid off today. This first round of cuts will target lower level employees, mostly at the national headquarters. The source who spoke to Mother Jones says additional rounds of layoffs are coming, with more staff members getting cut after each of the coming primaries.
"On Monday they barely made payroll, and on Tuesday morning they were $700,000 in the hole," the source says. "So, for the first time in the campaign they were upside down."
The campaign did not respond to requests for comment, but the financial picture is in line with what was disclosed on the Carson campaign's most recent filings. According to the Carson campaign's disclosures, which were filed last week, the campaign raised an impressive $22.6 million in the final three months of the year. But, the same reports show, it spent even more, about $27.3 million—an average of $379,000 a day. As of December 31, the campaign had $6.5 million on hand, which is not nearly enough to sustain a burn rate of $379,000.
The unknown is how much money the campaign has brought in over the last month. The source familiar with the campaign's finances told Mother Jones that "new money is coming in very slowly." And despite the campaign's impressive $22 million haul in the fourth quarter, 88 percent of that was raised prior to November 15, when the Carson campaign began to falter after a series of gaffes.
The source told Mother Jones that despite the empty cupboards, top campaign officials agreed this week that they would keep the campaign scraping along and would try to "limp to the convention."