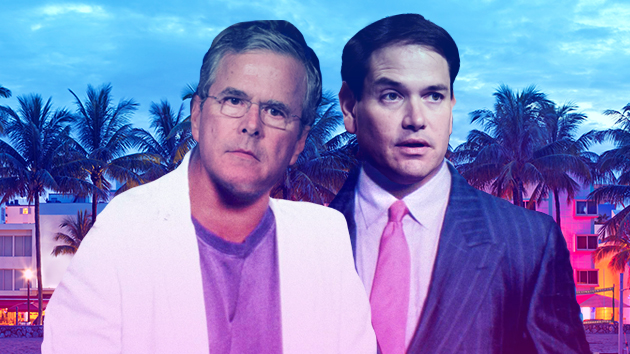 Fight disinformation:
Sign up
for the free
Mother Jones Daily
newsletter and follow the news that matters.
For decades, Florida's Cuban exile community has ensured that the United States maintained its tough policy toward the island nation. From Miami, these fierce opponents of Fidel Castro plotted to overthrow the Cuban dictator and channeled funds to dissidents. This made them logical allies of communism-denouncing Republicans, and the exile community's wealth and political savvy made it a crucial voting bloc, not to be crossed by either party, in a state that can decide presidential elections. But attitudes have shifted. The embargo doesn't hold the same importance for younger Cubans and those who left Cuba for economic reasons. The major players now fall into three categories: hardliners who continue to oppose any change in policy until the Castros are out of power; reformers who have long pushed for normalization; and converts whose views have softened.
The Hardliners
Sen. Marco Rubio, though his parents came to Florida before the Cuban Revolution, has made anti-Castro opposition central to his political career. He vows to roll back Obama's efforts to normalize relations once he is in the White House.
Jeb Bush, whose political roots lie in Miami's Cuban exile community, has called Obama's policy a "tragedy." But his opposition has been less aggressive than Rubio's, a reflection of changing attitudes in Florida and disagreement among his own advisers.
Rep. Ileana Ros-Lehtinen, who fled Havana when she was eight, began her political career in the Florida Legislature in 1982, when a tough position on Cuba was a political necessity. The Republican has slammed normalization with Cuba as a "propaganda coup for the Castro brothers."
Rep. Mario Diaz-Balart, another Republican, hails from a powerful Miami family—his father was a Cuban politician before Fidel Castro seized power, and his aunt was Fidel's first wife. A member of the House appropriations committee, he has tried to undermine Obama's policy by attaching riders to spending bills—including a provision blocking flights and cruise ship routes to Cuba.
Gus Machado, a wealthy Miami auto dealer and Republican donor, is the treasurer of the US-Cuba Democracy PAC, the main political advocacy group opposing normalization.
Remedios Diaz-Oliver, the Miami-based CEO of a major plastic container company and a board member of that PAC, has called Obama's policy of normalization "Bay of Pigs II."
Mel Martinez, a former GOP senator from Florida who fled Cuba as a teenager, supported Obama's 2009 decision to lift travel restrictions for people visiting relatives in Cuba, but he has blasted the president's decision to normalize relations.
Al Cardenas, the former head of the Florida GOP, is now a lobbyist and adviser to Jeb Bush. His opposition to normalizing relations has put him at odds with others in Bush's inner circle.
The Reformers
Ricardo Herrero, the onetime executive director of the Miami-Dade Democratic Party, cofounded #CubaNow in 2014 to pressure the White House to normalize relations with Cuba—part of a lobbying campaign spearheaded by the Trimpa Group.
Mike Fernandez, a Cuban exile billionaire, is a big GOP donor and an ally of the Bush clan. But on Cuba, he's in Obama's corner. "I am not a fan of President Obama, but after 50-plus years, this is long overdue."
Manny Diaz, a lawyer who was born in Cuba, rose to prominence representing the Miami relatives of Elián González, thereafter becoming the city's mayor.
Jorge Pérez, Florida's "Condo King," supports lifting the embargo and says doing so may lead to a real estate boom on the island: "Demand for second homes will be much bigger than the Bahamas, Puerto Rico, or Dominican Republic."
The Converts
Carlos Saladrigas, a Miami millionaire who was once a fierce advocate of the embargo, now says the old policy has held the Cuban people back. In 2000, he cofounded the Cuba Study Group, an organization of Cuban business leaders to promote engagement.
Carlos Gutierrez, who fled Cuba as a child, was George W. Bush's commerce secretary and is now a Jeb supporter. Gutierrez recently embraced normalization, penning a New York Times op-ed titled, "A Republican Case for Obama's Cuba Policy."
Alfonso Fanjul leads a vast sugar and real estate empire with his brothers. For decades they bankrolled anti-Castro efforts. But Alfonso shocked the exile community last year when he said he was open to doing business in Cuba. His brother Andres has also mellowed, and is on the board of the Cuba Study Group, which calls for normalization. Meanwhile, his brother Pepe, a major GOP donor, has not joined his brothers in calling for change.