Update: Fidel Castro died November 25, 2016, at age 90. We are showcasing this story, a behind-the-scenes account that dramatically illuminates the latest twists and turns in US-Cuba relations.
On a rainy day last December, President Barack Obama gathered a small group of senior officials in the Oval Office and placed a telephone call to Raúl Castro. Sitting on a couch to Obama's left were National Security Council aides Benjamin Rhodes and Ricardo Zuniga, personal emissaries whose 18 months of secret negotiations were about to culminate in the first substantive conversation between the presidents of the United States and Cuba in more than half a century.
Obama later told reporters that he'd apologized to Castro for talking for such a long time. "Don't worry about it, Mr. President," Castro responded. "You're still a young man and have still the time to break Fidel's record—he once spoke seven hours straight." After Castro finished his own lengthy opening statement, Obama joked, "Obviously, it runs in the family."
Despite the levity, both leaders understood the seriousness of their 45-minute conversation. "There was," one White House official recalled, "a sense of history in that room."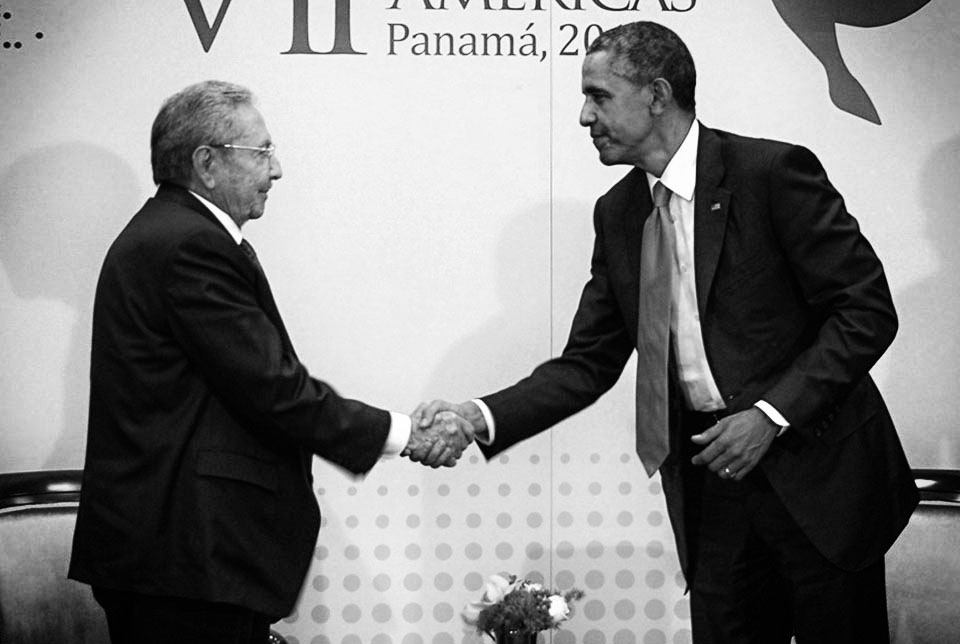 At noon the next day, the two presidents stunned the world when they simultaneously announced the dramatic breakthrough. Obama repudiated 55 years of US efforts to roll back the Cuban revolution, declaring that peaceful coexistence made more sense than perpetual antagonism. Both leaders described a prisoner exchange that had occurred earlier that morning. For "humanitarian reasons," Cuba had released Alan Gross, incarcerated since December 2009 for setting up illicit satellite communications networks as part of a US Agency for International Development (USAID) "democracy promotion" program. Cuba also released Rolando Sarraff Trujillo, a CIA spy whom Obama called "one of the most important intelligence agents that the United States has ever had in Cuba." In return, Obama commuted the sentences of the last three members of the "Cuban Five" spy ring—Gerardo Hernández, Antonio Guerrero, and Ramón Labañino—imprisoned for 16 years after they were caught infiltrating anti-Castro Cuban American groups and providing information that (the United States claimed) allowed Cuba to shoot down two planes flown into its airspace by an exile group, killing four Cuban Americans. (The other two members of the Cuban Five had been released earlier, having completed their sentences.)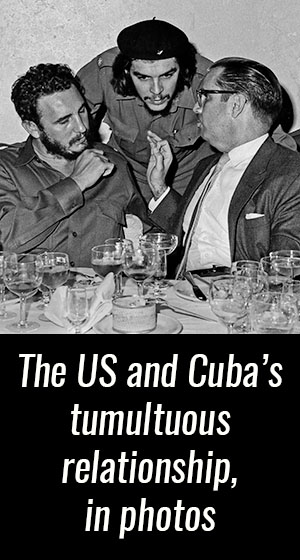 But the prisoner exchange was only the beginning. Obama promised to loosen restrictions on travel and trade, and authorize telecommunications companies to bring internet services to the island. For its part, Cuba pledged to release 53 political prisoners and engage with the International Red Cross and United Nations on human rights and prison conditions. Most importantly, the two presidents agreed to reestablish diplomatic relations. On July 20, Cuba's foreign minister, Bruno Rodríguez, traveled to Washington to raise the Cuban flag over the former embassy on 16th Street; on August 14 Secretary of State John Kerry will travel to Havana to reopen our embassy in the sleek, modernist structure built for that purpose in 1953.
What brought about this radical change was a unique alignment of political stars: a shift in public opinion, particularly among Cuban Americans; a transition in Cuban leadership from Fidel to Raúl, followed by Cuba's slow but steady evolution toward a market socialist economy; and Latin American leaders no longer willing to accept Cuba's exclusion from regional affairs. Seizing the opportunity were a handful of dedicated US legislators, well-financed lobbyists, Alan Gross' aggressive legal team, an activist pope from Latin America, and a woman hell-bent on getting pregnant.
But one factor trumped the rest: Obama's determination. He was, one top aide recalls, "a president who really wanted to do it."
All the President's Men
Obama's push to break "the shackles of the past" began shortly after his reelection, when, according to one aide, he "told us we needed to design a play to run with Cuba." By April 2013, Obama had chosen Rhodes and Zuniga to lead the negotiations. Rhodes had joined Obama's 2008 campaign as a speechwriter and was personally close to the president. "All it takes is one Google search for these guys to know that Ben speaks to the president, and has daily access, and can be a trusted back channel," explained a former White House official. Zuniga, meanwhile, had served in the US Interests Section in Havana (the embassy stand-in) and as the State Department's acting coordinator for Cuban affairs.
Over the next 18 months, the two men met nine times with a small team of Cuban officials in various locales, from Ottawa to Rome. From the start, it was clear that before any discussion of normalizing relations could occur, both countries wanted their imprisoned citizens released.
It was a touchy subject, but one we learned had already been broached following the devastating 2010 earthquake in Haiti, which led to unprecedented US-Cuban cooperation on disaster relief. Over the next two years, two top State Department officials—Hillary Clinton's chief of staff, Cheryl Mills, and Deputy Assistant Secretary for Western Hemisphere Affairs Julissa Reynoso—secretly negotiated with Cuban officials in Creole restaurants in Port-au-Prince, subterranean bars on Manhattan's East Side, and a hotel lounge in Santo Domingo. US officials focused on freeing Gross, while the Cubans requested that the wives of Cuban spies Hernández and René González be allowed to visit their husbands in jail. (These women's visas had previously been denied because they too were suspected of being covert agents.) The Cuban position "started with 'Treat our guys better,'" says a US official with knowledge of the talks, and evolved into "'We want them all home.'" By September 2011, the Cubans had explicitly proposed swapping the Cuban Five for Alan Gross.
But US officials believed that such a direct exchange would be politically toxic. Instead, they hoped their growing rapport would convince the Cubans to free Gross. As a show of good faith, they arranged for the wives of Hernández and González to secretly visit them. In exchange, the Cubans permitted Judy Gross regular visits with her husband, held in a military hospital in Havana.
"We thought this would lead to the release of Alan Gross," one US official recalls. But the Cubans continued to hold out for the swap, even as the parole dates for two of their five spies neared. Eventually US negotiators realized their strategy was doomed. In May 2012, Clinton received a memo from her team that stated: "We have to continue negotiating with the Cubans on the release of Alan Gross but cannot allow his situation to block an advance of bilateral relations…The Cubans are not going to budge. We either deal with the Cuban Five or cordon those two issues off."
The memo hit at an opportune time. Clinton and Obama had just returned from the Sixth Summit of the Americas, where they'd been chastised by heads of states furious over the US stance on Cuba. "It was clearly an irritant and a drag on our policy in the region," says Roberta S. Jacobson, assistant secretary of state for Western Hemisphere affairs.
Clinton had previously pushed the White House to liberalize regulations on educational travel to Cuba, finally going directly to the president to bypass White House aides worried about political fallout. In the wake of the summit debacle, she instructed her deputy to assemble what one adviser called "the full monty" of potential actions to change Cuba policy. "I recommended to President Obama that he take another look at our embargo," Clinton recalls in her memoir. "It wasn't achieving its goals and it was holding back our broader agenda across Latin America."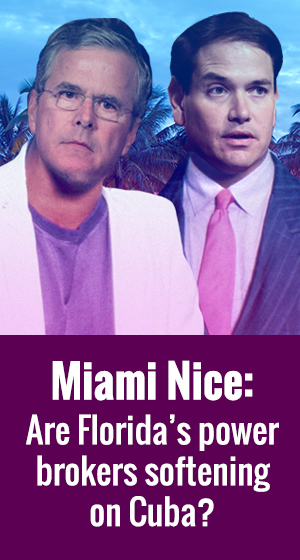 Following his reelection, Obama approached Massachusetts Sen. John Kerry about replacing Clinton as secretary of state—and immediately raised the prospect of a new approach to Cuba. Kerry was receptive. As chairman of the Senate Foreign Relations Committee, he'd been a vocal critic of the USAID democracy promotion programs that financed Gross' secret missions to Cuba. Kerry had also long opposed the US economic embargo, and played a key role in normalizing relations with Vietnam—a triumph he hoped to repeat with Cuba.
Still, when a new round of secret talks began in June 2013, Kerry was not privy to them. Only a handful of US officials knew, among them Vice President Joe Biden, White House chief of staff Denis McDonough, and National Security Advisor Susan Rice. No one at the Pentagon was "read in." Although Kerry was eventually brought into the loop, "we kept it fairly tight on our side, and the Cubans, I think, did the same on their side," a senior US official said. "We didn't want any wrench to be thrown in the gears that could complicate attempts to secure Alan Gross' release."
The effort at secrecy was aided by Canada, which allowed the two sides to meet in Ottawa and later Toronto. The Cubans' top priority was still getting their spies back—particularly Gerardo Hernández, who, as the ringleader of the Cuban Five and the broader crew of spies known as the "Wasp Network," was serving two life sentences. Zuniga and Rhodes came to the table with a more fluid approach. "We had no fixed vision of what an agreement would be," recalls a White House official knowledgeable about the talks. Instead, they wanted to "try out different formulas" to explore what could be agreed on. "We never went in thinking there would be a grand bargain."
But politically the White House was in a tricky spot. If all that came out of the talks was a prisoner exchange and a few travel and trade tweaks, Obama's initiative would not register as a serious policy change. Lifting the embargo was in Congress' hands, but restoring diplomatic ties was the one dramatic action he could take unilaterally.
"Look, I wasn't even born when this policy was put in place," he told the Cubans. "We want to hear and talk about the future."
During the first negotiating sessions, the US team had to listen to the Cubans recite the long history of US depredations against the island, starting with the Spanish-American War in 1898. To old hands, it was the requisite throat-clearing to be endured before getting down to real business. But Rhodes had no prior dealings with Cuba and at one point interrupted the diatribe. "Look, I wasn't even born when this policy was put in place," he told the Cubans. "We want to hear and talk about the future."
Historical disagreements were only the beginning. The US team wasn't willing to talk about the USAID programs or Guantán­amo; the Cubans weren't willing to discuss human rights or US fugitives hiding in their country. "There were a lot of dry wells for us and for them," according to a White House official. Both sides were eager to talk about the prisoners, but a straight-up trade—Gross for the three remaining members of the Cuban Five—was still a nonstarter for the White House. The president had said repeatedly that Gross had done nothing wrong, was not a spy, and therefore could not be exchanged for spies. In the administration's public portrayal of Gross, he was just a development specialist attempting to bring internet access to Cuba's small Jewish community. To the Cubans, Gross was a covert operative engaged in a program to subvert their government, and the Cuban Five were patriots protecting their country against the far-right zealots of Little Havana.
To break the deadlock, the US negotiators raised the case of Rolando Sarraff Trujillo, who'd been a top CIA mole inside Cuban intelligence until his arrest in the mid-1990s. Sarraff had provided the United States with information that led to the prosecution of many Cuban spies, including Ana Montes, the Defense Intelligence Agency's top Cuba specialist; State Department employee Walter Kendall Myers and his wife, Gwendolyn; and the Wasp Network—including the Cuban Five.
During negotiations in Toronto in January 2014, the Americans suggested that if the ailing Gross were released on humanitarian grounds, they would swap the three Cuban spies for Sarraff. But the Cubans did not want to give up Sarraff—a double agent they considered so treacherous they'd held him in solitary for 18 years.
Negotiations got even pricklier in May 2014, when the Obama administration announced it was swapping five Taliban leaders held at Guantánamo for Sgt. Bowe Bergdahl, a US soldier captured and imprisoned by the Taliban since 2009. The political uproar in Congress and the media was intense, especially after Bergdahl was reported to have deserted his post. From the US perspective, this made a similar trade with Cuba completely out of the question. The Cubans, however, figured that since Washington had traded five Taliban combatants for one US soldier, the White House would eventually agree to trade their three spies for Alan Gross.
It took months of negotiations for US diplomats to convince the Cubans that the only exchange the White House could abide would be trading spies for spies, namely the Cuban agents for Sarraff. Finally the Cubans relented, and talks turned to what one US official describes as "a bigger package"—including the restoration of full diplomatic relations.
A Ticking Time Bomb
In defending the Bergdahl deal, Obama officials cited intelligence indicating his mental and physical health were deteriorating after five years of captivity. They faced a similarly dire situation with Alan Gross. More than four years after being arrested, Gross was despondent over the administration's inability to obtain his freedom. At one point he lost more than 100 pounds. By December 2013, when the coauthor of this article, Peter Korn­bluh, visited him in the military hospital where he was held, he seemed determined to get out on his own—dead or alive. "I'm a ticking time bomb. Tick. Tick. Tick," Gross warned during the three-hour visit, in which he alluded to a plan to break down the "flimsy" door of his cell and challenge the heavily armed guards on the other side. A few months later, in April 2014, Gross went on a nine-day hunger strike. On his 65th birthday on May 2, he announced it would be the last he would spend in a Cuban jail.
When Gross' terminally ill, 92-year-old mother, Evelyn, took a severe turn for the worse in late May, negotiations became urgent. Meeting in Ottawa in early June, the Cubans pushed for a quick prisoner trade, expressing their fear that Gross would kill himself when his mother passed away. US officials, meanwhile, worried that if Gross died in a Cuban prison, a change in US policy would become politically impossible.
Kerry reached out to Cuban foreign minister Bruno Rodríguez and proposed a "furlough" to the United States—Gross would wear an electronic bracelet to allow the Cubans to monitor his movements, and he would return to prison after his mother's death. "Alan promised unequivocally that he would return to incarceration in Cuba after visiting his mother at the hospital in Texas," his lawyer Scott Gilbert recalls, "and I offered to take his place until he returned. That is how important this was."
But the Cubans considered the plan too risky. After Evelyn Gross died on June 18, 2014, Kerry warned Rodrí­guez that if any harm came to Gross while in Cuba's custody, the opportunity for better relations would be lost.

Gross was in "a difficult state of mind," Gilbert recalls. As the summer progressed, he refused to meet with officials from the US Interests Section who routinely brought him care packages, and he told his wife and daughter that unless he was released soon, he'd never see them again. His lifeline was Gilbert, who pressed the Cubans to allow him to speak to Gross every day, and who traveled to Cuba 20 times to sustain his client's morale.
Stork Diplomacy
Gross was also taking regular calls from Tim Rieser, a top aide to Sen. Patrick Leahy (D-Vt.). Rieser was instrumental in securing better conditions for Gross in return for one of the more unusual confidence-building measures in the annals of diplomacy—a long-distance effort to impregnate the wife of Gerardo Hernández, the jailed Cuban spymaster.
This idea was first conceived in early 2011, when the head of Cuba's Interests Section in Washington met with the State Department's Julissa Reynoso to deliver a diplomatic note stating that Cuba did not see "any solution" to the incarceration of Hernández and that his wife, Adriana Pérez, was nearing the age of 40. Cuba sought US support to "facilitate" her ability to get pregnant.
It was one of the more unusual confidence-building measures in the annals of diplomacy—a long-distance effort to impregnate the wife of Gerardo Hernández, the jailed Cuban spymaster.
After what she calls a "sensitive" meeting on the matter, Reynoso explored the possibility of a secret conjugal visit between Pérez and her husband, but efforts to arrange such a rendezvous "fizzled out" due to Bureau of Prisons regulations. Two years later, in February 2013, Pérez met with Leahy, who was visiting Cuba with his wife, Marcelle. In a Havana hotel room, Pérez made an impassioned appeal to the Leahys to help her find a way to have a child with her husband, who had been in jail for 15 years. "It was an emotional meeting," Leahy remembers. "She made a personal appeal to Marcelle. She was afraid that she would never have the chance to have a child. As parents and grandparents, we both wanted to try to help her. It was a human thing. It had nothing to do with the politics of the two countries." But it would.
Leahy asked Rieser to find a solution. A conjugal visit was a nonstarter, but there was precedent for allowing an inmate to provide sperm for artificial insemination. Eventually, Rieser secured approval and the Cubans flew Pérez to a fertility clinic in Panama.
Meanwhile, Rieser was pressing the Cubans to improve the conditions for Gross: "I wanted to make clear to them that we cared about the treatment of their people, just as we expected them to care about the treatment of ours." The Cubans reciprocated, permitting Gross to be examined by his own doctors, giving him a computer and printer, and allowing him more outdoor exercise.
As Pérez's pregnancy became obvious, the State Department asked the Cubans to keep her out of the public eye, lest her condition stir speculation that a US-Cuban rapprochement was in the works. "We had given our word to keep the pregnancy and all of the process around it a secret in order not to prejudice the greater objective, which was our freedom," Hernández later explained. When he landed in Cuba, state television showed him being greeted by Raúl Castro and, to the astonishment of his countrymen, a nine-months-pregnant wife. Three weeks later, on January 6, 2015, their baby girl, Gema Hernández Pérez, was born.
"Just Do It!"
Although Leahy's "stork diplomacy" contributed to the success of the Cuba-US negotiations, even he was unaware of the secret talks underway. Meanwhile, he served as the unofficial leader of a group of senators and representatives who pressed Obama and his aides for change at every opportunity. "All of us had been pushing the president when we saw him at ceremonial functions for a few seconds—telling him, 'You've got to do something on Cuba,'" recalls Rep. Jim McGovern (D-Mass.).
Leahy decided that to get the attention of the president, a former legal scholar, he'd have to flesh out the legal basis to release the Cuban spies. The senator's staff collaborated with former White House counsel Greg Craig to draft a 10-page memo of options "to secure Mr. Gross' release, and in so doing break the logjam and change the course of U.S. policy towards Cuba, which would be widely acclaimed as a major legacy achievement." The document, dated February 7, laid out a course of action that would prove to be a close match with the final accord. "It was a damn good memo," Craig says.
Still, it took until May 1 before Leahy, along with Sens. Carl Levin (D-Mich.) and Dick Durbin (D-Ill.) and Reps. Chris Van Hollen (D-Md.) and McGovern, finally met in the Oval Office with Obama, Biden, and Susan Rice. They urged Obama to press for Gross' release and replace the policy of hostility with one of engagement. "You said you were going to do this," McGovern reminded the president. "Let's just do it!"
"We're working on it," Obama told them, but he gave no hint of the back-channel diplomacy then well underway.
"There was a bit of tension with the president. We're pushing him, and he's pushing back," McGovern recalls. "We were pretty aggressive." At the meeting's end, the members were not very optimistic. "We were not reassured that this was going to happen."
A New Normal
Three days earlier, a series of billboards appeared in the Washington Metro stations nearest to the White House and State Department. "Mr. President, it's time to take action on Cuba policy," read one. Another declared, "The American people are our best ambassadors. It's time to allow all persons to travel freely to Cuba." The ads, which generated significant media buzz, were sponsored by a new advocacy group, #CubaNow, which positioned itself as the voice of the younger, more moderate Cuban American community in Miami.
#CubaNow was the brainchild of the Trimpa Group, an unusual organization that matched deep-pocketed donors seeking to change policy with a political strategy and advocacy campaign. In 2003, for example, founder Ted Trimpa developed a lobbying strategy to mount a marriage-equality movement across the country financed by multimillionaire businessman Tim Gill.
Nine years later, in October 2012, Gill traveled to Cuba on a US-licensed tour with a wealthy friend, Patty Ebrahimi, who was born and raised in Cuba but left with her family a year after Fidel Castro seized power. Ebrahimi chafed under the restrictions of the tour imposed by US Treasury regulations. She couldn't go off on her own to visit the neighborhoods of her youth, track down family friends, or see her old schools. "The idea that I could go anywhere else in the world, including Vietnam, North Korea, or Iran, without special permission from the US government but couldn't go to Cuba without a license angered me," she recalled. As she vented her frustrations to Gill in the lounge of the Saratoga Hotel in Havana, he offered a suggestion: "You should use your money to change the policy." A few months later, he introduced Ebrahimi to Trimpa.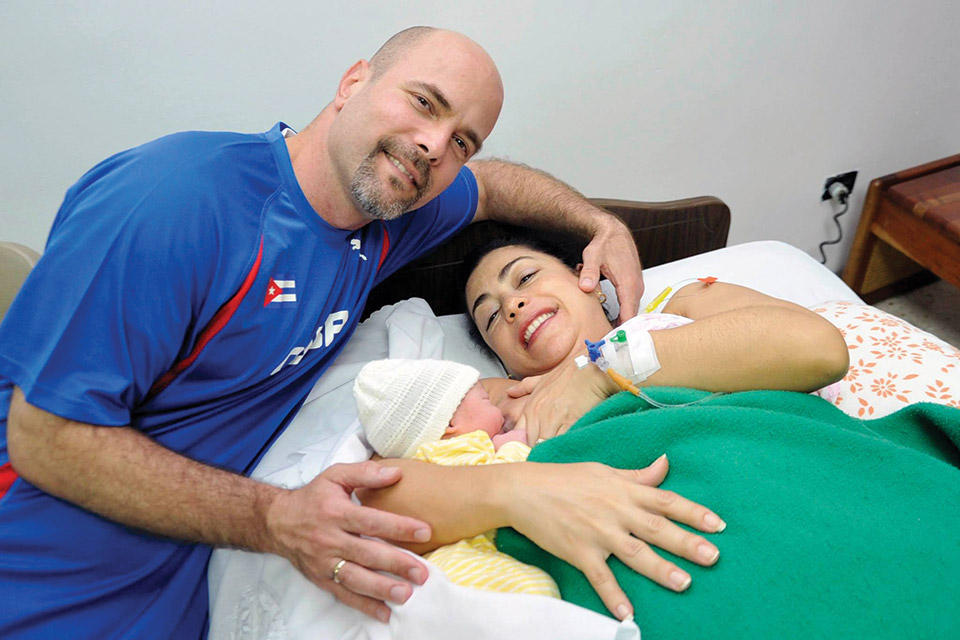 After conducting a three-month survey of the political landscape, the Trimpa Group reported that "the highest level of decision makers within the Obama administration" wanted change—they just needed political reinforcement to push for it. After consulting with her husband, Fred, the former CEO and owner of Quark Software Inc., Patty gave the lobby shop $1 million to finance a campaign to embolden the White House.
"My decision to take up this work was an emotional one," she later said. "We did it because we wanted to help," Fred Ebrahimi noted. "We did it because we thought we could be effective."
The Trimpa Group pulled out all the stops. It counseled Ebrahimi to make donations to key political figures such as Senate Majority Leader Harry Reid (D-Nev.) and Durbin—donations intended to gain access and "be in the room," according to Trimpa's strategic plan. The lobby shop hired Luis Miranda, who had recently left his position as Obama's director of Hispanic media, and sought the blessing of Jim Messina, Obama's deputy chief of staff, to launch a public campaign promoting a change in Cuba policy. The Trimpa team also met with key foreign policy officials. To all the players, the Trimpa Group insisted that there would be no political blowback for Democrats in Florida if Obama changed Cuba policy. To bolster that argument, they financed a series of opinion polls. One, conducted by an Obama pollster, John Anzalone, found that Cuban Americans in Florida—especially the younger generation—favored engagement. And the Atlantic Council conducted a national poll sponsored by Trimpa that found, as a New York Times headline would put it, that a "Majority of Americans Favor Ties With Cuba."
The polls were intended to "show broad support for change," "create a new normal," and "give voice to the silent majority," says James Williams, the political operative who oversaw the Trimpa Group's efforts.
Williams also had the support of groups key to the Cuba debate, ranging from funding powerhouses (like Atlantic Philanthropies, the Ford Foundation, and the Christopher Reynolds Foundation) to policy shops (the Washington Office on Latin America, the Center for Democracy in the Americas, and the Latin America Working Group) to elite think tanks (Brookings and the Council of the Americas).
On May 19, 2014, this coalition released an open letter to Obama signed by 46 luminaries of the policy and business world, urging the president to engage with Cuba. The signatories included former diplomats and retired military officers—among them former UN Ambassador Thomas Pickering—and Cuban American business leaders like Andres Fanjul, co-owner of a Florida-based multinational sugar company. But the name that attracted the most attention was John Negroponte, George W. Bush's director of national intelligence.
The same day, not coincidentally, the conservative US Chamber of Commerce announced that its president, Tom Donohue, would lead a delegation to Cuba to "develop a better understanding of the country's current economic environment and the state of its private sector."
Soon after that, the New York Times launched a two-month editorial series slugged "Cuba: A New Start." The weekly editorials were the work of Ernesto Londoño, who talked to administration officials, Leahy's office, and the Trimpa Group. "There was really no collusion or formal cooperation in what they were doing and what we were doing," he told Terry Gross on Fresh Air. The Times simply saw an opportunity to push the policy it advocated forward. "We figured it was worthwhile to give it a shot."
All these forces, in other words, were marshaled to push Obama through a door whose threshold he had already crossed.
Divine Intervention
And let's not forget the pope.
Even as the secret negotiations continued, members of Congress kept looking for allies to press Obama on Cuba, and provide him cover from attacks from the right. In a September 2013 meeting at Rice's office, Durbin floated a new idea: What about getting the new pope involved? As the first pontiff from Latin America, Francis knew Cuba well. After accompanying Pope John Paul II on his 1998 visit to the island, Francis—then the assistant archbishop of Buenos Aires—had written a short book about the trip, Dialogues Between John Paul II and Fidel Castro. And the Vatican had credibility with Havana because of its consistent opposition to the embargo.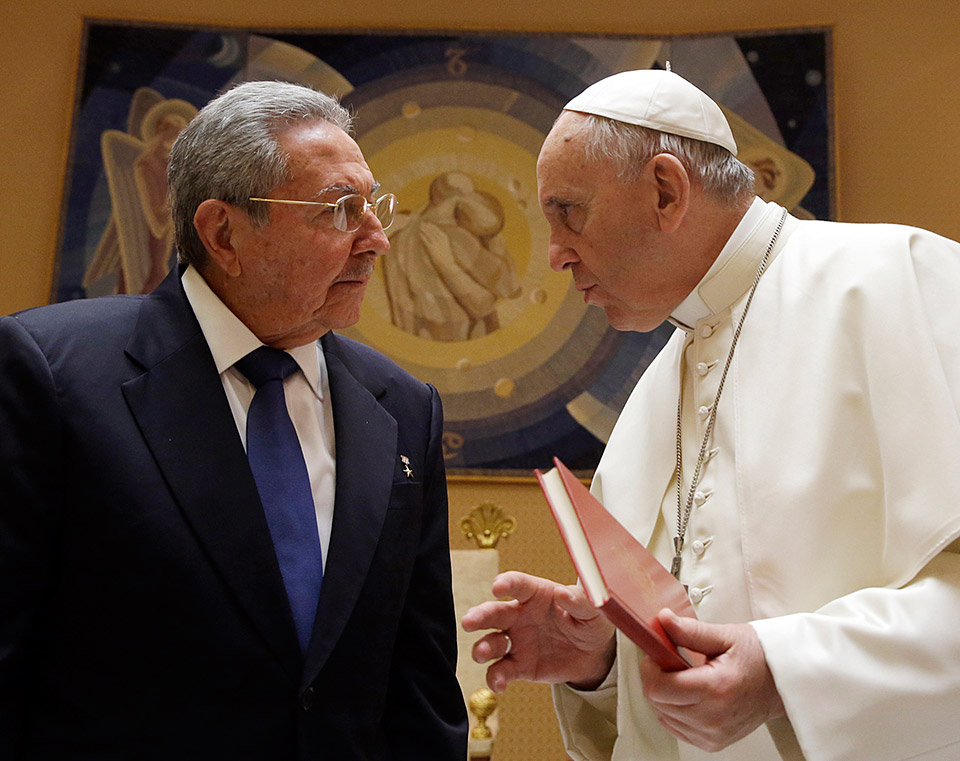 All parties saw the wisdom of divine intervention. Leahy sent a confidential message to Cuban Cardinal Jaime Ortega, asking him to encourage the pope to help resolve the prisoner issue. Drawing on the close ties between Obama's chief of staff, Denis McDonough, and Cardinal Theodore McCarrick of Washington, the White House also "got word to the Vatican that the president was eager to discuss this" at an upcoming meeting in March with the pope in Rome, according to Craig. And at a strategy meeting of the Cuba advocacy groups, Tim Phillips of the peace group Beyond Conflict suggested approaching Cardinal Seán O'Malley of Boston. "We knew that O'Malley was very close to the pope," recalled Craig, who had ties to the Catholic Church hierarchy in Boston from his days as a foreign policy aide to Sen. Ted Kennedy. "O'Malley had spent time in Latin America, spoke Spanish fluently, had known the pope before he became pope, and had a relationship with the pope that was unusual, certainly much, much better than McCarrick's."
In early March 2014, a small group of Cuba policy advocates, including representatives of the Trimpa Group, Phillips, and Craig, met with Cardinal O'Malley in the rectory of the Cathedral of the Holy Cross in Boston. "We explained the recent trends, the conversations with POTUS and others in the administration and Congress," Phillips recalls, "and indicated this was a historic moment, and a message from the pope to POTUS would be significant in moving the process forward." Craig brought a letter from Leahy urging the cardinal to focus the pope's attention on the "humanitarian issue" of the prisoner exchange. Leahy personally delivered a similar message to Cardinal McCarrick, and arranged for yet another to be sent to Cardinal Ortega in Havana. There now were three cardinals urging the pope—as yet unaware of the secret dialogue between Washington and Havana—to put Cuba on the agenda with Obama.
Three weeks later, Obama met the pope in his private library, a marble-floored chamber overlooking St. Peter's Square. There, they spoke for an hour under a frieze of Renaissance frescoes. Obama "told the pope that we had something going with Cuba and said it would be useful if he could play a role," according to a White House official familiar with the meeting. A few days later, Francis summoned Ortega to enlist his help.
Over the summer, the pope wrote forceful, confidential letters to Obama and Raúl Castro, imploring the two leaders "to resolve humanitarian questions of common interest, including the situation of certain prisoners, in order to initiate a new phase in relations." To safeguard his communications, the pope sent both letters via papal courier to Havana—with instructions to Cardinal Ortega to personally deliver the message into the president's hands. Ortega then sent his top aide to Washington to advance his clandestine diplomatic mission. But arranging a secret face-to-face meeting with the president of the United States was easier said than done. Alerted to the problem, Cardinal McCarrick conferred with White House officials, who enlisted his help as a secret back-channel go-between. In early August, McCarrick traveled to Cuba carrying a note from Obama that asked Ortega to entrust McCarrick with delivering the pope's letter to the White House. But Ortega's papal instructions were to deliver the message himself. McCarrick left Cuba empty-handed.
To make sure the meeting did not leak, US officials kept Cardinal Ortega's name off of the White House visitor logs. Meeting with the president on the patio adjacent to the Rose Garden, Ortega delivered the pope's letter in which Francis offered to "help in any way."
Back in Washington, McCarrick worked with McDonough to arrange a secret meeting for Ortega with the president. On the morning of August 18, Ortega gave a talk at Georgetown University—providing a cover story for his presence in Washington—and then quietly went to the White House. (To make sure the meeting did not leak, US officials kept Ortega's name off the White House visitor logs.) Meeting with the president on the patio adjacent to the Rose Garden, Ortega finally completed his mission of delivering the pope's sensitive communication, in which he offered to "help in any way."
It was a convoluted process, but an unprecedented gesture. "We haven't received communications like this from the pope that I'm aware of other than this instance," a senior US official recalls. "And that gave, I think, greater impetus and momentum for us to move forward."
Open To Change?
By late October, the pope had invited the negotiators to Rome. "It was less a matter of breaking some substantive logjam but more the confidence of having an external party we could rely on," says a senior US official.
It was at the Vatican that the two sides hammered out their final agreement on the prisoner exchange and restoring diplomatic relations. Rhodes and Zuniga also noted Obama's intention to ease regulations on travel and trade, and to allow US telecom companies to help Cuban state enterprises expand internet access. They acknowledged these initiatives were aimed at fostering greater openness in Cuba, though they delivered this message respectfully. Cuban officials said that while they had no intention of changing their political system to suit the United States, they had reviewed the Americans' list of prisoners jailed for political activities and would release 53 of them as a goodwill gesture. The pope agreed to act as guarantor of the final accord.
Obama's National Security Council met on November 6 to sign off on the details. Later that month, the negotiating teams convened one last time in Canada to arrange the logistics of the prisoner exchange.
On December 12, Zuniga called Alan Gross' wife, Judy, to the Executive Office Building to tell her the good news. Four days later, on the eve of Hanukkah, Scott Gilbert called his client to tell him he'd soon be a free man. "I'll believe it when I see it," Gross replied.
He didn't have to wait long: Early the next morning Gross was taken from his prison cell in Havana to a small military airport, where he was met by his wife, his attorney, and members of Congress who had worked to win his release. The prisoner exchange was choreographed so carefully that the blue and white presidential plane sent to bring Gross home was not cleared to depart Havana until the plane carrying the three Cuban spies touched down on a nearby runway.
Once in the air, Gross was given some of his favorite foods—popcorn and corned beef on rye—and took a call from Obama. After clearing Cuban airspace, he called his daughters to tell them simply, "I'm free."
At noon, Obama announced the deal with Cuba to the nation: "We will end an outdated approach that, for decades, has failed to advance our interests. Neither the American nor Cuban people are well served by a rigid policy that is rooted in events that took place before most of us were born." Raúl Castro was more restrained, focusing on the return of the three Cuban "heroes." Normalization of diplomatic relations received just a single sentence, followed immediately by a reminder that the embargo —"the heart of the matter"—remained in place.
Obama called on Congress to rescind the embargo—a policy, as he said, "long past its expiration date." But with Republican majorities in both houses and a presidential election in the offing, getting Congress to end the sanctions looks to be a lot harder than reaching an agreement with Havana. Sen. Marco Rubio (R-Fla.), who has led the Republican tirades against the deal, says the president gave the Cuban government "everything it asked for" and got nothing in return. "I am committed to unravel as many of these changes as possible," he added.
While Rubio and the rest of the old-guard anti-Cuba lobby fume, the process of normalization is moving forward. Obama officially removed Cuba from the State Department's list of state sponsors of terrorism, and US and Cuban flags fly over the newly reestablished embassies in Havana and Washington.
But maybe the most symbolic moment came at the Seventh Summit of the Americas in April, when Obama and Castro met privately in person for the first time and reaffirmed their commitment to normalize relations. Although Castro prefaced his speech before the assembly with a 50-minute litany of US transgressions against Cuba, at the end his tone changed to conciliation and even warmth. "I have told President Obama that I get very emotional talking about the revolution. I apologize to him because President Obama had no responsibility for this," Castro said, noting that nine other US presidents could have reached out to Cuba and didn't. "In my opinion, President Obama is an honest man. I have read his autobiographies and I admire him and his life and think his behavior comes from his humble background. There, I said it."
Obama chose not to revisit old bitterness: "America never makes a claim about being perfect. We do make a claim about being open to change. The United States will not be imprisoned by the past. We're looking to the future."