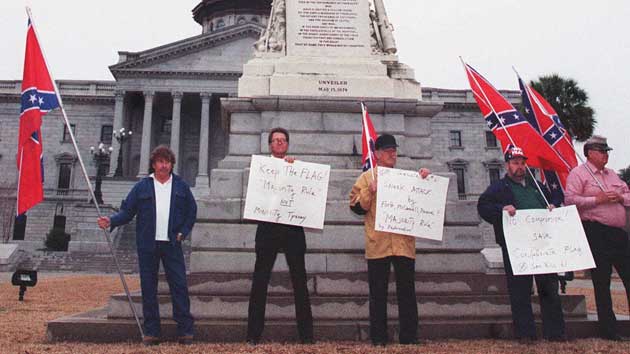 The Council of Conservative Citizens, an organization with white supremacist leanings, has issued a statement defending the "legitimate grievances" expressed by Charleston shooting suspect Dylann Roof. Roof made reference to the council in his manifesto, saying he used its site to learn about "black on White crime."
In the statement, the council condemns "Roof's murderous actions" but goes on to warn that "our society's silence about [such] crimes—despite enormous amounts of attention to 'racially tinged' acts by whites—only increase the anger of people like Dylann Roof. This double standard *only makes acts of murderous frustration more likely* [emphasis by the council]. In his manifesto, Roof outlines other grievances felt by many whites. Again, we utterly condemn Roof's despicable killings, but they do not detract in the slightest from the legitimacy of some of the positions he has expressed."
The council's site also has a statement from the organization's president, Earl Holt III, saying, "The CofCC is hardly responsible for the actions of this deranged individual merely because he gleaned accurate information from our website." The Guardian reported Sunday that in recent years Holt has given to a number of GOP politicians, including Ted Cruz, Rick Santorum, Mitt Romney, and Rand Paul. A spokesperson from Cruz's presidential campaign told the Guardian that the campaign plans to return the money.
As my colleagues Clara Jeffery and James West explain in their post decoding the racist references in Roof's manifesto, the council "was founded by members of Citizens' Councils of America, also known as White Citizens Councils, a confederation of segregationist groups active until the 1970s. In more recent years, the Council of Conservative Citizens has made news when it was revealed that former US Senate Majority Leader Trent Lott had given speeches to the group. It was also extremely active in demonstrations to keep the Confederate battle flag flying over the state capitol of South Carolina."
The statement lists a phone number for the council's spokesman, Jared Taylor, that is not in service. Calls and emails to the council's office were not immediately returned; we'll update this post if they are.