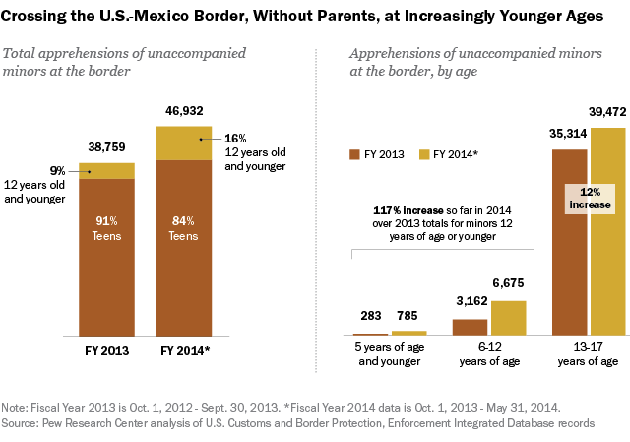 Little kids, including a troubling number of children age five or younger, make up the fastest-growing group of unaccompanied minors apprehended at the US border in fiscal year 2014. So far this year, nearly 7,500 kids under 13 have been caught without a legal guardian—and 785 of them were younger than six.
It's still mostly teens who travel solo to the United States from countries like El Salvador and Honduras, as the Pew Research Center revealed today in a new analysis of US Customs and Border Protection data. But compared to 2013, Border Patrol apprehensions of kids 12 or younger already have increased 117 percent, while those of teens have jumped only 12 percent. Apprehensions of the youngest group of kids, those under six, have nearly tripled.
These new stats reveal a trend made all the more startling as details of the journey continue to emerge. In his feature story about this influx of child migrants, for instance, MoJo's Ian Gordon tells of Adrián, a Guatemalan kid who dodged attackers armed with machetes, walked barefoot for miles through Mexico, and resorted to prostitution to reach sanctuary in America. And Adrián was 17. For the increasing number of kids under 13 making this harrowing trek without parents, the vulnerability to exploitation is only magnified, the potential for trauma and even death only amplified.
That so many young kids feel compelled to leave home, or that their parents feel compelled to send them, sends a grim message about the state of their home countries. As El Salvadoran newspaper editor Carlos Dada told On the Media's Bob Garfield last week, quoting a Mexican priest who runs a shelter in Oaxaca, Mexico: "If these migrants are willing to take this road, knowing everything they are risking, even their lives, I don't even want to imagine what they are running away from."
Here's another Pew age breakdown, this time by country of origin: