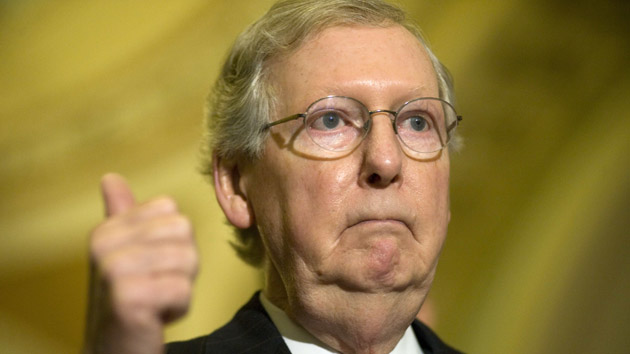 Fight disinformation:
Sign up
for the free
Mother Jones Daily
newsletter and follow the news that matters.
As he seeks another six years in office, Senate minority leader Mitch McConnell (R-Ky.) has touted his reputation as a true conservative and an unwavering opponent of President Barack Obama. But a newly leaked document written by one of the most prominent figures in the tea party movement claims that McConnell wasn't a strong conservative leader initially when Obama proposed his anti-recession stimulus package—and that McConnell only ended up opposing this signature Obama initiative because a leading tea party group leaned on him to do so.
Mother Jones recently obtained a trove of emails, memos, financial records, and fundraising documents written by officials and financial backers of FreedomWorks, a national tea party group. These records contain a May 2009 memo written by FreedomWorks president and CEO Matt Kibbe and addressed to the group's board of directors. The memo presented FreedomWorks' efforts to combat the Obama administration, just as the new president was settling in and responding to the economic crisis under way. In the document, Kibbe credited FreedomWorks—which has been funded by corporations, wealthy individuals, and grassroots donors—for "fomenting the tea party movement."
The memo noted that FreedomWorks was doing all it could to battle Obama's $787 billion stimulus package, which was intended to jump-start the US economy. But Kibbe reported in his memo that not all Republican leaders in Congress were willing to block the stimulus bill. Mitch McConnell was apparently one of those wavering Republicans. Here's what Kibbe's memo said:
Early in the stimulus battle, we learned that Senate Republican Leader Mitch McConnell was learning towards letting Senate Republicans 'vote their conscience,' code words for an unwillingness to lead. Our campaign team was able, with just several hours notice, to mobilize a grassroots firestorm that systematically shut down every phone line in the Leader's offices, both in Washington, DC, and in Kentucky. This unreported story resulted in a very strong Senate Republican Leadership position opposing the trillion-dollar stimulus bill and a surprisingly unified opposition in the Senate.
In Kibbe's telling, McConnell was prepared to let the 40 Senate Republicans under his leadership vote as each preferred to do, possibly permitting some GOPers to support Obama's stimulus at this moment of economic peril. Only when FreedomWorks muscled McConnell, Kibbe was claiming, did the minority leader change course and insist that all Senate GOPers vote no.
Was Kibbe telling the truth? Neither McConnell nor FreedomWorks responded to requests for comment. But Kibbe's account contradicts the conventional narrative that McConnell from the start wanted Senate Republicans to oppose the stimulus package—and it undermines McConnell's contention (which he deploys regularly on the campaign trail these days) that he has been a consistent conservative opponent of Obama. In the end, the stimulus bill passed 60 to 38. All but three Senate Republicans voted no.
Kibbe's boast that McConnell only tried to block the stimulus because of pressure from FreedomWorks will likely not improve relations between the group and the senator. In recent years, FreedomWorks has attacked McConnell as a Washington insider who buddies up with DC lobbyists. In a bid to oust McConnell, FreedomWorks backed his 2014 primary opponent, businessman Matt Bevin, who failed spectacularly. The ongoing clash between McConnell and FreedomWorks is one of several fronts in the continuing civil war within the GOP—and the Kibbe memo shows that FreedomWorks considered McConnell a RINO who needed whipping even before the tea party began.
Read the full FreedomWorks May 2009 memo: