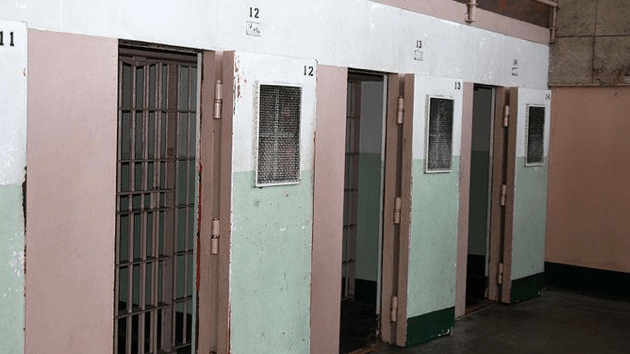 Fight disinformation:
Sign up
for the free
Mother Jones Daily
newsletter and follow the news that matters.
When an incarcerated pregnant woman in Illinois slept too long through mealtime, a guard decided to punish her by placing her in solitary confinement. While in isolation, the woman—who had a long history of depression—was denied access to her prenatal vitamins and was not given water for hours. She soon became highly anxious. This is one of the disturbing ways that US prisons treat incarcerated women who are pregnant, transgender, mentally ill, or who report that they are raped, according to a new report published Thursday by the American Civil Liberties Union (ACLU).
Many of the reasons women are placed in isolation are highly subjective, the reports notes: "Because many cases come down to the word of a prisoner against the word of a corrections officer, a guard's bad day can easily turn into a solitary confinement sentence for a prisoner for retaliatory reasons, such as a prisoner's filing a grievance."
Solitary confinement, where prisoners are isolated for 22-24 hours a day with greatly reduced human contact and access to sunlight, is common practice in US prisons, but its harmful effects are well-documented. A United Nations torture expert said in 2011 that solitary should never be used on people with mental disabilities, and should never last longer than 15 days. In February, Sen. Dick Durbin (D-Ill.) called for US prisons to stop using solitary confinement on vulnerable populations, including pregnant women. And recently, the Justice Department sued Ohio for placing mentally ill boys in solitary confinement for excessive amounts of time.
According to the ACLU report, guards sometimes use solitary confinement to retaliate against women who report rape by corrections officers. As we reported in 2010, Michelle Ortiz, who was serving one year at the Ohio Reformatory for Women, alleged that she was sexually assaulted multiple times by a guard. When she spoke out, she was allegedly placed in solitary confinement. In another case, a prisoner named Lisa Jaramillo served more than 100 days in solitary confinement for allegedly lying about incidents of sexual assault.
"Women who have been sexually abused by prison guards are…forced to decide between reporting the attack and risking retaliation, or not reporting it and risking further assault," the report reads. The authors note that the lack of privacy in solitary cells can further victimize women. In solitary, a woman's attacker can closely watch her sleep, use the toilet, or undress.