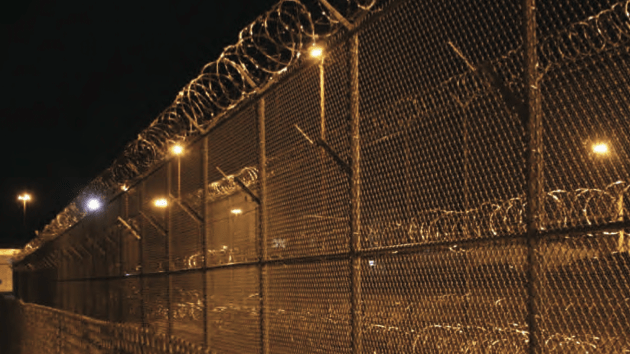 Fight disinformation:
Sign up
for the free
Mother Jones Daily
newsletter and follow the news that matters.
A disability rights advocacy group sued Montana officials this week in federal court for allegedly placing mentally ill prisoners in extreme forms of solitary confinement for months and years at a time, often because the prisoners displayed symptoms of their illness or expressed suicidal thoughts. The prison's psychiatrist also accused prisoners with well-documented mental illnesses of using their symptoms to get attention and ceased giving them medication, according to the lawsuit.
Disability Rights Montana, a federally mandated civil rights protection and advocacy group says that Montana State Prison's treatment of prisoners amounts to "cruel and unusual punishment" and is unconstitutional. The group filed the lawsuit after conducting a year-long investigation with the ACLU of Montana. According to the Associated Press, the groups hope that the matter can be resolved through negotiations with the state, not through legal action. Prison officials are "taking the allegations seriously" according to the AP. Judy Beck, a spokeswoman for the Montana Department of Corrections, told Mother Jones that the state would file its response within 60 days and could not comment.
According to the lawsuit, prisoners are subject to solitary confinement in spaces that sometimes have blacked-out windows, as well as "behavior management plans"—whereby a prisoner is put in 24-hour solitary confinement with only a mattress, blanket, a suicide smock, and nutraloaf, a tasteless, controversial food product that civil rights groups have alleged is unconstitutional. (In 2003, the Montana Supreme Court also ruled that certain behavior management plans are illegal.) "One prisoner with serious mental illness explained that being placed in solitary confinement makes him feel like a young child locked in a closet with nothing to do and, as a result, he spreads feces on the walls of his cell to keep bad spirits away," the complaint reads.
In a case outlined in the lawsuit, a 50-year-old prisoner sentenced "guilty but mentally ill" in 2006, was placed in a state hospital and diagnosed with schizophrenia. At the state hospital, staff allegedly described him as "polite, friendly, cooperative, and socializing appropriately with staff and peers." But after he was suspected of stealing another patient's jewelry, he was transferred to prison and placed in solitary confinement. In 2012, the prison's doctor allegedly discontinued the prisoner's antipsychotic medication, because he believed the man was "malingering." The prisoner told mental health staff that he wanted to cry when placed in "the hole" because he did not "do hole time well," according to the lawsuit.
In another case outlined in the lawsuit, a 43-year-old prisoner with a very low IQ score of 78, was transferred to prison from a community group home. There, he was placed in solitary confinement for more than three years for acts that the plaintiffs allege were related to his mental illness, such as "banging his head until it bled on his cell door while asking for real food instead of nutraloaf, crying and saying people on the floor were talking to him[, and] attempting suicide," according to the lawsuit. The plaintiffs claim that the doctor also stopped giving the prisoner medication, on the basis that he was "simply malingering," and "laughed at" the prisoner after he complained about losing his medication.
In 2011, a United Nations specialist on torture said that solitary confinement lasting more than 15 days should be abolished. He also said it shouldn't be used at all on people with mental disabilities. According to the ACLU, "Isolation creates and exacerbates symptoms of mental illness in prisoners, undermining successful re-entry into society and jeopardizing public safety."
A 33-year-old prisoner—with a long history of self-harm—who was mentioned in the lawsuit was transferred from the state hospital to prison, allegedly to keep him from harming himself. There, he was placed in solitary confinement for "significant periods of time." In July 2011, he told mental health staff that he had "been in locked housing for way too long" and was worried about doing "something stupid." In August, when he was taken out of solitary, he murdered another prisoner and was sentenced to life without parole.
About five years earlier, prior to being placed in extended solitary confinement, he filled out a "treatment planning worksheet" on how staff could help him get better at the prison's Mental Health Treatment Unit, the plaintiffs claim. The prisoner wrote: "Groups with homework. Give me stuff to do so I can keep myself and my mind busy" and "be there to talk to me when I'm having problems."