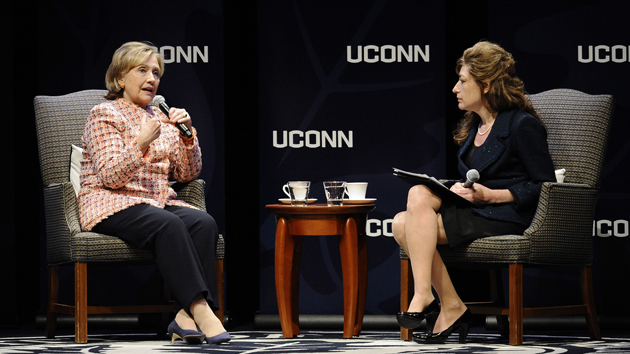 Fight disinformation:
Sign up
for the free
Mother Jones Daily
newsletter and follow the news that matters.
Hillary Clinton didn't have to directly deal with Edward Snowden's leaks when she was secretary of state. Clinton had already stepped down from her post by the time the Guardian published its first revelations on the expansive scope of spying by the National Security Agency. But at an event at the University of Connecticut on Wednesday night, Clinton made it clear that she's no fan of the NSA leaker, insinuating that Snowden had cooperated with countries hostile to the United States and unintentionally aided terrorist organizations. "I don't understand why he couldn't have been part of the debate at home," she said.
Clinton questioned Snowden's intentions in fleeing the country before offerring his information to the public. "When he emerged and when he absconded with all that material, I was puzzled, because we have all these protections for whistleblowers," Clinton said, when the moderator asked if there had been any positive effects for security policy following the NSA leaks. "If he were concerned and wanted to be part of the American debate, he could have been. But it struck me as—I just have to be honest with you—as sort of odd that he would flee to China, because Hong Kong is controlled by China, and that he would then go to Russia, two countries with which we have very difficult cyber-relationships, to put it mildly."
Clinton also suggested that Snowden had inadvertently helped terrorists. "I think turning over a lot of that material—intentionally or unintentionally, because of the way it can be drained—gave all kinds of information, not only to big countries, but to networks and terrorist groups and the like," she said.
Clinton noted that after serving as a US senator and secretary of state, she had become more aware than the average citizen of the number of daily threats made by terrorist organizations. "There are people right this minute trying to figure out how to do harm to Americans and to other innocent people," she remarked. She suggested that the balance between security and civil liberties might have been skewed post-9/11, but insisted that the NSA's system of spying should not be completely tossed aside.
By going to China and Russia, Clinton said, Snowden had, in effect, colluded with countries that are even worse than the United States in terms of civil liberties. "When I would go to China or I would go to Russia," she said, "we would leave all my electronic equipment on the plane with the batteries out, because this is a new frontier and they're trying to find out not just about what we do in our government, they're trying to find out about what a lot of companies do and they were going after the personal emails of people who worked in the State Department. It's not like the only government in the world that is doing anything is the United States."
Clinton was also suspicious of Snowden's recent appearance during a video Q&A with Russian President Vladimir Putin. "I have a hard time thinking that somebody who is a champion of privacy and liberty has taken refuge in Russia under Putin's authority," she said, going on to imitate Snowden and Putin's conversation in a mocking tone.
This isn't the first time Clinton has weighed in on Snowden. Last June, she criticized China for allowing Snowden to leave Hong Kong after the United States had charged him with espionage and requested his extradition. "That kind of action is not only detrimental to the US-China relationship but it sets a bad precedent that could unravel the intricate international agreements about how countries respect the laws—and particularly the extradition treaties," she said then.
You can watch Clinton's remarks on Snowden in the video below: