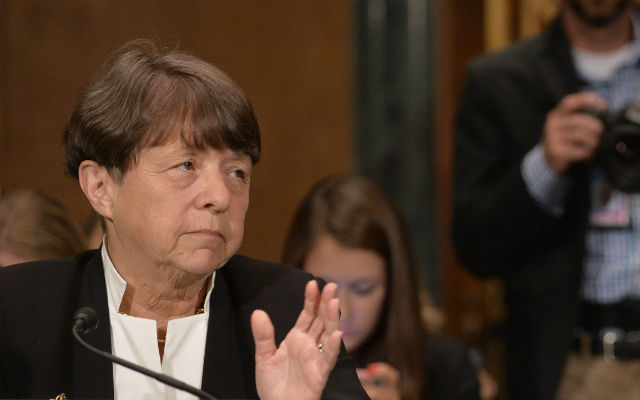 In the summer of 2011, a group of law school professors filed a petition (PDF) with the Securities and Exchange Commission, the nation's leading financial regulator, asking it to force corporations to disclose their political spending. At the time, a small but growing number of corporations voluntarily revealed their political giving, but the law professors argued that corporate executives shouldn't ever be able to spend shareholders' money on campaigns and elections without telling shareholders where it was going.
Support for the corporate disclosure petition spread like brushfire. More than 600,000 comments—most of them supportive—were filed in response, a record for the SEC. When white-collar attorney Mary Jo White was confirmed as the new SEC chair in April, transparency advocates hoped she would take action on the issue.
Over the weekend, those hopes were dashed. The Washington Post reported on Saturday that White's SEC has dropped corporate disclosure from its 2014 to-do list:
Missing from the Security and Exchange Commission's list of regulatory priorities for the coming year is any plan to consider whether public companies should disclose their political spending, a setback for investor advocates who rallied behind the cause.

Last year around this time, when the SEC released its 2013 to-do list, it signaled that it might consider formally proposing a rule to require the spending disclosures. But the item slipped off the 2014 agenda released this past week without any formal explanation.
Supporters of the disclosure petition couldn't hide their disappointment at White's decision to sideline the issue:
"[White] obviously did not really recognize the significance of this," said Bruce Freed, president of the Center for Political Accountability, which has pioneered the push for political spending disclosures. "She is not looking at investor protection and corporate governance broadly. You do not see those as primary drivers of her agenda."

Robert J. Jackson, one of the professors involved in crafting the petition, said he has not lost hope.

The agency's new agenda is geared toward advancing proposals that are mandated by Congress, so it is not surprising that a non-mandatory initiative has dropped off the radar screen for now, he said. The agency is not precluded from acting on a matter, even if it's not on the formal agenda, according to federal statute.

"I remain hopeful that the SEC will eventually take up this rule," said Jackson, an associate professor at Columbia Law School. "I'm hopeful that when the SEC looks at the merits, they're going to decide that a rule is necessary."
In other words, corporate disclosure isn't dead at the SEC. It's just on the back burner for 2014. Certainly nothing major will happen before the 2014 midterm elections. The 2016 presidential race? Maybe. In the meantime, you can expect ongoing pressure from the advocates who churned out those hundreds of thousands of SEC comments.