Fight disinformation:
Sign up
for the free
Mother Jones Daily
newsletter and follow the news that matters.
On September 10—hours before President Barack Obama delivered a primetime White House speech on Syria—former House speaker Newt Gingrich, who was in his second day as cohost of CNN's revived Crossfire, circulated a dire fundraising email on behalf of the American Legacy Political Action Committee, which he and his wife, Callista, founded and now serve as honorary co-chairs. "The current debate regarding a strike against Syria is a classic Washington distraction," Gingrich huffed, calling the president's proposed retaliatory attack for the regime's use of chemical weapons "insignificant" and "largely symbolic." He declared that a "brief bombing campaign" would do nothing, while other issues—the possibility of a nuclear Iran, the spread of radical Islam, and cuts in US military spending—will "fall to the wayside." Gingrich asked recipients to join him in opposing Obama's threatened strike against Bashar al-Assad and urged them "to donate to American Legacy PAC today to help stop our nation from engaging in a costly endeavor that would result in few beneficial outcomes."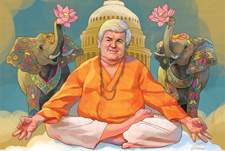 There was one problem with this pitch: American Legacy was doing little, if anything, to oppose possible military intervention against Syria. The PAC's website notes that it exists to support federal candidates who share conservative values. The money raised by this email would not directly finance organizing aimed at thwarting Obama's plan. And there was another problem: This PAC, founded in 2010 and fronted by Gingrich, bags a lot of money from conservative donors, but little of this cash reaches candidates. During the 2012 election cycle, the group took in $515,321—most of it from donors contributing less than $200—and it doled out a measly $9,000 to seven Republican candidates, including Ohio Senate candidate Josh Mandel, Virginia Senate candidate George Allen, and Gingrich himself.
In the current election cycle, according to federal disclosure reports and recent PAC emails, American Legacy PAC has raised $1.4 million, as of July 15. But so far it has given only $27,500, or 1 percent, of its haul to five candidates—among them Sens. Rand Paul (R-Ky.), Mike Lee (R-Utah), and Ted Cruz (R-Texas). American Legacy also transferred $500 to a committee created partly to retire the debt from Gingrich's failed 2012 presidential bid.
R.C. Hammond, a spokesman for the PAC who also was a spokesman for Gingrich's 2012 effort, says there's an explanation for the large discrepancy between funds gathered and contributions dispersed: The PAC is building up its mailing list in preparation for the coming election year, when it intends to distribute big bucks to worthy conservative contenders. Given the group's dismal 2012 record—distributing 1.7 percent of its contributions to candidates—Hammond's assertion warrants skepticism. Meanwhile, most of the money flowing into American Legacy PAC is benefiting vendors and consultants who have long been associated with Gingrich.
The biggest recipient of American Legacy cash is InfoCision, an Ohio-based telemarketing firm that works for conservative and Christian outfits. American Legacy paid InfoCision $1.25 million between January 1 and July 15 for its services. Hammond says the PAC has hired InfoCision to expand its donor database. Gingrich and InfoCision go back a long way. In the fall of 1998, the National Republican Congressional Committee, which was trying to preserve and increase the House GOP majority that Gingrich led as speaker, used InfoCision to cold-call prospective Republican donors. According to the New York Times, InfoCision's employees claimed to be calling directly from "Speaker Newt Gingrich's office," when actually they were in Ohio. This tactic led to a mini-controversy, given that federal law prohibits fundraising from federal offices. Since then, InfoCision has banked tens of millions of dollars from other Gingrich-related efforts, including $7.2 million from Gingrich's nonprofit American Solutions for Winning the Future and $5 million from Gingrich's 2012 campaign. (American Solutions shuttered a few months after Gingrich launched his presidential bid.)
InfoCision's fundraising practices were called into question in a 2012 investigation by Bloomberg Markets magazine. The story, citing tax records, reported that nonprofits that hired InfoCision saw little, if any, of the money raised by the telemarketing firm on their behalf. Instead, InfoCision, founded by longtime Republican donor Gary Taylor, kept most of the money it raised, and its nonprofit clients received far less than expected. In the 2010 fiscal year, for instance, the firm pocketed every penny of the $5.3 million it raised for the American Cancer Society, even though fundraising scripts asserted that "about 70 cents" of every dollar donated would go to the charity. (InfoCision responded by calling the Bloomberg story "completely false and misleading," without directly refuting any details in the article.) Last year, InfoCision settled with Ohio Attorney General Michael DeWine over allegations that it had misled potential donors. The company admitted no wrongdoing, but it paid $75,000 and agreed to not mislead future contributors.
Gingrich has maintained various connections to InfoCision for years. The telemarketing firm is thanked in the credits of several films Gingrich produced. The company also hosted Gingrich in 2010 for a meet-and-greet at the University of Akron's Taylor Institute for Direct Marketing. And when Gingrich's American Solutions nonprofit gave—and then rescinded—an Entrepreneur of the Year award in 2009 to a topless bar owner in Texas, it was an InfoCision executive who informed the bar owner she'd been mistakenly given the accolade.
Other vendors paid by American Legacy PAC, not surprisingly, also have longtime Gingrich ties. TMA Direct, a Virginia-based direct marketing firm received $15,000 from the PAC this year for direct marketing services. (TMA president Mike Murray also runs American Legacy.) Murray's company has also done work for Gingrich Productions, the former speaker's film company. The PAC paid $4,000 to HSP Direct, a direct mail company that was hired by the now-defunct Gingrich nonprofit Renewing American Leadership. And both American Legacy and Gingrich's presidential campaign used the same accounting firm, Huckaby Davis Lisker, according to federal records.
Overseeing a web of nonprofits, PACs, fundraisers, and consultants is nothing new for Gingrich. In the years after he was House speaker, Gingrich built an extensive and interlocking network of nonprofits, advocacy groups, and for-profit enterprises that generated close to $150 million over a decade. This empire—dubbed Newt Inc. by outside observers—has included a production company, a literary agency, a for-profit think tank called the Center for Health Transformation (which drew annual membership fees from health care firms ranging from $5,000 to $200,000), and the nonprofit American Solutions policy shop (which spent millions of dollars on charter jets for Gingrich). Various members of Gingrich's family and inner circle have held key positions in the assorted ventures. (Gingrich also pocketed up to $1.8 million in consulting fees from Freddie Mac.)
A former Gingrich associate notes that employees of the various businesses and organizations within Gingrich's empire often worried about the probity of its overlapping activities, but Newt Inc. has tended to avoid controversy. Yet during his tenure as House speaker, Gingrich was investigated for misusing tax-exempt groups for political purposes, and he ended up paying a $300,000 penalty. By a 395-to-28 vote, the House reprimanded Gingrich, and he admitted that he had "engaged in conduct that did not reflect creditably on the House of Representatives." (During the 2012 race, Gingrich claimed he had been "exonerated" by this ethics probe—and earned a "pants on fire" rating for this statement.)
According to Hammond, the American Legacy spokesman, Gingrich makes no money for serving as the PAC's honorary chairman. His circle of political operatives and consultants, on the other hand, are cashing in, as they hit up grassroots conservatives for money with grand promises that have so far gone unmet.