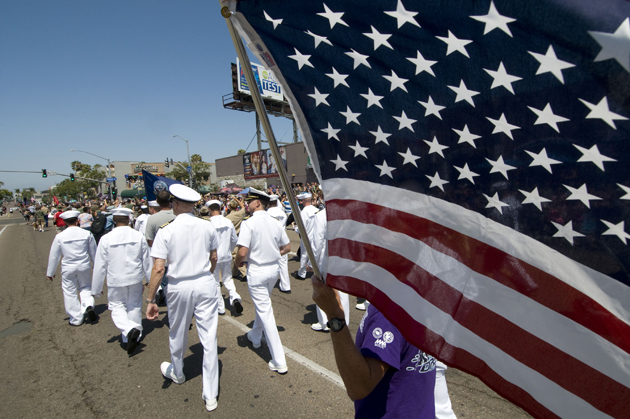 Fight disinformation:
Sign up
for the free
Mother Jones Daily
newsletter and follow the news that matters.
Ever since she was a boy growing up in small-town Pennsylvania, Zoey Gearhart had "tendencies that were odd." Raised as Robert Gearhart, she would identify with female characters in books and on TV, in video games and movies. She would also wear her mother's fake nails, or make her own out of clay. "I was told to stop in no uncertain terms by my father," she said. In 2007, at the age of 19, she decided to join the Navy. "I thought maybe joining the military would just help straighten me out," she said. "Make me into a normal individual."
At first, Gearhart tried to prove her machismo by applying and becoming accepted into the Navy SEALs, the elite force that killed Osama bin Laden. "I used to be in incredible shape," she said. She did preliminary training with the SEALs, but after an ex-fiancee pleaded with her not to continue on to BUDS (Basic Underwater Demolition School) training, Gearhart decided to become a linguist instead. The first known transgender SEAL, Kristin Beck, first came out on her LinkedIn profile earlier this year and in her tell-all book, Warrior Princess. On the cover, she sports a long, bushy beard from the days she went by "Chris."
Twenty percent of transgender people contacted said they had served in the military.
While in the Navy, Gearhart kept her female identity a secret, hiding it from a Marine staff sergeant roommate whom she described as a "cave-dwelling dude-bro." After her enlistment term expired in March, she decided not to reenlist so that she could begin her transition to womanhood in earnest. Had Beck or Gearhart revealed that they were trans while still in uniform, they would have received a medical or administrative discharge. Even after the repeal of Don't Ask, Don't Tell in 2011, the military still officially forbids openly transgender people from serving. The end of DADT, Gearhart said, "is this landmark for the LGBT movement. But there's that hanging T. Trans service was not even addressed."
Transgender soldiers and sailors largely fly under the radar, but they are hardly uncommon. In a recent survey (PDF) by the Harvard Kennedy School's LGBTQ Policy Journal, 20 percent of transgender people contacted said they had served in the military—that's twice the rate of the general population. A 2011 study estimates there are nearly 700,000 transgender individuals (about three people per thousand) living in the United States. Meanwhile, the American Journal of Public Health (AJPH) is scheduled to release a report today, which draws from Department of Veterans Affairs data, showing that the number of veterans accepting treatment for transgender health issues has doubled in the past decade. (While viewing the full report requires a subscription, an abstract should be available online as of today.)
These two new peer-reviewed studies indicate that, beyond being discriminatory, the military's current policy starves the armed services of some of their likeliest recruits, and puts transgender people who serve at greater risk of discrimination, homelessness, and assault than those who don't.
The Harvard study, "Still Serving in Silence," relies on statistics compiled by the National Transgender Discrimination Survey (NTDS). It emphasizes that transgender veterans and service members face high rates of job, housing, and medical discrimination. Breaking down the responses between transgender veteran/service members and transgender civilians, the study found that the military respondents were more likely to be fired (36 vs. 24 percent), evicted (14 vs. 10 percent), and refused medical treatment (24 vs. 18 percent) than civilians.
Civil rights groups have seized upon these findings to push the Pentagon to allow transgender personnel to serve openly, as they do in the armed forces of Canada, Thailand, Israel, and certain other countries. Darlene Nipper, deputy executive director of the National Gay and Lesbian Task Force, which collected the survey data along with the NTDS, said in a press release, "It's wrong that these brave men and women—who sacrifice so much through their service to our nation—should have to fight for their rights both as active military and then as veterans."
There are nearly 700,000 transgender individuals (about three people per thousand) living in the United States.
The team that authored the AJPH study was led by former Air Force psychologist George Brown, who in 1988 released a pioneering paper on transgender troops titled "Transsexuals in the Military: Flight Into Hypermasculinity." For that paper, Brown interviewed 11 male-to-female service members, who were all requesting cross-gender hormones and/or sex reassignment surgery, and found a "striking similarity" in their responses. "They joined the service, in their words, 'to become a real man,'" he concluded in the paper, speculating that many trans soldiers enlist as a way of "purging the feminine self."
Nearly a quarter century later, Brown began discussing the initial results of new research involving transgender veterans. Earlier this summer, at the American Public Health Association's annual meeting in San Francisco, he and four other researchers presented data that expanded upon and reinforced Brown's initial theory. They also revealed that the number of veterans diagnosed with so-called Gender Identity Disorder (GID) has nearly doubled over the last decade.
University of Rochester fellow John Blosnich, one of Brown's collaborators, says the new study is the largest examination of an American transgender population that he knows of. What's more, the team only counted people diagnosed with GID, rather than all veterans who identify as transgender. "Thus, we strongly believe that our findings underestimate the actual population of transgender veterans in the US," Blosnich explained via email.
While many transgender people find the whole notion of a gender identity "disorder" offensive, the GID diagnosis is often the only way for veterans to obtain treatments such as hormone therapy and sex reassignment surgery. Brown sat on the board of the World Professional Association for Transgender Health (WPATH), which has pushed to replace GID with "gender dysphoria"—a term related to the stress transgender people encounter while transitioning, as opposed to their identities per se. The American Psychiatric Association officially adopted the change this past May in its new (and particularly controversial) DSM-5 manual.
But the military still bases its ban on transgender enlistment on so-called "medical" restrictions, which shoehorn "transsexualism" into a category it calls "psychosexual conditions." These include "exhibitionism, transvestitism, voyeurism and other paraphilias." Inexplicably, even a heterosexual male missing a testicle can bar an applicant from joining the military, under current standards. "Transsexuality, in military law, it's treated like a mental disorder, some sort of psychosis," Gearhart said.
Veterans Affairs is somewhat more enlightened on the issue. Last year, in acknowledgement of the growing number of transgender vets, the agency sent out a memo emphasizing the need for local Veterans Health Administration (still commonly referred to as the VA) branches to provide "culturally and clinically competent care" to LGBT veterans, says Denny Meyer, a spokesman for the Transgender American Veterans Association. "The VA is progressing," he adds. "The VA is trying, but it is a bureaucracy."
"I don't want to lose my benefits, and I don't want to end up with a dishonorable discharge."
Suicide is also a "major concern" for this veteran population, Brown and his colleagues concluded. Among veterans who use VA services, those with a GID diagnosis exhibited suicidal behavior (including threats and failed attempts) 20 times as often.* Given the current epidemic of military suicides, that's a problem for the Pentagon. (Veterans Affairs reported recently that ex-military members "comprised approximately 22.2% of all suicides reported" from 2009 to 2012. "If this prevalence estimate is assumed to be constant across all US states, an estimated 22 veterans will have died from suicide each day in the calendar year 2010," the report notes.) Blosnich attributes the elevated suicide risk among transgender vets to "high levels of discrimination, violence, and being held to the margins of society." He adds the following caveat: "To be clear, there is no scientific evidence that GID or being transgender causes suicidal behavior…It is likely that suicide risk stems from the stress, isolation, and stigma projected onto transgender populations."
At the time we first spoke with Gearhart, she was still on active duty, and stationed in South Korea, where she was rebuilding her life after her marriage to a woman in New York City fell apart. "'If you're trans, I'm going to be really pissed,'" Gearhart recalled her ex-wife saying. "I think those were her exact words, I think that I was trying to keep my male self intact for her sake. I really loved her and I didn't want to hurt her, and I didn't want to kill off this person that she loved."
Gearhart agrees with Brown's contention that transgender service members often enlist to "become a real man." It was partially true for her, and for many other trans women she's communicated with. "You can go to any trans community on the Net and get that sort of response," she said.
Brown has observed that many transgender service members undergo a "breakdown in their hypermasculinity defenses" in a doomed effort to escape their gender identity. In other words, as Gearhart explains, "No matter how deep down you try to send it into your subconscious, it's still there and it still breaks itself out."
Indeed, Bradley Manning, the Army private who in July was found guilty of leaking a trove of classified documents to WikiLeaks, also struggled with this. Although he requested to be identified as male before the start of his trial, it was revealed during the sentencing phase that he had sent a 2010 email (PDF) to his supervisor, Master Sgt. Paul Adkins, with the subject line "My problem." Manning had attached a photo of himself wearing a blonde wig and lipstick and explained, "This is my problem. I've had signs of it for a very long time… I thought a career in the military would get rid of it." Adkins wrote memos describing Manning's mental deterioration, but did not forward the message until after Manning's arrest.
At the time we first spoke, Gearhart, who is now back in the New York City area, taking hormones for her transition and looking to launch a new career as a chef, was coming from a similar place: "I don't want to lose my benefits, and I don't want to end up with a dishonorable discharge," she said. "So I have been forced to live a lie."
*This sentence and the article's subhead have been revised to reflect the prevalence of "suicide-related events", instead of calculated risk of suicide attempts resulting in death.