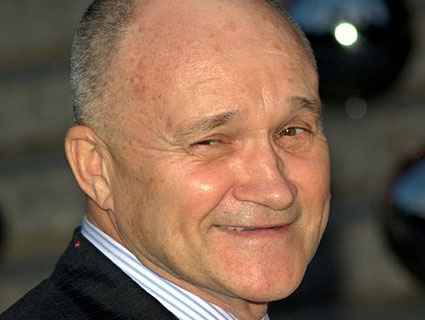 Sen. Chuck Schumer (D-N.Y.) raised some eyebrows on Friday when he suggested that Ray Kelly, the controversial New York Police Department commissioner, should be the next secretary of the Department of Homeland Security. DHS "is one of the most important agencies in the federal government," Schumer said in a statement, responding to the news that the agency's current head, Janet Napolitano, would step down in September to run the University of California system. "Its leader needs to be someone who knows law enforcement, understands anti-terrorism efforts, and is a top-notch administrator, and at the NYPD, Ray Kelly has proven that he excels in all three."
Immigration reform groups cheered the news of the impending departure of Napolitano, who has presided over the Obama administration's unprecedented levels of deportations of undocumented immigrants. "She will go into the halls of history as President Obama's go to person for implementing the most repressive anti-Latino and anti-immigrant policies our nation has ever seen," Presente.org, an immigration reform group that has harshly criticized the Senate immigration bill's severe border enforcement measures, said in a statement. "This also presents an important opportunity for the Obama Administration to institute humane policies and stop the senseless deportations and separation of families once and for all."
But Kelly, who has led the NYPD's stop-and-frisk racial profiling program and its widespread spying on American Muslims, doesn't exactly have a clean record when it comes to the humane treatment of minorities.
"The nomination of Ray Kelly would raise immediate questions about his commitment to immigrant rights," says Arturo Carmona, Presente.org's executive director. "He has a spotty record at best in New York as the lead proponent for the racial profiling policy of 'stop, question, and frisk' which the [Center for Constitutional Rights] is currently suing the NYPD over."*
The NYPD has been accused of systematically targeting Latinos and African Americans, charging thousands with misdemeanor charges including pot possession, since Kelly's latest tenure as commissioner that began in 2002. The NYPD under Kelly's watch has also dealt with controversies involving its treatment of Latino officers. Anthony Miranda, chairman of the National Latino Officers Association, calls Schumer's endorsement "irresponsible." "I think his recommendation is ill-placed considering the lack of confidence people here in New York have had with Ray Kelly, especially minorities," Miranda says. He points specifically to the department's controversial English-only policy, under which at least nine officers have been reprimanded for speaking Spanish and which Latinos on the force say has created a hostile work environment. (A rival group, the NYPD Hispanic Society, has praised Kelly's treatment of Hispanics on the force.)
Talks about Napolitano's successor, of course, are speculative at this point. But Kelly's name has been floated occasionally as a potential DHS nominee since President Obama was first elected in 2008. And the endorsement from Schumer, who led the bipartisan Gang of Eight's efforts with Sen. John McCain (R-Ariz.) to pass immigration reform in the Senate, adds a degree of credibility.
A Kelly nomination might have an upside for immigration reformers, too. Frank Sharry, executive director of America's Voice, says that a big-city police chief experienced with reaching out to immigrant communities might be what is needed to "challenge the culture of impunity" within the DHS's immigration enforcement agencies and their cultures that he says have "little respect for human rights." Kelly has criticized the Obama administration's deportation policy, out of concern that it would make undocumented immigrants less likely to approach police to report crimes. And Republicans who have opposed reform by claiming that Napolitano would not enforce so-called triggers that, in the Senate bill, would require border security measures to be fully implemented before immigrants could complete their paths to citizenship, would have a harder time arguing that Kelly would be soft on enforcement.
Still, advocates of immigration reform have plenty of reason to question Schumer's endorsement.
Correction: This story previously quoted Carmona as saying the Department of Justice is suing the NYPD. It is involved in the suit, which was filed in 2008 by the Center for Constitutional Rights, but officially "takes no position."