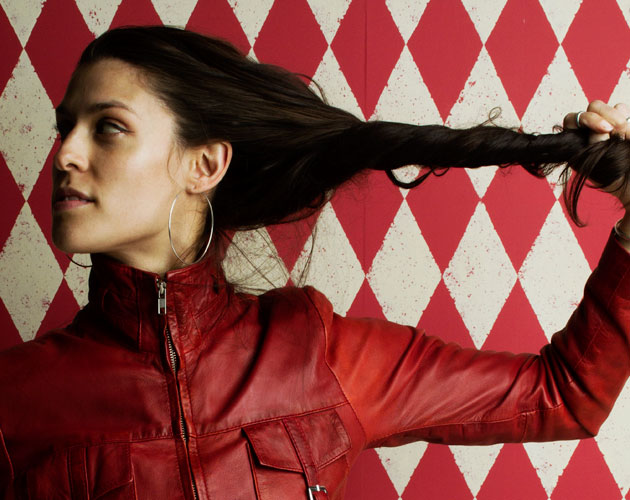 Fight disinformation:
Sign up
for the free
Mother Jones Daily
newsletter and follow the news that matters.
The word "music" traces back to Greek's mousike, or "art of the Muses," those seven goddesses presiding over song, literature, and dance. The muse Euterpe, "giver of delight," embodied music and lyric poetry; she'd have approved of the following contemporary songbirds, for whom timeless Greek tales inspire and enrich songs about modern life and love.
Dessa
Minneapolis-based Dessa might not fit your stereotype of a rapper: Poised and contemplative, you might find her lecturing on creative writing or feminism in a college classroom, cozying up to a David Foster Wallace novel, or jotting down lyrics in the tattered Moleskine she keeps in her backpack. But that doesn't mean her latest album, Parts of Speech, is tame. Released June 25, the album offers a potent blend of pop, R&B, and hip-hop strung together by Dessa's sultry voice and explosive songwriting. ("Call Off Your Ghost," which you can listen to below, is a case in point.)
Dessa is a poet and former philosophy major, so it's no wonder Greek characters pop up in some of her songs, such as the the haunting "Beekeeper," where she sings: "Sweet Prometheus come home / they took away our fire / and all that this scarcity promotes / is desperate men and tyrants." (In Greek mythology, the cunning Prometheus stole fire from the gods to give to humans). "I think I go to myths because you get to import a tiny piece of the poetic tradition that you reference," Dessa says.
One of her more provocative tunes, "Fighting Fish," involves an obscure historical figure, Zeno of Elea, who is said to have lived just before Socrates. Zeno came up with a set of paradoxes, including that of the arrow, described here by Aristotle:
the flying arrow is at rest, which result follows from the assumption that time is composed of moments…he says that if everything when it occupies an equal space is at rest, and if that which is in locomotion is always in a now, the flying arrow is therefore motionless. (Aristotle Physics, 239b.30)
"Zeno's Arrow never hits the mark/ It's always hanging there over its shadow/ Waste of art," Dessa sings in "Fighting Fish." She composed the song after a conversation with a male artist who had made her feel guilty about the scope of her aspirations. "What good is an arrow if it never hits a target? I felt the same way about a culture that disincentivizes ambition."
Parts of Speech allowed Dessa to grapple with "love and death and loss and sex and consciousness, and what it means to be human for as many years as you're allowed to be that way"—themes, come to think of it, that wouldn't have been so foreign to the ancient Greeks.
Anaïs Mitchell
When she was young, singer-songwriter Anaïs Mitchell's dad, English professor and writer Don Mitchell, made her listen to songs centered on myths—Santana's "Europa," named after the princess taken by Zeus while he's in the form of a bull, and Steely Dan's "Home at Last," about Odysseus—which he would then dissect for her so she remembered them.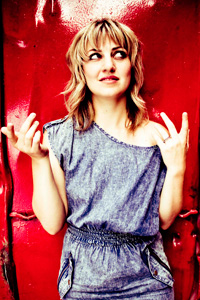 Years later, Mitchell decided to write a folk opera based on the story of Orpheus and Eurydice. As you might recall, Orpheus travels to the land of the dead to retrieve his dead lover, Eurydice. He charms the guards of the underworld with his music, and Hades consents to let him lead Eurydice back up to the world, walking behind him, so long as he never looks back at her. (He does, of course, and she is returned to Hades forever.)
Mitchell's interpretation, with music by Michael Chorney, is a saucy and smart theatrical hybrid called Hadestown. She sets the myth in the Depression era, with roots and jazz music inspired in part by Bertolt Brecht and Kurt Weill's Threepenny Opera. Her show toured around the US and the UK, and when the economy tanked in 2008, it "became uncannily relevant," Mitchell remembers. Her audiences held onto its themes of finding connection and creativity in darker times. The opera's moral, Mitchell says, is "Yes, we're fucked, but we still have to try with all our might. We have to love hard and make beauty in the face of futility."
Hadestown isn't just for theater-goers: Mitchell released a gorgeous album of its songs in 2010, featuring the voices of Ani DiFranco, Bon Iver's Justin Vernon, and Greg Brown.
More recently. Mitchell again turned back to old texts for a new album. She paired with songwriter Jefferson Hamer to reimagine a set of child ballads: traditional English and Scottish folk songs. Like Hadestown, the project reveals her knack for transforming something traditional into something contemporary, heartfelt, and lovely.
Dar Williams
"How could they have come up with these characters that are so rich and modern to me?" Williams asks, referring to the Greeks. For her latest album, In the Time of Gods, the folk singer explores issues such as power, recklessness, and longing through the archetypes of mythology. Athena, Zeus, and Hermes all appear, though Williams didn't want the album to be too gimmicky—so they're barely mentioned by name.
A grounded and compassionate artist, Williams has been on the music scene since the early '90s, with nine albums under her belt. In the Time of Gods is eloquent and emotionally attuned, proving that she hasn't lost her touch. Though as Slant's Jonathan Keefe points out, the album's Greek gods are beside the point: "Williams' execution of this particular idea is so subtle and light-handed that it doesn't actually bring greater depth to the album."
That doesn't make the back story any less entertaining: Williams, on a drive to Ontario, was struck with the desire to write "an epic biker song." She thought of Hermes, "the god of travelers and thieves," and pictured him seducing an old woman. "And then I thought, why don't I really freak out my record company and make a whole album about Greek mythology?"
Peering at life through the lens of mythology made Williams, in the end, feel better about the modern world. "To see it as epic, instead of doomed, is helpful for me," she says.