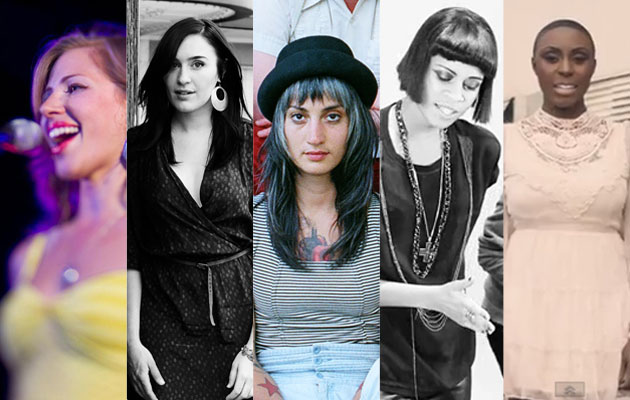 Fight disinformation:
Sign up
for the free
Mother Jones Daily
newsletter and follow the news that matters.
Male bands (Mumford and Sons, the Black Keys, Fun.), poppy collaborations (like Gotye and Kimbra's tired duet), and, as Stereogum put it, predictable "mom-safe and Starbucks ready" favorites (Adele and Beyoncé) predominated the list of Grammy winners this year. Meanwhile, I've been struck by the array of refreshingly bold new female vocalists blossoming behind the mainstream. Quirky, fresh, raspy, vintage, or full of lungs, all five of them are under-the-radar but destined for bigger spotlights. Check out the videos below so you can say you heard them before they were famous.
Rachael Price (of Lake Street Dive):
Australian by birth, Nashvillian by pedigree, Price earned a degree in Jazz Studies from New England Conservatory and performed with T.S. Monk Sextet at jazz festivals around the world. After hearing a recording of Price in 2003, actress/singer Kathryn Grayson deemed her "the best young voice I've heard, period. No one around her can even touch her voice and style." While Price mostly stuck to standards in her early career, she's now departed from strictly jazz as a member of the indie group Lake Street Dive.
Price's voice soars with clarity and classically trained precision. She can make the most of a Motown cover but also glides easily into blues, country, and pop. The video above, featuring Price belting out a relaxed cover of The Jackson 5's "I Want You Back," aptly showcases her glamor and command. But also make sure to listen to the band's original song "Bad Self Portraits" (below), which has Price sounding like a young Bonnie Raitt. Bonus: Her band mate Bridget Kearney rocks it on the upright bass and has a lovely voice, too. Lake Street Dive just finished touring with Yonder Mountain String Band, will soon be touring with Josh Ritter, and has a date this week opening for Mavis Staples in Iowa.
Aluna Francis (of AlunaGeorge):
AlunaGeorge, featuring chanteuse Aluna Francis, is quickly becoming one of the breakout bands of 2013. Consisting of Francis and producer George Reid, the electronica group combines intimate vocals with synthesized pop, house, R&B, and dub-step. Though already pretty big in the UK—the duo nabbed second in BBC's Sound of 2013 contest—Francis' voice will likely get way more air time in the US in the coming year.
Francis, who is half Indian and half Jamaican, worked as a reflexologist and previously sang for the band My Toys Like Me. She first met Reid when he remixed one of My Toys' songs, and they paired up and released their first commercial single ("Your Drums, Your Love," above) late last year. Though minimalist and futuristic, AlunaGeorge's songs are made human by Francis' velvety touch. She imbues the pulsing drive of a late-night dance tune with soulful emotion, and her high-pitched timbre balances well with Reid's beats, to a mysterious but alluring effect. "You can't say I'm going nowhere, when you don't know where I am from," she croons. On the contrary, I'd say she's barreling straight toward stardom. AlunaGeorge's debut album, Body Music, is due out in June.
Luz Elena Mendoza (of Y La Bamba):
Portland-based band Y La Bamba draws from Mexican folk songs and mariachi singers as influence for its eerie tunes. Emerging in 2003, the band has enjoyed limited success in indie circuits, but never much widespread attention, apart from becoming one of NPR Music's darlings. That could change this year, as they just wrapped up an East Coast tour alongside the Grammy-nominated Lumineers.
Lead singer Luz Elena Mendoza has a distinctive and charged voice, filled with nostalgia and mourning. She often manages to sound both completely in control and completely unhinged. Y La Bamba's recent EP, Oh February, showcases her chilling vocals, and also demonstrates how she continues to evolve and experiment. While she may never be an American Idol-type star, she's an original and wise artist who will continue to turn heads at her live shows.
Sarah Dugas (of Sarah and Christian Dugas):
With a sound like bottled smoke, French-Canadian roots singer Sarah Dugas might just be the next Grace Potter. Sarah and brother Christian Dugas grew up in the French quarter of Winnipeg and found their calling covering old-school soul and rock. After stints with the Grammy-nominated band the Duhks, the siblings struck out together and released the EP Another Day in 2011 and are currently working on a new album on the Southern Ground label.
The Dugas' music has a deep Southern feel, and appropriately, they've appeared on stage with the likes of the Dirty Dozen Brass Band and the Blind Boys of Alabama. Sarah has quite the pipes and sings with unwavering conviction (see video above), but she's currently light on material. With any luck, the duo's forthcoming album will deliver more bluesy numbers brimming with her electric voice.
Mvula told the Guardian she doesn't think she has "a great voice." Though I beg to differ, her 2013 EP—so far the only widely distributed example of her talent—reveals something even better: a distinctive sound merging tribal African influences, jazzy vocals, and a mosaic of rhythms. As her backup dancer Dominique Young put it, "she hears the rhythm differently so it causes you to hear it differently and dance to it differently." Mvula studied classical music in Birmingham, England, and worked as a receptionist and a youth orchestra member before being spotted by the RCA record label. Her debut album, entitled Sing To The Moon, is due out in March. In the meantime, she already landed on the Brit Critics' Choice Award shortlist.
With her shaved head and dramatic eye makeup, Mvula is like a cross between Amy Winehouse, Erykah Badu, and the tUnE-yArDs' Merill Garbus. The video "Green Garden" (above) is a whole lot of fun to watch and even more fun to dance to. Meshing hopeful vision and pure energy, and often backed by a luminous chorus, Mvula's songs enter sublime territory and promise lots more to come.
Click here for more music coverage from Mother Jones.