Despite being Women's History Month, March has seen relentless attacks on ladies' rights. As soon as one state passes some outrageous woman-restricting bill, another is right behind with something even, well, outrageous-er. The "state-by-state race to the bottom on women's health," as the president of Planned Parenthood put it, inspired us to set up our own March Madness bracket to determine the national champion in the War on Women.
ROUND ONE: THE MEAN SIXTEEN
No doubt about it, these states all brought their A games to this season's War on Women. From imposing onerous new building codes on abortion clinics to threatening to throw doctors in jail for providing life-saving abortions, these contenders made it all but impossible for women to obtain (still constitutionally protected) abortions. The qualifiers: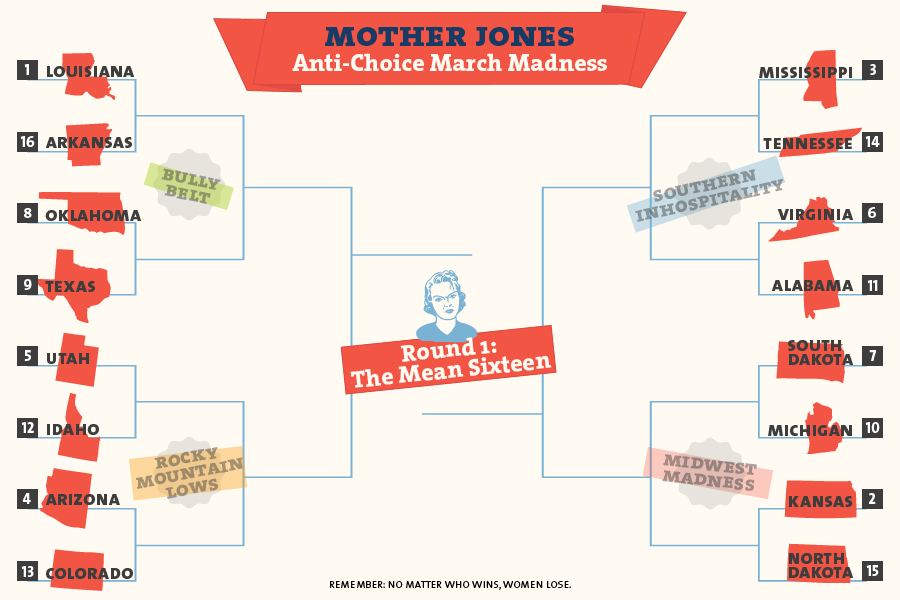 The Matchups
Louisiana (1) vs. Arkansas (16)
Louisiana barrels into the tournament as top-seed in its region and the expected overall champion, since the anti-choice crusaders Americans United for Life crowned it the "Most Pro-Life State" earlier this year. The state enacted a 20-week ban last June, with fines and prison sentences for doctors who violate it.
Plucky underdog Arkansas passed a new law banning all abortions after 20 weeks earlier this month, shooting over the veto of the state's Democratic Gov. Mike Beebe. But that wasn't enough for legislators, who followed with a 12-week ban days later, also over Beebe's veto.
Oklahoma (8) vs. Texas (9)
Oklahoma brings a middling offense: Women there must undergo state-required anti-abortion counseling, can't use their private health insurance to pay for elective abortions, and can't get an abortion after 20 weeks.
Meanwhile, have you seen what Texas did to Planned Parenthood? That's on top of an ultra-strict ultrasound law and mandatory 24-hour waiting period for an abortion. Gov. Rick Perry kicked off 2013 with a pledge to "continue to pass laws to ensure that [abortions] are as rare as possible." Perry is basically the John Wooden of anti-woman madness.
Utah (5) vs. Idaho (12)
Utah passed a new law last year establishing a 72-hour waiting period for an abortion. The state also bans women from using private health insurance to cover an abortion, unless her life is at risk or if she's the victim of rape or incest.
Back in 2011, Idaho passed a ban on abortions occurring 20 weeks post-conception, which a judge struck down as unconstitutional on March 7. Women here also have to wait 24 hours before they can have an abortion and can't use their private insurance for elective abortions.
Arizona (4) vs. Colorado (13)
Last year, Arizona became the sixth state to pass a 20-week abortion ban. But its law was even more extreme, as it actually cuts off access 18 weeks post-conception. (Basically, they start the shot clock before women even gain possession.) This state also passed a law last year making it legal for doctors to withhold medical information that might encourage a patient to seek an abortion, like fetal abnormalities.
Colorado voters get bad marks (in the logic of the War on Women) for twice rejecting a so-called "personhood" ballot measure that would grant the rights of adult humans to fertilized eggs, in 2008 and 2010. But anti-choice lawmakers have continued trying to ban all abortions with a House bill that stalled in committee, and Garfield County also voted to defund its local Planned Parenthood provider.
Mississippi (3) vs. Tennessee (14)
Mississippi is down to one abortion clinic, and anti-choice crusaders are taking aim. Even though voters rejected a "personhood" ballot measure in 2011, abortion foes and their up-tempo offense are trying to get it on the ballot yet again.
Tennessee is an up-and-comer to watch in future seasons. Right now it has more liberal abortion laws than many Southern states, but in 2014, voters will decide via a ballot measure whether or not women have the right to an abortion. Meanwhile, anti-abortion officials have been active at the county level, defunding the Memphis chapter of Planned Parenthood in 2011.
Virginia (6) vs. Alabama (11)
Under public pressure last year, Virginia lawmakers backpedaled from forcing women to undergo medically unnecessary transvaginal ultrasounds. But the state is moving forward with strict new building codes for clinics that could put a number of providers on the bench—and out of business.
Last month, the Alabama House advanced the Orwellian "Women's Health and Safety Act," which threatens to shut down the state's five remaining clinics. It includes a requirement that doctors have admitting privileges at a local hospital and sets tough new building codes for clinics.
South Dakota (7) vs. Michigan (10)
There is only one abortion clinic in South Dakota, which many women drive hours to reach. To get an abortion, women have to visit a doctor first, wait 72 hours, visit an anti-abortion "crisis pregnancy center," and listen to a mandated script that will tell them false information about abortion risks. Now yet another law, passed on February 28, excludes weekends and holidays from the 72-hour waiting period, meaning some women will have to wait five or six days. This state has one of the toughest defenses in the country: a legal-defense fund wholly devoted to preserving these anti-choice laws.
Michigan got a lot of attention last year when Democratic Rep. Lisa Brown was T-ed up and barred from using the word "vagina" during floor debate over an anti-abortion bill. The state later passed its "abortion mega-bill" requiring abortion providers to meet the same standards as "ambulatory surgical centers," outlawing telemed abortions, and implementing new rules for the disposal of fetal remains that would require them to be treated like the body of a dead person, rather than treating them like other forms of medical waste.
Kansas (2) vs. North Dakota (15)
A perennial favorite in Anti-Woman Madness, abortion foes in second-seeded Kansas have committed to making it the first "abortion-free state." In 2011, the state passed onerous clinic regulations that threatened to close nearly every clinic in the state. They were later were blocked by a judge, but the legal fight continues. Meanwhile, the state House is currently considering a group of measures that would define life as beginning at conception and would require doctors to give patients medically inaccurate information linking abortion to breast cancer. Lawmakers did, however, remove a provision that would ban anyone who works at an abortion clinic from volunteering at their kids' schools.
North Dakota's Legislature only meets every other year, so 2013 has been a rebuilding year. They have managed to make quite a comeback in 2013, banning abortion as early as six weeks. Anti-abortion lawmakers also pitched a fit earlier this year about a sex-ed program for teenagers that Planned Parenthood was going to help lead.
ROUND TWO: THE INFAMOUS EIGHT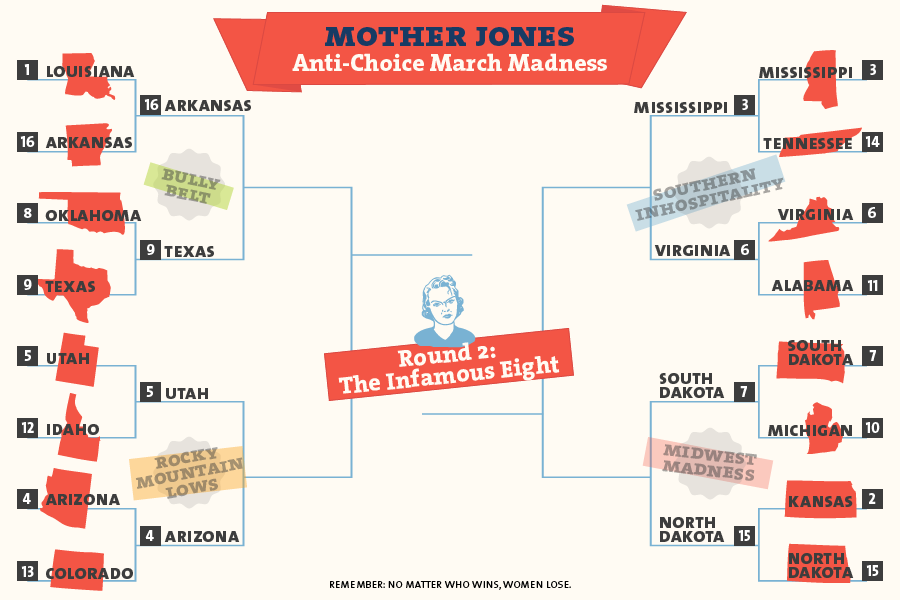 Arkansas (16) beats Louisiana (1) (!)
A stunning upset! Louisiana may have been the top seed, but then Gov. Bobby Jindal came out last December in favor of over-the-counter access to oral contraception, knee-capping Louisiana's race to Worst State for Women. Meanwhile, Arkansas' offense has been all over the place, even managing to go backdoor on Gov. Mike Beebe's veto of their 12- and 20-week abortion bans, leading Arkansas to a shocking victory. Nobody saw this coming…but many will pay consequences.
Texas (9) beats Oklahoma (8)
Texas has been chucking up three-pointers from deep all season, which allowed them to cruise to an easy victory over Oklahoma.
Utah (5) beats Idaho (12)
This was a tough match up, as the two states look pretty similar on paper. Utah eked out a win, though, since the court called a technical foul on Idaho's 20-week ban.
?Arizona (4) beats Colorado (13)
Colorado looked lackluster next to Arizona, which cruised to an easy victory. I mean, starting the shot clock on abortion before a woman even conceives? That's serious game, Arizona.
Mississippi (3) beats Tennessee (14)
Tennessee didn't seem to even leave the locker room for this one. But then again, Mississippi's rare status as a state with just one abortion clinic spelled victory from the start.
Virginia (6) beats Alabama (11)
Virginia, led by point guard (and attorney general) Ken Cuccinelli, has really been making a name for itself this season. No surprise here.
South Dakota (7) beats Michigan (10)
Michigan has shown some impressive ballhandling in the past year, demonstrating all kinds of new anti-abortion plays, but South Dakota's measure banning women from thinking on the weekend was the kind of gritty performance that wins championships.
North Dakota (15) beats Kansas (2) (!!)
Another jaw-dropping upset! Let's face it, North Dakota wouldn't have even qualified last year. But they've been running a full-court press with their time restrictions on abortion this season, and it lead to a shocking victory over second-seeded Kansas. Hey, it's called Madness for a reason.
ROUND THREE: THE FINAL FOUR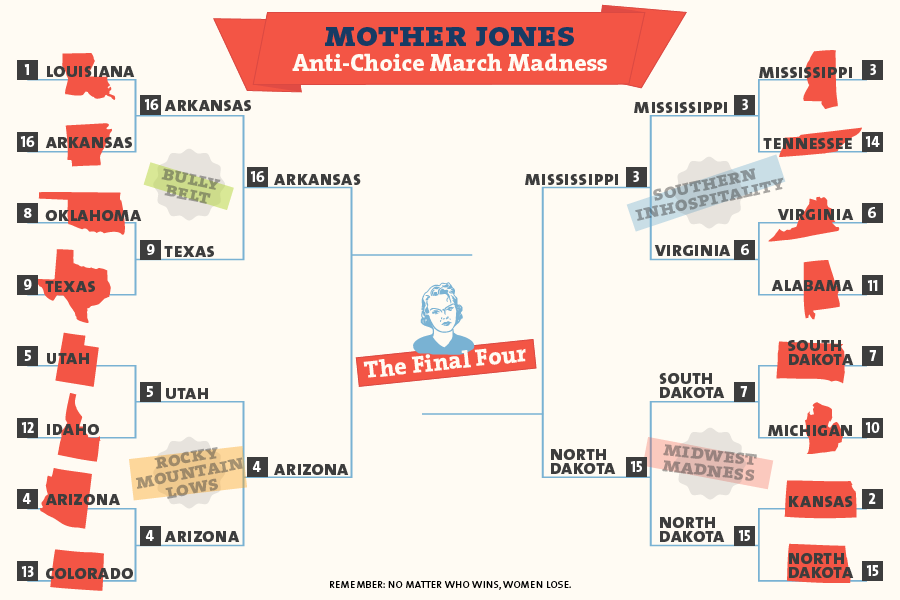 Arkansas (16) vs. Texas (9)
?This was a nail-biter. The score was tied with seconds left on the clock, but Arkansas drained two free throws with its 12- and 20-week bans to seal the win.
Arizona (4) vs. Utah (5)
Demonstrating some of their creative plays developed over the past season, Arizona cruised to an easy victory over Utah, which seems to have grown complacent this season with few new abortion restrictions.
Mississippi (3) vs. Virginia (6)
Virginia's transvaginal probes couldn't hold up to Mississippi's run-and-gun offense, which has included "personhood" measures and regulatory attempts to wipe out its sole abortion provider.
North Dakota (15) vs. South Dakota (7)
The Dakotas matchup was sure to be a tough one. While South Dakota took an early lead with its waiting-period law, North Dakota broke out its stingy man-to-man defense with its six-week ban, clinching the Midwest Madness title.
ROUND FOUR: The CHAMPIONSHIP!?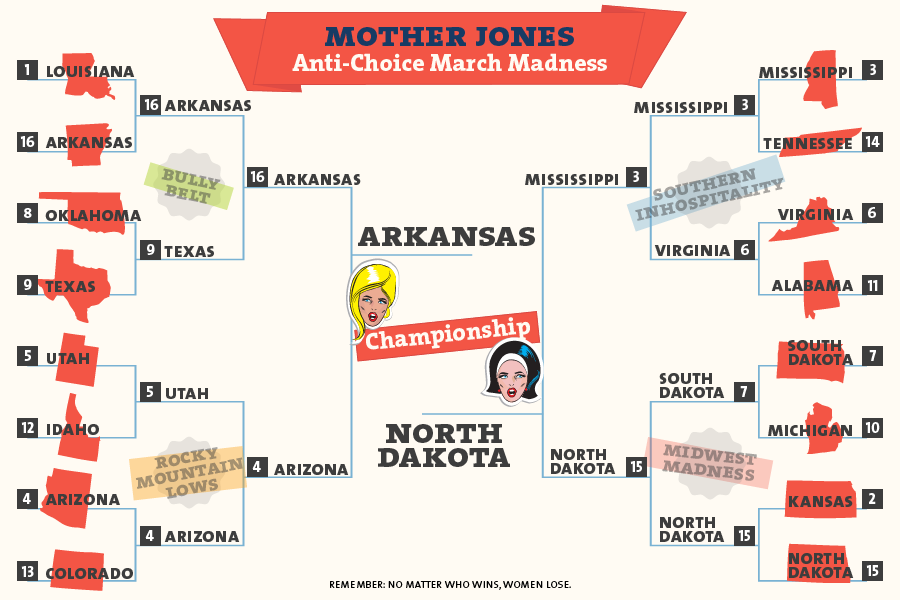 Arizona (4) vs. Arkansas (16)
Underdog Arkansas was all over the boards with its now-infamous governor-silencing offense, while Arizona just seemed distracted.
North Dakota (15) vs. Mississippi (3)
Given that both of these states are down to one abortion provider, this was expected to be a tight one. But North Dakota showed some real zeal for hating on women with their most recent legislative ball work banning abortions as early as six weeks, and that's what it took to regress—er, advance—in the march to victory.
THE "WINNER"!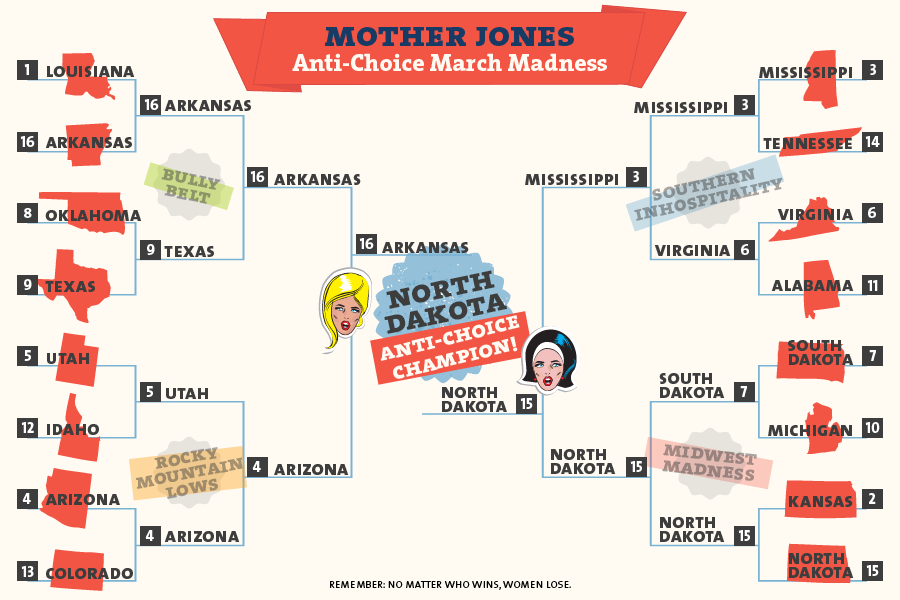 It seems nothing short of an all-out ban on abortion could have topped North Dakota's late-breaking offensive, just passed on March 15: cutting off abortion access as early as six weeks after conception. Many women won't even know they're pregnant within that timeframe, but North Dakota just won't relent: The state is still pushing for that ever-elusive (because, you know, abortion is a constitutional right and all) statewide ban. North Dakota has proven that it's willing to go the extra mile to win the dubious distinction of Worst State for Women.
Thanks for playing along, and remember: whenever these states win, women lose.
An earlier version of this piece incorrectly stated that Arizona, not Arkansas, advanced to the championship.
Assorted icons and graphics courtesy of Shutterstock.