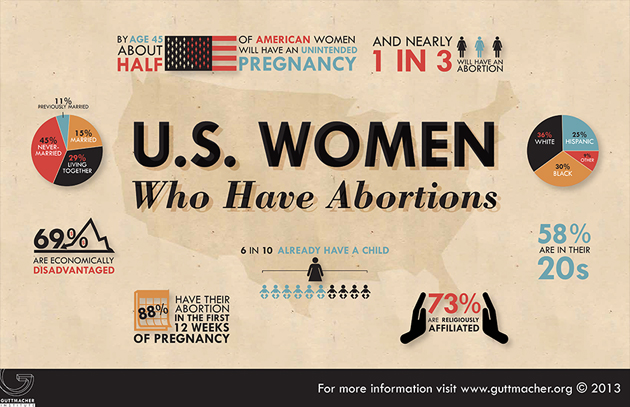 The Guttmacher Institute has released some handy infographics for the upcoming 40th anniversary of the Supreme Court's Roe v. Wade ruling, which made abortion legal nationwide and sparked a relentless campaign by religious conservatives to chip away at a women's ability to obtain one. Consider, for example, Kate Sheppard's recent profile of Americans United for Life, the anti-abortion group perhaps most responsible for a barrage of new state laws that have thrown up fresh obstacles for women seeking an abortion. Next slide, please.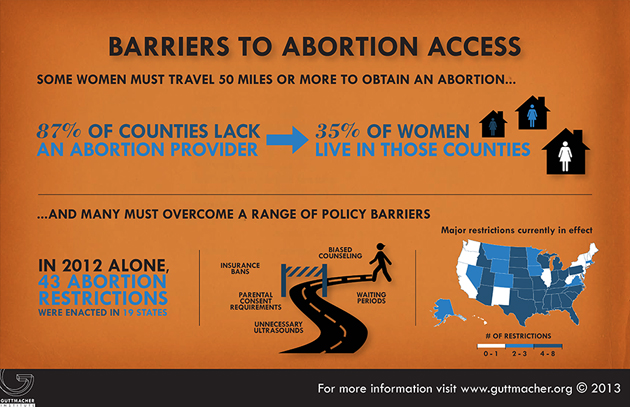 Mother Jones has been way out front on the story of how the pro-life crowd has circumvented Roe v. Wade with a state-by-state approach. Sarah Blustain delivered this award-winning profile of pro-life lawyer Harold Cassidy, who has successfully promoted state-level legislation by arguing, counterintuitively, that abortion violates women's rights. These interactive maps of state abortion restrictions were quickly made obsolete thanks to a torrent of new legislation in 2011 and 2012 in Virginia, Michigan, Mississippi, Arizona, and many other states. So over the top were some of the laws passed or proposed during those two years that Democratic legislators responded with farcical bills—like a proposal requiring rectal exams for men seeking Viagra prescriptions. But these laws are no joke. Women in at least a couple of states—Kansas and Mississippi—faced losing access to abortion services simply because nearly all of the providers have been run out of town. As it stands, if you don't live near a population center (see above), you'll have to hit the road to find a clinic.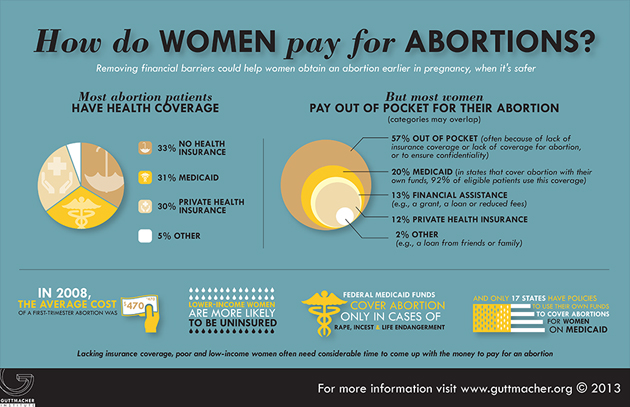 The question of who pays—both for abortion and birth control—was a huge issue during this past election year. Because politicians have failed to stand up to the pro-life crusade, most women have to cover the procedure themselves. If you're poor, tough. As Guttmacher notes above, federal Medicaid funds can only be used for abortions resulting from rape and incest, or if having the baby is likely to endanger your health—only 17 states will step in to help women on Medicaid pay for abortions. Birth control is more widely covered, but that still doesn't mean it's cheap (see our birth control calculator) or easy to get. And judging from the nutty rhetoric of the GOP and its candidates during this past election cycle, they would probably prefer that women go back to this method—or Lysol perhaps?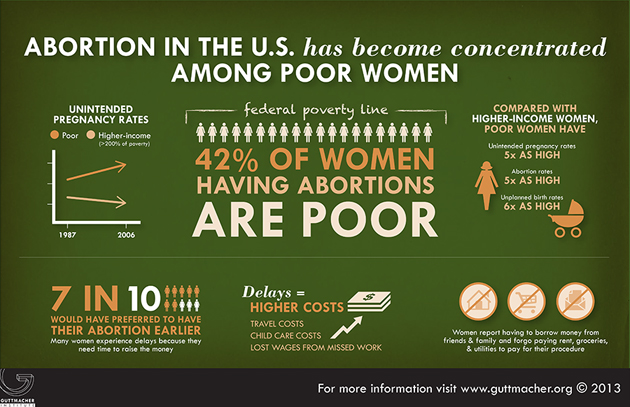 It's no surprise that women who live in poverty, and who tend to be less educated, would have more than their share of unwanted pregnancies. Yet they are the ones most profoundly affected by this bevy of new abortion restrictions. So maybe you don't have the $500 it's going to cost because Medicaid in most states cover most abortions. Or maybe you are stuck in the sort of shit job where you can't get time off without getting fired. Maybe you don't have a car to drive 50 miles to the nearest clinic. Guttmacher notes above that 7 in 10 low-income abortion patients wanted to terminate their pregnancy earlier than they did, but one way or another couldn't afford it. This past February, Virginia legislators even passed a bill that would have eliminated funding for poor women to abort a fetus with a "gross and totally incapacitating physical deformity or with a gross and totally incapacitating mental deficiency." (It made it through the Virginia House and a state Senate committee before stalling.)
So, uh, happy anniversary! And be sure and keep an especially close watch on these five states in 2013.

Click here to browse all of our coverage related to reproductive health.