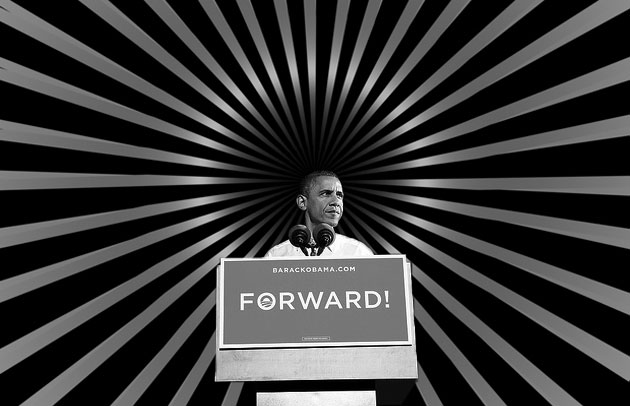 President Obama is using a Cold War-era mind-control technique known as "Delphi" to coerce Americans into accepting his plan for a United Nations-run communist dictatorship in which suburbanites will be forcibly relocated to cities. That's according to a four-hour briefing delivered to Republican state senators at the Georgia state Capitol last month.
On October 11, at a closed-door meeting of the Republican caucus convened by the body's majority leader, Chip Rogers, a tea party activist told Republican lawmakers that Obama was mounting this most diabolical conspiracy. The event—captured on tape by a member of the Athens-based watchdog Better Georgia (who was removed from the room after 52 minutes)—had been billed as an information session on Agenda 21, a nonbinding UN agreement that commits member nations to promote sustainable development. In the eyes of conservative activists, Agenda 21 is a nefarious plot that includes forcibly relocating non-urban-dwellers and prescribing mandatory contraception as a means of curbing population growth. The invitation to the Georgia state Senate event noted the presentation would explain: "How pleasant sounding names are fostering a Socialist plan to change the way we live, eat, learn, and communicate to 'save the earth.'"
Watch:
Agenda 21 Full Video from Bryan Long on Vimeo.
The meeting consisted of a PowerPoint presentation followed by a 90-minute screening of the anti-Agenda 21 documentary, Agenda: Grinding America Down. It was emceed by Field Searcy, a local conservative activist who was forced out of the Georgia Tea Party in April due to his endorsement of conspiracy theories about the president's birth certificate and the collapse of World Trade Center Tower 7. The presentation also featured a special video cameo from conservative talking-head Dick Morris in which the former Clinton aide warns that Obama "wants to force everyone into the cities from whence our ancestors fled."
About 23 minutes into the briefing, Searcy explained how President Obama, aided by liberal organizations like the Center for American Progress and business groups like local chambers of commerce, are secretly using mind-control techniques to push their plan for forcible relocation on the gullible public:
They do that by a process known as the Delphi technique. The Delphi technique was developed by the Rand Corporation during the Cold War as a mind-control technique. It's also known as "consensive process." But basically the goal of the Delphi technique is to lead a targeted group of people to a pre-determined outcome while keeping the illusion of being open to public input.
How perilous is the situation? Here's a slide from the presentation comparing Obama's record to that of Mao and Stalin: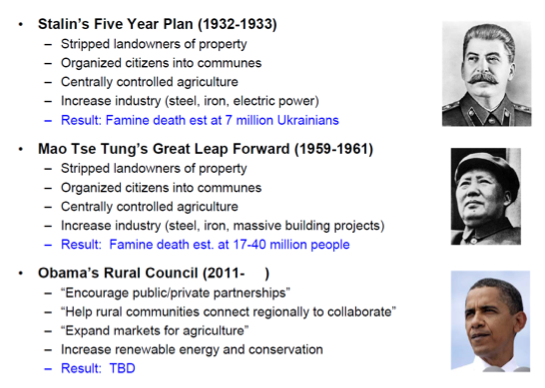 Obama, of course, has taken no steps to bring the United States under the control of a United Nations sustainable-development-themed dictatorship. (Environmental groups complain that he hasn't even taken sufficient action to combat climate change.) But that hasn't stopped state legislatures and local conservative groups from taking aim at the perceived threat. In May, the Kansas Legislature approved a resolution blocking Agenda 21 from being implemented in its state, following in the footsteps of Tennessee. Rogers, the Georgia Senate majority leader, introduced legislation in January that would have blocked the nonbinding UN resolution from being applied to his state. Among other things, the resolution noted that, "according to the United Nations Agenda 21 policy, social justice is described as the right and opportunity of all people to benefit equally from the resources afforded by society and the environment which would be accomplished by socialists and communist redistribution of wealth."
If it seems as if Rogers is just repeating John Birch Society conspiracies, he is—literally. As in Tennessee, large portions of his 2012 bill, SR 270, were lifted word-for-word from draft legislation prepared by the Birchers.
But as Seth Clark, the Better Georgia volunteer who filmed the Capitol conspiracy bash, points out, Rogers' warning extended well beyond the actions of liberal politicians. According to one slide that was featured at the presentation, "Smart Growth and Sustainable Development are often promoted by NGO's, Chambers of Commerce and [public–private partnerships] that are unelected and unaccountable to the people." In August, when the Georgia Chamber of Commerce handed out its official grades for state legislators, Rogers got an A+.
Apparently the conspiracy is coming from inside the Capitol.
Update, 11/15/12: Rogers defended the presentation in an email to the Cherokee (Ga.) Tribune, noting that the meeting had been requested by constituents. "This is not the first time our office has facilitated this type of request and won't be the last, I am sure," he said.
Update II: That was quick. The Atlanta Journal-Constitution's Jim Galloway reports that Rogers has withdrawn his name from the Senate majority leader race.