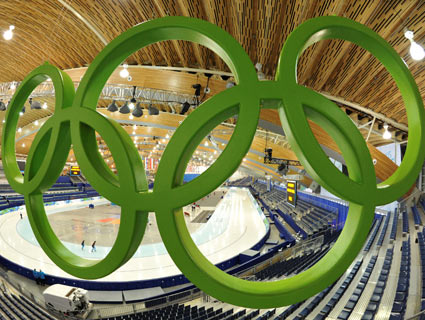 Ever since the fleet-footed runners and chariot races of ancient Greece, ethics have been at the root of the Olympic games. There's an Olympic oath, creed, and hymn. And then there's the torch, which has come to represent purity or goodwill, depending on who you ask.
So, in the spirit of Olympic integrity, London—which will host the summer Olympics this July—has promised to prepare for its games with an eye towards environmentalism, making London 2012 "the greenest Games ever." Just one problem: Three of the Olympics' official sponsors—BP, Dow Chemical, and Rio Tinto—are all currently embroiled in lawsuits over alleged commission of large-scale environmental harms. (A set of criminal charges against BP were just filed yesterday.)
The irony here has not been lost on some of the UK's environmental watchdogs, who last week launched "Greenwash Gold 2012," a campaign to bring attention to the environmental records of these three sponsors. The groups behind the project—the London Mining Network, Bhopal Medical Appeal, and the UK Tar Sands Network—argue that it's greenwashing to let these eco-harming companies sponsor the games.
The campaign's website offers up details on each company's environmental records alongside biting, animated videos. Visitors are asked to vote on which company "gets the dishonour" of winning the Greenwash Gold for "covering up the most environmental destruction"—to be awarded by the campaign in July, when the Olympics start. (Silver and bronze will also be awarded, so don't worry: all three companies are guaranteed to medal.)
BP might not be a lock for the gold, but the company's high profile and hometown advantage make them an early favorite. The company, which just last week agreed to pay a $7.8 billion settlement for claims resulting from the summer 2010 leak at its Deepwater Horizon drilling platform—is one of London 2012's four "Sustainability Partners." Earlier this month, a group of environmental pranksters published a fake press release claiming that BP had lost its sustainability partnership after a review by the Olympic organizing committee "concluded that BP does not meet the standards required to be a champion for Sustainability at London 2012, due to the extent of its global carbon emissions, its involvement in unsustainable extraction projects such as the Alberta oil sands, and its safety record, particularly in regard to the ongoing ecological impacts of the Deepwater Horizon oil spill." (The stunt press release was so professional that a few media outlets initially published the story.)
The campaign's focus on Dow revolves around the company's links to the 1984 tragedy in Bhopal, India, when a gas leak at a pesticide factory killed around 4,000 people and left a contamination trail that's disfiguring people to this day. (Dow bought the factory's owner, Union Carbide Corporation, in 2001, and has since been the target of attempts to obtain restitution for victims.) The association has already brought the Olympics some high-profile skepticism—Meredith Alexander, a member of the games' Commission for a Sustainable London 2012, resigned when the organization issued a press release that she wrote "publicly repeated Dow's line that it bears no responsibility for Bhopal."
Rio Tinto is a mining company providing material for London's Olympic medals. Rio Tinto has said that the metal will come from its mines in Utah and Mongolia—both of which have roused claims of environmental harm: A group of Utah doctors is suing the company, alleging air pollution and public health damage. And Mongolian campaigners believe that the company's mine is depleting water in an arid region—while also emitting undisclosed toxic chemicals. The company also faces allegations of human rights abuses at mines in Indonesia and Papua New Guinea.
While many sponsors—like Coca-Cola, Samsung, and Adidas—return to the Olympics again and again, it's worth noting that BP and Rio Tinto's' decision to associate themselves with the "greenest Games ever" comes after each has been virtually absent from the last decade of events. Dow has sponsored sporadically, and BP began its sponsorships in 2010, an effort that, according to one marketing study, "is part of a wider campaign to rebuild its image following the Deepwater Horizon disaster."
Speaking with the Independent, a Dow spokesman denied any connection to the Bhopal tragedy or its aftermath. A BP spokesman told Mother Jones that they "do not comment on the actions of protest groups," but that they "are 100% committed to supporting [the organizing commitee] in making the Games an enormous success." In a press release, Rio Tinto responded by releasing what it called "its ethical track record," saying that the company "ha[s] rigorous standards for air quality, ecosystems, biodiversity, climate change, the use of energy, land and water and waste disposal." The Olympic organizing committee also did not respond to multiple requests for comment.
The companies' presence at the games taints London's goal of making the events more environmentally friendly. But it also threatens to taint sports fans' faith in the Olympic spirit.