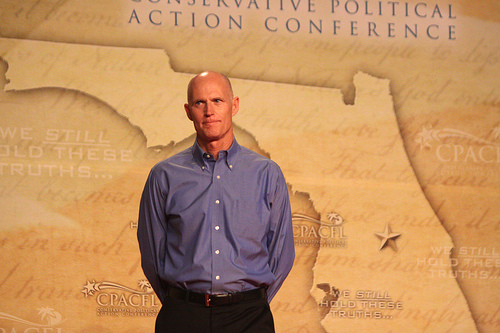 Fight disinformation:
Sign up
for the free
Mother Jones Daily
newsletter and follow the news that matters.
In response to hazing scandals at Florida A&M University that left one student dead, Florida Gov. Rick Scott has demanded the suspension of A&M's president, James Ammons. But students at Florida A&M, a historically black college in Tallahassee, the state capital, don't want Scott meddling with their business, and so on Thursday night, they marched on the governor's mansion and gave Scott an earful.
To his credit, Scott, clad in sweatpants, greeted the marchers outside his home. To his detriment, he decided to talk.
Apparently grasping for some common ground, Scott began his speech by reminding the protesters that he'd lived in public housing as a youngster. The Florida A&M marchers were less than pleased. "We're not poor!" one of them shouted back. Another, A&M student senate president Marissa West, told the Miami Herald that Scott's remarks offended her. "I guess he was trying to make some type of relation to our student body, as if we had lived in public housing," she said.
More on the march, from the Herald:
Students marched en masse from their campus to the Governor's Mansion, about a 2-mile walk, at about 9 p.m. chanting "We are FAMU!" After about 30 minutes of chanting from outside Scott's guarded gate, chief of staff Steve MacNamara told West and Student Body President Breyon Love that Scott had just returned from a trip to Israel and was sleeping, West said. Not long after, she said, Scott came out and ventured into the crowd wearing sweats. He grabbed a megaphone and took part in a Q&A with Love about funding FAMU and worries that it would merge with Florida State. He said he knew nothing about either topic, West said.

But Scott didn't say he would rescind his recommendation to suspend Ammons, so many students remained on his lawn. "This is not the time for FAMU to be without its university president," West said. "We believe in our university president."
It wasn't the first time Scott's public housing yarn blew up in his face. In February, Scott, a first-term governor elected in 2010, made a similar quip to a room full of black, Democratic lawmakers, also at the governor's mansion, the St. Petersburg Times reported. "I grew up probably in the same situation as you guys," he said. "I started school in public housing. My dad had a sixth-grade education." Needless to say, not all the lawmakers in the room empathized with Scott's hard-luck story.