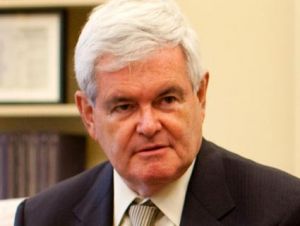 In an interview with CNN on Thursday, Newt Gingrich suggested he was open to "clemency" for an American convicted of selling US secrets to Israel, a man Gingrich himself once referred to as an "American traitor."
CNN host Wolf Blitzer asked Gingrich, "If the prime minister of Israel were to say to you as president, please free Jonathan Pollard, the convicted Israeli spy, what would you say?" Gingrich responded: "I will say as a candidate that I want a thorough review of—because every secretary of defense in both parties, I believe, has said no. And I want to thoroughly understand why they have said that." Then he said he had a "bias towards clemency."
I am prepared to say my bias is towards clemency, and I would like to review it. He's been in a very long time. But we are pretty tough about people spying on the United States. And I also have a study under way to compare his sentence with comparable people who have been sentenced for very long sentences for comparable deeds.
Pollard, a former Navy intelligence analyst, didn't just accept money from Israel in exchange for secrets, he's also believed to have tried to sell information to other foreign countries. Pollard is something of a pet cause for Israeli Prime Minister Binyamin Netanyahu, who has long pushed for his release. Pollard reportedly came up during negotiations between Israel and the Obama administration in 2010—Vice President Joe Biden claims he told Obama Pollard would be released "over my dead body." Abraham Foxman, national director of the of the Anti-Defamation League, told the Israeli newspaper Haaretz in April that, "I hope that Vice President will reconsider it. This is today an issue that has a consensus among the American Jewish community. It's almost inhuman to keep him in prison—he served his time and there is no justification to keep him in prison." (I suspect "consensus" is overstated.)
It's interesting that Gingrich feels he doesn't have a keen grasp on the issues surrounding Pollard, since Netanyahu brought up Pollard during the 1998 Wye River talks, when Bill Clinton was president. Back then, House Speaker Gingrich said, "I think it is very troubling that the administration would even consider having an American traitor as part of the negotiations." Why isn't it troubling now?