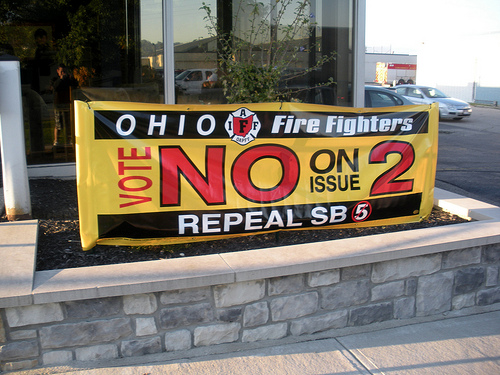 Fight disinformation:
Sign up
for the free
Mother Jones Daily
newsletter and follow the news that matters.
On the eve of Ohio's ballot referendum on Tuesday, a new poll by Public Policy Polling suggests GOP Gov. John Kasich's anti-union law is set for a trouncing.
PPP found that 59 percent of voters supported repealing SB 5, as Kasich's law is known, while only 36 percent wanted to uphold it. That's bad news for Kasich allies, as it reinforces previous polls showing SB 5 heading for a resounding defeat. In fact, the 23-point gap in PPP's latest survey is identical to the result of a March PPP poll. "Voters were furious then and that anger has continued all the way to November," Tom Jensen, PPP's director, said in a statement.
Although Democrats voice near-unanimous support for repealing SB 5, that same cohesion isn't there among Ohio Republicans, PPP found. Sixty-six percent of Republicans polled said they'd vote to keep the law on the books, but 30 percent said they'd vote for repeal. And among independents, that crucial swath of voters in this swing state, the split was 54 percent to 39 percent in favor of repeal.
As I reported Sunday, the divide among Republicans over SB 5's fate was on display even in House Speaker John Boehner's deep red Congressional district, where a Democrat hasn't been elected to Congress since 1933. As AJ Smith, a city council member in Middletown, the second-largest city in Boehner's district, put it, "This is not about Democrats; this is not about Republicans. This is about right and wrong."
PPP's Jensen said the disgust with SB 5 illustrated Ohioans' broader dislike of Kasich, whose approval rating has slumped to 33 percent. "If Ohio voters could do it over again they'd reelect Ted Strickland by a 55-37 margin over Kasich," Jensen said, "and although they don't have an opportunity for a redo on the gubernatorial election, the likely results of the Senate Bill 5 referendum on Tuesday can be seen as a proxy for it."
For their part, unions and progressives have tried to tamp down expectations of a big, double-digit win Tuesday. As Greg Sargent reported last month, an internal labor memo warned against reading too much into polls on the SB 5 referendum, calling a slam-dunk win not even "remotely possible." The memo, circulated by the group Progress Ohio, noted that no poll up to that point had tested the actual ballot language for the SB 5 repeal. However, this latest PPP poll did just that. The result: 59 percent of those polled wanted SB 5 to go down.