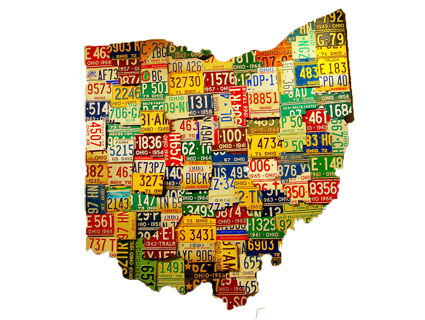 Fight disinformation:
Sign up
for the free
Mother Jones Daily
newsletter and follow the news that matters.
The similarities between Ohio's John Kasich and Wisconsin's Scott Walker are unmistakable. Both men are first-term Republican governors who rode into office on 2010's conservative wave. Both represent Midwestern swing states. Both wasted no time pushing large-scale, often controversial reforms, including stripping away collective bargaining rights for public workers and weakening organized labor's political clout. And both men stood firm in the face of statewide protests, capitol occupations, and plummeting popularity.
The two rookie governors' efforts to restrict the rights of public workers are often lumped together, seen as two fronts in the same war pitting Republicans against "Big Labor." But when it comes to the blowback against Kasich and Walker's anti-union agendas, there are key differences that help explain why unions and their allies will likely repeal Kasich's SB 5 on November 8, while their colleagues in Wisconsin have yet to notch a satisfying win since Walker's union fight began. Here are four reasons, based on dozens of interviews and on-the-ground reporting in both states, why Ohio's clash is fundamentally different from Wisconsin's.
1. Targeting cops and firefighters

In Wisconsin, Walker exempted police and firefighters from the collective-bargaining restrictions and other anti-union reforms in his budget repair bill. But Kasich's anti-union bill, SB 5, doesn't exempt public safety workers—and the Ohio governor is paying the political price.
Foes of SB 5 have used its effect on first responders as one of their main arguments for repeal. Perhaps the most notable television ad of the entire fight, from the union-funded We Are Ohio, depicts Cincinnati resident Darlene Quinn recounting how firefighters pulled her great-granddaughter Zoey from a burning building. Preserving SB 5, Quinn argues, would mean fewer firefighters on the job. That, she insists, "could mean the difference between life and death." We Are Ohio radio ads similarly claim that supporting SB 5 "would make it harder for our everyday heroes to do their job."
In dozens of interviews, Ohioans who said they supported repealing Kasich's law most often cited the law's effect on firefighters and cops. "I think Kasich is picking on the wrong people with this law," said Valerie Mohr, 61, of Tipp City.

2. A GOP divided
Republicans enjoy complete control of the legislatures in both Ohio and Wisconsin. This winter, Scott Walker relied the Republican rank-and-file to defend his budget repair bill in the face of massive protests. And defend Walker they did: 51 of 55 Republicans in the state Assembly voted for Walker's bill, and 18 of 19 GOP state senators did the same. By contrast, Ohio's union fight has revealed fault lines in that state's Republican Party.
The Ohio state House passed Kasich's bill 53 to 44, with five Republicans voting no. The vote was even closer in the state Senate, where it passed 17 to 16, with six GOP senators defecting to join 10 Democrats in voting against the governor. State Sen. Bill Seitz, who represents the Cincinnati suburbs, was one of the defectors and the only Republican state senator to publicly demand SB 5's repeal. Seitz says SB 5 is a gross overreach and will only widen the gap between unions and cash-strapped local governments. Or as Seitz put in a recent tweet, "We don't need to get run over by a bus to build a better Ohio."
Throughout Wisconsin's union fight, Walker could count on the support of top conservative opinion makers like Charlie Sykes, a Milwaukee radio host who could be called the Rush Limbaugh of Wisconsin. But one of Ohio's leading conservative taking heads, Bill Cunningham, surprised some listeners last month when he announced his opposition to Kasich's bill. Enough GOPers have broken with Kasich on union issues that they've started their own group, "Republicans Voting No on Issue 2."

3. The rules of the game

Wisconsin's constitution doesn't allow for ballot referendums, so citizens angry with Walker and Republicans in the Legislature had to settle for recall elections. Those recall fights unfolded in mostly Republican-friendly corners of the state, and although Walker's anti-union law loomed large in each race, so too did the credentials, flaws, and gaffes of the two candidates in each race. It was hardly an ideal referendum on Walker's assault on unions.
The decision facing Ohioans on Tuesday is simple: uphold or repeal Kasich's SB 5, yes or no, up or down. Unions here don't have to worry about finding suitable recall challengers or tussling with Republicans on their own turf; Ohio's is a statewide fight, and every corner of the state gets to weigh in.

4. Winning the money war
After Republicans passed Walker's budget repair bill, Wisconsinites triggered recall elections targeting nine state senators—three GOPers who backed the bill and three Democratic state senators who fled the state to block the measure. When the dust settled, spending in the nine elections reached a staggering $43.9 million, according to the Wisconsin Democracy Campaign, which tracks money in state politics. Left-leaning groups outspent their right-leaning rivals $23.4 million to $20.5 million. That advantage was enough to oust two Republicans, but not enough to flip the state Senate majority back to Democrats.
Ohio is a different story. Here, labor unions have outmuscled pro-SB 5 groups in the money game. Labor-backed We Are Ohio raised $30.5 million and spent nearly $20 million of that through October 20. Building a Better Ohio, the flagship pro-SB 5 group, raised just $7.6 million and spent around $6 million over the same period.
Labor's spending advantage is evident throughout the state. Even in deeply red parts of the state, anti-SB 5 lawn signs and TV and radio ads outnumber those defending Kasich's law. That's an advantage unions didn't have in Wisconsin, where both Democratic and Republican messaging flooded the airwaves this summer and overwhelmed voters. And it's an advantage that could ensure unions win their last big fight of 2011.