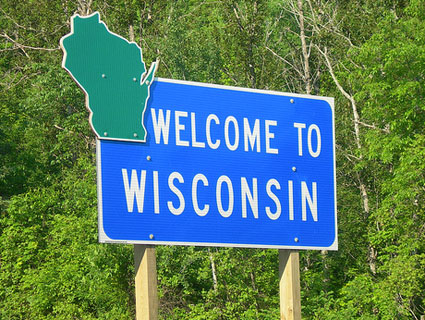 Fight disinformation:
Sign up
for the free
Mother Jones Daily
newsletter and follow the news that matters.
This post has been updated.
Last month, Pennsylvania Republicans attracted national attention—and faced a local backlash—after Mother Jones noted their plan to change how the Keystone State awards electoral votes in a way that could make it much harder for President Barack Obama to win reelection. The plan has since stalled in the Pennsylvania Legislature, but that doesn't seem to matter to Wisconsin GOPers, who recently decided to try the exact same move.
As I reported last month, the rules of the electoral college provide Republicans with an opportunity to undermine Obama's reelection plans. In the presidential election, each state is worth a number of electoral votes equal to the size of the state's congressional delegation. Each determines how its electoral votes are allocated, and all but two states use a winner-take-all system in which the candidate who wins the popular vote in the state gets all of its electoral votes. Under the Republicans' plan for Wisconsin and Pennsylvania, the states would change from this system to one in which each congressional district gets its own electoral vote. (Two electoral votes—one for each of the state's two senators—would go to the statewide winner.)
As in Pennsylvania, the GOP controls both houses of the Wisconsin Legislature plus the governor's mansion—the so-called "redistricting trifecta." Congressional district maps are adjusted after every census, and the last one was completed in 2010. In states where they control the trifecta, Republicans will get to draw the boundaries of the congressional districts without any input from Democrats. Pennsylvania is likely to have 12 safe GOP seats compared to just 6 safe Democratic seats; Wisconsin is expected to have a 5-3 R-D split.
Under the Republican plan, if the GOP presidential nominee carries the GOP-leaning districts in Pennsylvania and Wisconsin but Obama wins both states, the GOP nominee would get 17 electoral votes. Obama would only get 11—9 for winning the blue districts, and 4 (representing each state's two senators) for winning the two states. Obama would lose 17 electoral votes relative to the winner-take-all baseline—a larger effect than flipping Michigan, which has 16 electoral votes—from blue to red.
In Wisconsin, the electoral college change is being pushed by Rep. Dan LeMahieu, whose office told Slate's Dave Weigel that his bill has two cosponsors so far. The state's Democrats are wise to LeMahieu's plan—Kelda Roys, the chair of the Assembly Democratic Caucus, sent an email to her colleagues slamming the bill soon after LeMahieu started looking for cosponsors—but that doesn't mean it's doomed. Unlike the Pennsylvania Republicans, Wisconsin's GOPers have been remarkably good at sticking together on tough votes (like Gov. Scott Walker's controversial, union-busting "budget repair" bill). They hold a one-vote majority in the state Senate—not a lot, but enough to win in a pinch.
[UPDATE, 6:20pm EST Wednesday: The Wisconsin Democratic party has just issued a statement alleging that LeMahieu's bill was "written by a Koch Brothers corporate front group." They probably mean the American Legislative Exchange Council, but there's no publicly available evidence at this point (other than similar bills cropping up in two different states) that ALEC is involved. Here's the Dems' full statement:
MADISON—Following is the statement of Democratic Party of Wisconsin Chair Mike Tate in response to the Republican plot to split Wisconsin's electoral votes.

"The plot to split Wisconsin's electoral votes, written by a Koch Brothers corporate front group, is another bald-faced power grab by Scott Walker's Republican Party. They have sought to suppress votes and bring Jim Crow to the North, they have shut down hearings to the public, they have prevented elected representatives from making votes, they have disregarded the norms and traditions of our Legislature, they have run phony candidates, they have forged signatures, they have coordinated illegally with the corporations that fund them and now this.

Splitting Wisconsin's electoral votes is part of a Tea Party fantasy that seeks power above all. This is offensive to Wisconsin's traditions and it must be denounced."
This story will be updated as more information becomes available.] 
Carolyn Fiddler, the communications director for the Democratic Legislative Campaign Committee, which works to elect Dems in state-level races, thinks LeMahieu's bill is a sign that Republicans haven't learned the lessons of this summer's recall elections, which ousted two Republican state senators. "Just when we thought the Democratic successes in the Wisconsin recalls put the brakes on extreme Republican power grabs there, a GOPer proves us wrong," she says.
Nebraska and Maine already have the system that the Wisconsin is trying to implement, but as I explained last month, the two states' small electoral vote values mean it's mathematically impossible for a candidate to win the popular vote there but lose the electoral vote. (It's theoretically possible in Wisconsin, but unlikely; if the bill passed, the worst Obama could probably do there is an electoral college split.)
The GOP going this direction wasn't entirely unexpected. Weigel calls it "inevitable," and I predicted it might happen: 
It doesn't necessarily end there. After their epic sweep of state legislative and gubernatorial races in 2010, Republicans also have total political control of Michigan, Ohio, and Wisconsin, three other big states that traditionally go Democratic and went for Obama in 2008. Implementing a Pennsylvania-style system in those three places—in Ohio, for example, Democrats anticipate controlling just 4 or 5 of the state's 16 congressional districts—could offset Obama wins in states where he has expanded the electoral map, like Colorado, New Mexico, North Carolina, or Virginia. "If all these Rust Belt folks get together and make this happen, that could be really dramatic," says Carolyn Fiddler, a spokeswoman for the Democratic Legislative Campaign Committee (DLCC), which coordinates state political races for the Dems. 

Democrats would not be able to retaliate. The only states that John McCain won where Dems control both houses of the state legislature are Arkansas and West Virginia. West Virginia is too small for splitting the electoral votes to have much effect. That leaves Arkansas, another small state—and one where McCain won every district handily in 2008.
What the GOP is trying may be odd, but it's not illegal or unconstitutional:
"The Constitution is pretty silent on how the electors are chosen in each state," says Karl Manheim, a law professor at Loyola University in Los Angeles. The GOP plan "would certainly increase the political advantage of politically gerrymandering your districts," he adds. 
Here's LeMahieu's bill:
Mother Jones reporter Andy Kroll contributed reporting to this story.