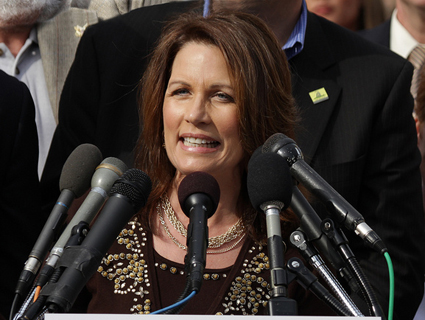 Fight disinformation:
Sign up
for the free
Mother Jones Daily
newsletter and follow the news that matters.
In successive weeks, GOP presidential candidate Michele Bachmann has been the subject of fawning profiles in the nation's two most influential conservative political magazines, the Weekly Standard and the National Review (subscription required). The stories, which lean heavily on interviews with the congresswoman, are revealing in that they more or less present Bachmann's life story as she'd like to portray it—her political conversion after reading Gore Vidal's Burr, her travels in Israel, her unexpected entry into state politics. And her perpetual underdog status: Both stories report that Bachmann had so riled up Minnesota Democrats that, when they drew up new state senate districts in 2002, she was their top target. Here's the Standard's Matthew Continetti:
Bachmann won the state senate seat in November 2000. The question was how long she'd be able to keep the office. Redistricting forced her to run against a 10-year Democratic incumbent, Jane Krentz, in 2002. A committee chairman, Krentz had the support of environmental and women's groups. The Democrats who controlled the state senate had created the new district with her in mind.
National Review's Robert Costa says much the same thing: "Minnesota pols tried to shoo her out of office during the 2002 redistricting process."
You can see why this is an appealing narrative for Bachmann. In her telling, she was exposed early in her career to the ruthless Democratic political machine. Why? Because liberals are afraid of her. This isn't the first time she's parroted this line, either. In 2006, when she was seeking the GOP nomination for her first congressional campaign, she sent out a video stating that she was "the number one target of Minnesota senate Democrats" who "redistricted me out of my Senate seat so I had to run in a completely new district against a 10-year [Democratic] female incumbent."
But that isn't what happened. At all.
Minnesota Democrats did not control the redistricting process in 2002. Because there was a divided government (Democrats controlled the senate, Republicans controlled the house, and independent Jesse Ventura was in the governor's mansion), the process was ultimately managed by the courts. The redistricting panel was selected by Chief Justice Kathleen Blatz of the Minnesota Supreme Court, a former Republican state represenative appointed to her post by the state's former Republican governor, Arne Carlson. It was composed of county judges, not politicos.
And even if the courts had intended draw Bachmann out of a district, they did a remarkably poor job of it. Despite the suggestion that the borders were unfriendly to Bachmann, her new turf had a higher Republican index than her old one. "The closest thing to a liberal town in Washington County is Stillwater, but only a fraction of it was included in Bachmann's new district, SD 52," emails Vic Thorstenson, the Democrats' top redistricting guru in 2002. "The majority was mainly in high-growth exurban areas of Washington and Anoka Counties, pretty solid GOP turf. Since Bachmann left, no Democratic legislative candidates have won there, either. It's a pretty safe GOP seat." But don't take it from the Democrats: One of Bachmann's opponents in the 2006 GOP primary, Phil Krinkie of the Minnesota Taxpayers League, has called her out on the redistricting fib as well.
There is some truth to the notion that the new district was less than friendly to Bachmann, but it's probably not something she'd want to brag about. In 2002, she underperformed the rest of the GOP slate in the district (including then-gubernatorial candidate Tim Pawlenty) by about 10 points. Bachmann's spin on her 2002 state senate race is puzzling because it's such a trivial part of her political narrative. Serial whoppers like this—much more so than her John Wayne Gacy gaffe—only reinforce the notion that Bachmann has a serious tendency to fudge the facts.