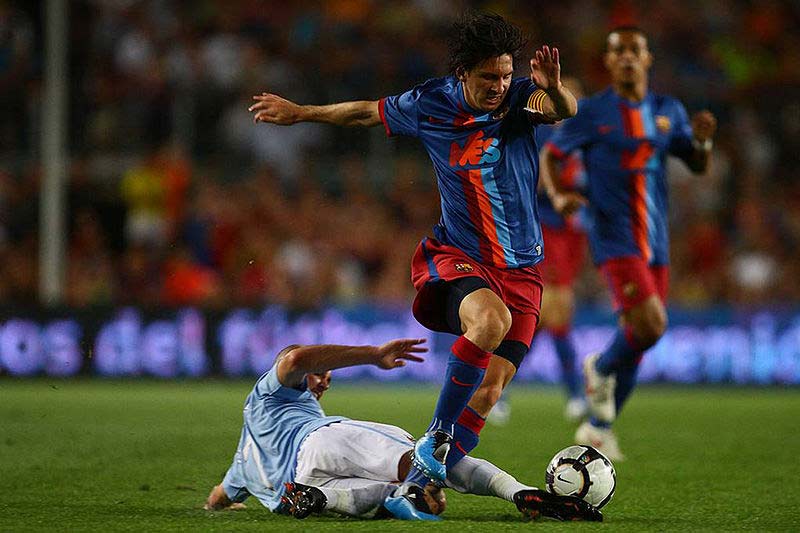 Fight disinformation:
Sign up
for the free
Mother Jones Daily
newsletter and follow the news that matters.
The summer after a World Cup is always rough for diehards of the beautiful game, and now 'tis the season of the soccer fan's discontent. The major European leagues are out of commission until August, there are no World Cup or Euro Cup games to snag, and sports headlines are dominated by tales of shady dealings and FIFA president Sepp Blatter's unparalleled narcissism.
Never fear, fellow fanatics! Below, 5 ways to survive the trying months ahead.
1. Learn to love Major League Soccer.
You no longer have to head abroad to find high-quality soccer in a rip-roaring atmosphere. America's own Major League Soccer, now in its 16th season, has come a long way since the days when games were played in three-quarters empty football stadiums to the sound of "Charge!" blaring from the PA system. Bolstered by an influx of young talent and intimate, soccer-specific stadiums, MLS today offers a legit fan experience, replete with singing, chanting, and even some good old fashioned rowdiness.
2. Check out the international options.

No World Cup, no Euro Cup, no sweat. There's plenty of international competition out there to get you through the next couple months. The Gold Cup, North and Central America's regional championship, is underway in venues across the country. Its South American equivalent, the Copa America, runs from July 1 to 24, providing yet another opportunity to drool over the bedazzling artistry of Argentine genius Lionel Messi. And the U-17 World Cup—where stars like Cesc Fabregas and Landon Donovan first announced their arrival on the world stage—begins June 18 in Mexico. (For TV listings, click here.)
3. Watch the Women's World Cup.
The Women's World Cup, which kicks off June 26, is underrated. This year the US enters as one of the favorites, alongside Brazil and host Germany. Keep an eye out for Brazil's Marta; she's been named the FIFA Women's World Player of the Year five years running. All 32 games from Germany will air live on either ESPN or ESPN2.
4. Read these two books.
An ungodly number of books exploring the intersection of soccer and politics, economics, sex—you name it—have been written in the past decade or so. Some of them are bound to be good, right? Try the gold standard in soccer lit, Simon Kuper's 1994 classic, Football Against the Enemy. It's the heady result of a nine-month, 22-country trek—during which Kuper discovered a Ukrainian club that exported nuclear missile parts and plumbed the depths of Dutch fans' anger toward Germany almost a half-century after World War II. For something a little lighter, try Fever Pitch, Nick Hornby's hilarious and horrifying memoir of his obsession with Arsenal Football Club.
5. Watch the hilarity that is FIFA.
If theater of the absurd is your kind of humor, sit back and enjoy the train wreck that is the sport's global governing body. The most recent crisis stems from bribery accusations leveled against two FIFA executives. An ethics committee is now investigating. Sepp Blatter, who originally denied that there might be any corruption in FIFA, has since done a 180, unilaterally announcing on Monday the creation of a "commission of the wise" to clean up the organization's image, consisting of former Dutch star Johan Cruyff, the Spanish opera singer Plácido Domingo, and—wait for it—Henry Kissinger.