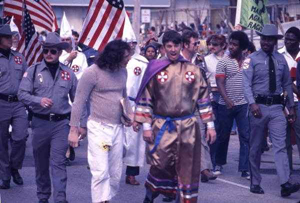 Fight disinformation:
Sign up
for the free
Mother Jones Daily
newsletter and follow the news that matters.
As a general rule, nothing that happens in Florida should ever come as a surprise; you should just assume, for instance, that Sunshine State Republicans are freaking out about government-run septic tanks, and that, until proven otherwise, somewhere in Sarasota a police officer is declaring himself a sovereign nation. But ok, this isn't exactly ordinary:
70-year-old John Paul Rogers wants to become the next mayor of Lake Wales, but critics say he could have a tough time bringing the town together because he's a former member of Ku Klux Klan.

Rogers, who is currently a commissioner, spoke with 10 News Tuesday afternoon and says, "I'm not running for the Klan for Grand Dragon." That's because Rogers has already had that title.
"Critics say" Rogers' long association with a racist hate group that has a history of violence reflects poorly on his character and suggests that he might be something less than a stellar ambassador for Lake Wales. But Rogers (above left, in gold), a city commissioner and a Democrat, insists that this is all just a big misunderstanding because really, the United Klans of America wasn't just about race—where'd anyone get that idea? Asked at a recent forum if he'd denounce his past views, "Rogers responded that if being against communism, against drugs, and in favor of states' rights was wrong, then he was wrong." (Here's a photo, via the Lakeland Ledger, of Rogers with his drug-fighting action figure).
Rogers, who dismisses the criticism as "muckraking and character assassination," says that he resigned from the Klan decades ago, thereby making his service a non-issue. But Tampa's WTSP says that he was basically forced out, on account of the fact that the Klan had just lost a $7 million civil suit for their role in the murder of a 19-year-old black man in Mobile, Alabama. Then again, that's muckraking so maybe it doesn't count.