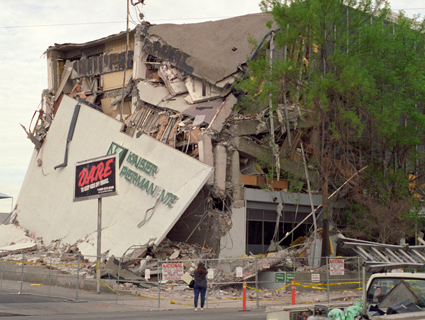 Fight disinformation:
Sign up
for the free
Mother Jones Daily
newsletter and follow the news that matters.
Following last week's nuclear near-meltdown in Japan, the focus in Washington has quickly shifted to the federal government's own emergency-response policies. Given the Federal Emergency Management Agency's botched response to Hurricane Katrina, concerns remain about the nation's readiness in the event of a catastrophic natural disaster. As the National Journal's Marc Ambinder put it, if a magnitude 9.0 earthquake hit the Midwest, "Would the United States be better prepared to respond than Japan?"
Such a disaster is a serious possibility—at least in eyes of FEMA. Three years ago, the agency stated that a massive quake in the New Madrid Seismic Zone, located in the Mississippi Valley near Memphis, "is likely to constitute the highest economic losses due to a natural disaster in the United States." The hazard posed by the NMSZ is greater, in other words, than a Category 5 hurricane hitting New Orleans or a flare-up on California's San Andreas fault. And FEMA has devoted significant resources to preparing for the next "big one" in the Mississippi Valley—as have other agencies, based on its recommendations.
There's just one problem: According to Northwestern University seismologist Seth Stein, the federal government is basing its policies—and spending tens of millions of dollars—on outdated "zombie science." Stein argues that the fault, which triggered three massive earthquakes known as the "Great Shakes" over a three-month period in 1811 and 1812, has shut off; today's mild seismic activity is little more than a series of centuries-old aftershocks. "What they're doing is called a whack-a-mole model," Stein says. "Focusing on where the last one was will always send you to the wrong place."
In Stein's estimation, it could take 10,000 years for the New Madrid fault to store up enough energy for a sequel. If he's right, FEMA's top threat is an imaginary earthquake. "The more we've learned about this, the less dangerous the problem seems to be and the more FEMA has been hyping it," Stein says. "They've talked themselves into the belief that Memphis has the same danger of an earthquake as Los Angeles and San Francisco. I think the whole idea is extremely silly."
FEMA's hype, if that's all it amounts to, is significant. The agency warns that an earthquake in the mid-continent isn't just a serious hazard—it's also imminent. According to a 2008 report produced at FEMA's request by the Mid-America Earthquake Center at the University of Illinois, the likelihood of a magnitude 6 or 7 earthquake in the next 50 years was 90 percent. (More conservative estimates from the US Geological Survey suggest that there's a 25 to 40 percent chance of a magnitude 6 or higher earthquake by 2060.) In May, New Madrid will be the focus of FEMA's annual National Level Exercise, a White House-directed drill to "prepare and coordinate a multiple-jurisdictional integrated response to a national catastrophic event."
According to FEMA, a massive earthquake in the region wouldn't just devastate a major population center; it would trigger secondary disasters by rupturing dams and levees. The regional economy, heavily dependent on agriculture, would be crippled by shifting sediments in the soil, and severe flooding. That's why, in the aftermath of Katrina, a FEMA official told Congress that improving earthquake defenses in the Midwest was "our primary objective." (The agency declined to comment as to whether New Madrid is still its primary objective and deferred to the USGS when it came to questions about its earthquake science.)
That position comes at a serious cost, argues Stein. Because of the government's risk calculations, all new federal buildings must adhere to the same rigorous codes as facilities in Los Angeles, and all old federal buildings must be retrofitted. In 2003, for instance, a Veterans Administration hospital in Memphis was earthquake-proofed at a cost to taxpayers of nearly $100 million. "When the building is finally torn down 100 years from now, it'll never have been shaken seriously," says Stein, who compares the government's warnings about earthquakes to the freak-out over Y2K.
Even in the event that he's off on the timing, Stein's not too worried. For all the damage they incur, he believes earthquake-proofing simply isn't a smart investment from a cost-benefit standpoint, unless it's for an absolutely critical facility (a dam, for instance). "You could put steel into the hospitals, or you could treat people who don't have health insurance, but you can't do both," Stein says.
But Stein's views are highly controversial, and his political arguments even more so. When he first published his findings in 1999, Lexington, Kentucky's Herald-Leader dubbed the ensuing scholarly debate, which pits Stein against the majority of his colleagues, "the Middle America Quake Wars." At the time, the USGS was compelled to put out a fact sheet doubling down on its own findings; it hasn't budged since.
"I think it's counterproductive when you rush to put into public policy something that's still an active area of research—especially when the [seismological] community does not agree with it," says the University of Washington's Art Frankel, who studies the New Madrid zone for the USGS and spoke on behalf of the agency. "I don't think it's 'zombie science,' what we're doing."
Frankel says Stein's findings, based on GPS field studies, fail to address some significant points. Among the largest is that there's a general consensus among researchers (including Stein) that the fault has been fairly active, at roughly 500-year intervals, in the past. "The problem is that New Madrid has popped off, at least three times, and there's evidence for more," concurs Susan Hough, a USGS seismologist based in California. "We've only seen a couple hundred years of the historic record. That's just not enough time. That was the problem with Japan."
In effect, the Quake Wars are about more than just science; they've become a proxy for the neverending struggle for between local and federal authorities, with real consequences for public policy. Stein says FEMA's guidelines constitute an unfunded mandate, forcing states, municipalities, and private businesses to upgrade facilities on their own dime, or risk losing out on rebuilding dollars if disaster does strike.
When the city of Memphis was mulling FEMA's new building code in 2004, Stein's findings resonated with some opponents of the regulations. He found a ready ally in Joe Tomasello, a construction engineer who says he'd lose business if the city was forced to amp up building codes. The duo published an op-ed in the New York Times arguing that the regulations were a bad fit for the city. Frankel calls the city's new standards, which fall below those recommended by FEMA, "frustrating."
A similar battle unfolded in Kentucky, when a uranium-enrichment plant in Paducah, about 50 miles east of FEMA's highest-risk zone, was mulling an expansion. Under the agency's guidelines, based on a more pessimistic projection of the earthquake risk, the new construction would have come with a hefty price tag. Kentucky State Geologist James C. Cobb says FEMA's projections were at odds with those of the Army Corps of Engineers. But he also subscribes to elements of Stein's "zombie science" theory, especially as it applies to economic costs. "Because of the high seismic hazard, that installation was moved to Ohio, and we've experienced a huge economic loss," Cobb says. "We know that states not in the New Madrid area use this to actively recruit companies from locating here."
Stein says the seismological community is coming around to his views; the seismological community has it doubts. In one respect, though, Stein may be right. Much of the conventional historical narrative is false: The Shakes did not crack sidewalks in Baltimore or ring church bells in Boston, and the Mississippi River never ran backwards (as news reports today still contend). And while previous estimates placed the magnitude of the largest tremor at 8.75, Hough's research says it was probably a fraction of that, as low as a 7.0.
The NMSZ, as University of Colorado seismologist Karl Mueller puts it, "is a strange beast." And while the USGS challenges the accuracy of Stein's conclusions, it's less clear what the correct answers are. Which leaves FEMA with a choice: Pour its resources into preparing for an earthquake that Stein says won't happen, or spend its money elsewhere and hope Stein's findings bear out.
"Every so often," Stein explained in an interview last year, "we just have to rethink everything that we used to think we knew."