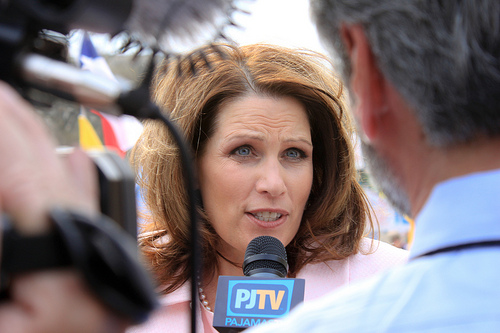 Let our journalists help you make sense of the noise: Subscribe to the
Mother Jones Daily
newsletter and get a recap of news that matters.
With Rep. Michele Bachmann (R-Minn.) likely to announce her presidential candidacy this spring for the 2012 presidential campaign, the great state of Minnesota will have two politicos, Bachmann and former governor Tim Pawlenty, angling for the White House. As Congress' tea party leader, Bachmann has an impressive, especially in hard-line conservative circles, which could give Pawlenty nightmares in the GOP primaries. But in a surprise move, a trio of ex-Bachmann staffers have come out in support of Pawlenty, including her former chief of staff and an ex-campaign manager.
As the Minnesota Independent reported, Gina Countryman, Bachmann's former congressional campaign manager, has come out strongly in favor in Pawlenty, using her Twitter feed to drum up support for "T-Paw 2012." Pawlenty recently announced he was creating a presidential exploratory committee, the first official step toward launching a full-fledged presidential bid.
Then there's Ron Carey, Bachmann's one-time chief of staff, who recently told Fox News he's backing Pawlenty because, well, Bachmann's just not electable. "Electability is a very, very high attribute you have to have this year to win," he said. "I don't want to have an emotionally filled endeavor only to get 35 percent [of the vote] in November [2012]." And Bachmann's former liaison to constituents, Tim Gould, hosted a fundraiser in 2010 for Pawlenty's political action committee, Freedom First PAC, a strong hint that he's backing T-Paw, too. (Though, to be fair, that fundraiser was before Bachmann hinted she might run in 2012.)
While Bachmann has yet to officially declare her candidacy, a source in the Minnesota congresswoman's camp told CNN last week she plans to create an exploratory committee by "early summer." However, to make sure Bachmann gets a spot in Republican presidential debates, she might enter the race even earlier. The source told CNN, "If you [debate sponsors] come to us and say, 'To be in our debates, you have to have an exploratory committee,' then we'll say, 'Okay, fine…I'll go file the forms.'"