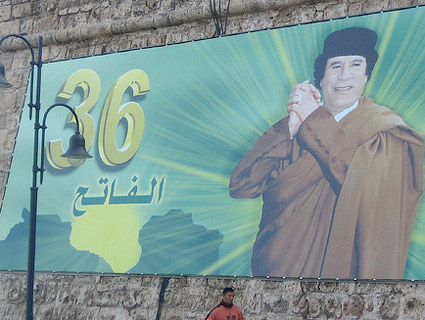 The popular uprising unfolding in Libya—and the brutal crackdown against it by the country's dictator of more than four decades, Muammar Qaddafi—has focused the world's attention on a despotic regime that's ruled through fear and repression. As was the case with the revolts in Tunisia and Egypt, it's also spotlighted the American lobbyists who have been paid handsomely to burnish the regime's image and represent its interests in Washington. One of Qaddafi's hired guns was a former Bush administration official named Randa Fahmy Hudome, who, in an interview with Mother Jones, describes why she accepted hundreds of thousands of dollars to lobby for a government that she herself considers "dictatorial" and "brutal."
Fahmy Hudome, a former congressional staffer and later an associate deputy secretary of energy during the Bush administration, rose to become one of Washington's most influential Arab American Republicans, founding her own lobbying firm, Fahmy Hudome International, and taking Libya on as an early client. She readily acknowledges the stigma associated with her lobbying past. "It's a legitimate question—being a highly paid lobbyist working for a terrorist government, isn't that icky, icky?" she says. But she stresses that she worked for Qaddafi "with the political and legal approval of the Bush administration…[which] encouraged me to help Libya transition from their position as a rogue nation to entering back into the international community."
Fahmy Hudome, who represented Libya from 2004 to 2007 but says she never met the eccentric dictator, recognizes that normalizing relations with Libya—in light of 1988's Pan Am 103 bombing over Lockerbie, Scotland, among other violent acts—has been complicated. "We've dealt with Libya as if she were a secret girlfriend hidden in the closet, only dealt with when we need it, otherwise we go 'Shh, shh,'" she says.
When Qaddafi agreed to give up Libya's weapons of mass destruction in 2003—so long as the US promised not to push for regime change—the Bush administration "was elated," Fahmy Hudome says. "Compare that to Iraq, where there were no WMDs. It was in the national security interest of the US to take WMDs out of the hands of a dictator."
After Libya gave up its WMDs, Washington lifted its political and economic sanctions on the country—and Fahmy Hudome successfully used the country's cooperation to convince American legislators to remove Libya from a federal list of countries sponsoring terrorism.
Fahmy Hudome acknowledges that Libya is ruled by "a very dictatorial and brutal regime." And she condemns Qaddafi's violent crackdown on protestors, describing it as "absolutely appalling and horrible." But she remains unapologetic about her work for Qaddafi's government—for which her firm was at one point paid a $300,000 quarterly retainer—and argues that it was in line with US interests at the time. "Libya had done everything that the US had wanted them to do," she says. "The US thinks about itself and its population and its people first. When we sometimes do that, other people are going to have to suffer."
Fahmy Hudome has since moved on from working for the Libyan government to representing American companies who want to do business in the country, she tells Mother Jones. But, she insists, working for questionable governments like Qaddafi's is only problematic when it's done in the shadows. That is, when lobbyists working for foreign regimes fail to register with the Justice Department, as required by law, and refuse to disclose their activities.
Unregistered lobbyists risk working against American interests and potentially embarrassing the US government, she explains. "I can't speak for Bob Livingston, Lanny Davis or anyone," she says, listing former public officials-cum-lobbyists whose lobbying clientele have raised eyebrows, "but when you make that mistake, it's because…you didn't do your homework and get your ducks in a row." (Livingston, a former GOP congressman from Louisiana, lobbied for both Libya and Egypt. Davis, a former Clinton administration official, represented the Ivory Coast's despotic leader before resigning under public pressure.)
The irony is that lobbyists who are "following the law are getting the criticism," Fahmy Hudome says, since such information is readily available to the public via a Justice Department database. By contrast, others who have skirted the rules—working as "consultants" and public relations advisers—often end up staying beneath the radar. As Politico's Laura Rozen revealed, former Bush official Richard Perle lobbied for Libya without registering with the federal government. ("I'm shocked," says Fahmy Hudome, describing Perle as a neoconservative who had resisted normalizing relations with Libya under Bush.)
Along with her lobbying work, Fahmy Hudome frequently appears on TV as an analyst commenting on energy matters and the politics of the Middle East. Appearing on MSNBC on Tuesday, she weighed in on the situation in Libya, warning of the potential impact of the uprising on global oil prices. Her role as a former lobbyist for Libya was not disclosed.
TV appearances by commentators with a vested interest in the matters they're discussing have attracted criticism in the past. And Fahmy Hudome, who says she discloses her lobbying background to every media outlet that approaches her, is no stranger to taking flack over her work for the Qaddafi regime. But what kind of lobbyist takes on Libya as a client, then lets a little bit of negative publicity get in her way? "Anybody gunning to fire me, trying to pull me off of the air—they've tried before," she says. "It ain't gonna work."