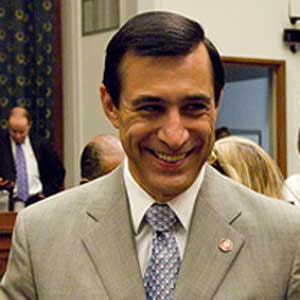 Is Darrell Issa planning to investigate climate science, or isn't he?
Last September, before Republicans had even won the House and posted Issa atop the chamber's main oversight committee, the California GOPer drafted a list of issues he believed should be investigated, and climate science made the cut. Issa specifically referred to a desire to investigate the so-called "ClimateGate" scandal and the scientific evidence underpinning climate regulations at the Environmental Protection Agency.
Shortly after the election, Issa downplayed his interest in the subject, citing "limited resources and limited time." But the subject came up again in Ryan Lizza's lengthy treatment of Issa in this week's New Yorker. From the piece:
It's easy to imagine, however, that some of Issa's investigations could end up as acrimonious party struggles, if only because Republicans and Democrats now seem to deal with different sets of facts. Issa seems unconvinced about the science behind climate change, and the investigation that he seemed most passionate about when we spoke involved U.S. government funding for the University of East Anglia's Climate Research Unit. This is the organization behind the so-called Climategate controversy, in which a batch of e-mails were published, showing, Issa claimed, that there had been fraud involving "the base numbers" underlying our understanding of climate change. However, three separate investigations have cleared the Climate Research Unit of manipulating research, and its work does not form the basis for our understanding of the issue.
Now Issa's spokesman is vehemently denying any interest in the matter. From Politico's Morning Energy today:
"As has already been stated numerous times, the Oversight and Government Reform Committee has no plans to investigate 'Climate-Gate,'" Issa spokesman Kurt Bardella told POLITICO yesterday. "There is a substantial difference between a reporter editorializing and something actually being a legitimate priority to this Committee."
I'm curious as to what prompted the change. (Issa's office has not responded to a request for comment.) Is it simply less of a priority because there are plenty of other things on Issa's agenda for the next two years? Or did the Issa team realize that rehashing climate arguments wasn't going to be the political winner that they'd hoped?
UPDATE: Oversight Committee spokesman Frederick Hill responded to a question about whether climate is still on Rep. Issa's agenda this year, via email: "The issue, as explained in the September report, is still a relevant concern. [Bardella's] comment simply reflects the fact that the committee has not announced a hearing or specific investigation on the issue."