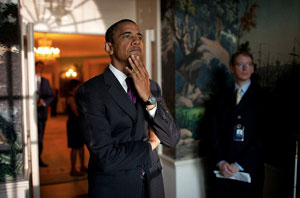 A federal judge in California yesterday struck down as as unconstitutional the military's Don't Ask, Don't Tell policy, the controversial 17-year-old ban on gays and lesbians serving openly in the military. It's a win for gay rights advocates, but it puts the Obama administration on the spot on its commitment to ending the policy.
US District Judge Virginia Phillips said the policy violates service members' Fifth Amendment rights to due process and First Amendment rights to free speech. The policy, she wrote, has a "direct and deleterious effect" on the military, and the government failed to show that the rule "significantly furthers the government's interest in military readiness or unit cohesion."
Phillips said she plans to issue an injunction to bar the federal government from enforcing the ban, and gave the plaintiffs in the case, the Log Cabin Republicans, a week to submit a proposed injunction. The defendant in the case, the Department of Justice, will have another week then to submit its objection.
Unless Congress acts on repealing DADT, the case could be appealed all the way to the Supreme Court—that is, if the Obama DOJ chooses to fight it. President Obama has criticized the policy as a threat to national security and pledged to repeal it in his first State of the Union address earlier this year. But the Justice Department has defended the rule in court, arguing that it should be Congress, not the courts, that determines military policy.
In May, the House approved an amendment to the National Defense Authorization Act that would repeal the policy 60 days after the Department of Defense completes a report assessing the impact of the policy change. The Senate Armed Services Committee approved the measure, but it has not gone to a full Senate vote.
This creates a bit of a sticky situation for Obama. He's pledged to end the policy and now he's presented with a clear legal decision that would force him to do just that. And while he's stated that he thinks Congress should act, there's little assurance that will happen any time soon. The prospects for Congress approving the repeal of DADT will likely get even bleaker after November. So will the Justice Department continue to fight for DADT?
If the DOJ appeals the ruling, it will only draw more ire from advocates of GLBT rights already upset with the slow pace the administration has assumed on both DADT and the Defense of Marriage Act, two major policies that the administration pledged to overturn but has defended in court. (Then, of course, there's Obama's utterly baffling statements about gay marriage, which haven't helped win over disillusioned supporters.) But failing to keep up the legal defense of DADT go leaves the administration vulnerable to attacks from the right that "activist" courts are calling the shots on crucial policy decisions rather than elected officials.
DADT opponents of are still hoping that Congress will overturn it this year, which would be the preferable option. "Don't Ask Don't Tell has been rejected by the President, the leaders of our armed forces, the House of Representatives, and by the overwhelming majority of the American people," said Michael B. Keegan, president of People For the American Way. "It has now also been rejected in the courts. It's time for the military and Congress to promptly end this disgraceful and destructive policy."
Similarly, Aubrey Sarvis, an Army veteran and executive director of Servicemembers Legal Defense Network, said in a statement: "We're pleased by the judge's decision, but this decision is likely to be appealed and will linger for years. Congress made the DADT law 17 years ago and Congress should repeal it. The Senate will have the opportunity to do just that this month and most Americans think the Senate should seize it."