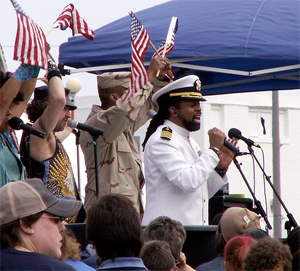 All it took was 17 years—six and a half of them under Democratic control—but Congress now appears poised to end "Don't Ask Don't Tell," a Clinton-era political compromise that mostly succeeded in forcing gay service members to compromise themselves. The New York Times reports the House and Senate have agreed on language for legislation that would abolish the ban on gays in the service; the Senate language will likely be advanced on the floor by Joe Lieberman (I-Conn.), a guy who hasn't always been popular with liberals and Democrats. But this will certainly help his reputation in those circles. Lieberman, Sen. Carl Levin (D-Mich.), and Rep. Patrick Murphy (D-Penn.), sent the White House a letter today (PDF) notifying them that legislation was imminent. Peter Orszag, director of the Office of Management and Budget, promptly replied (PDF) with an "OK."
Advocates for gay and lesbian service members expressed excitement—but not too much. "The White House announcement is a dramatic breakthrough in dismantling 'Don't Ask, Don't Tell,'" Servicemembers Legal Defense Network Executive Director Aubrey Sarvis said in a statement. "The path forward crafted by the President, Department of Defense officials, and repeal leaders on Capitol Hill respects the ongoing work by the Pentagon on how to implement open service and allows for a vote this week. President Obama's support and Secretary Gates' buy-in should insure a winning vote, but we are not there yet. The votes still need to be worked and counted."
The votes, indeed, will be an interesting question. (Kevin Drum has a nice analysis here.) Republican senators have the power to filibuster, but they probably won't; passage of the Senate version will give them something to rail against. Things may be more interesting on the House side, where Democrats, especially moderates, are treading carefully going into an election cycle. Thus far, they've tried to localize their elections and avoid association with President Barack Obama, House Speaker Nancy Pelosi, or the Dems' national-level issues. That will be much harder after a "yes" vote for repeal.
And even if the votes are there, the policy is unlikely to change before year's end; all parties have agreed to let Defense Secretary Robert Gates' Pentagon inquiry panel complete its work—studying how the change would affect the military and how best to prepare for it.
Perhaps the brass could speed things up by simply visiting their Canadian, or British, or Israeli, counterparts—all forces where straights and gays are integrated, and readiness isn't affected.
There'll be much more to write about this in the coming days; expect MoJo to be on it. There'll be me, as well as our human rights reporter, Mac McClelland, who's currently up to her ankles (literally) in Gulf Coast crude. In the meantime, if you have specific questions about DADT and the military you'd like us to tackle, feel free to contact me with them here.